By Tali Haller

Although dogs may not be the first animal that you would expect to see at the Thurston County Fair, meeting 'man's best friend' is an integral part of the fair experience. For those of you who like to get up close and personal with dogs –whether it's to give them a scratch between the ears or receive a slobbery kiss – there's the Dog Barn, where curious fairgoers can interact with the much-loved pets or ask questions of their owners.
However, the true excitement comes from the daily shows, where exhibitors proudly display their well-trained animals and show off the animals' abilities in one of four contest areas: showmanship, obedience, agility, and rally.
According to experienced 4H Dog Exhibitor Emily Hadley, age 17, the obedience and agility events are the most fun to watch, especially if you're new to dog shows. In the obedience event, there tends to be more rules. Owners are only allowed to give their dog a command once and they can't talk to their dog. Calling a command a second time will result in point deduction.
There are several different exercises viewers will get to see dogs attempt, each progressing in difficulty. Dogs generally start off heeling while on a leash, then doing a figure-8 on their leash. One of the harder tricks is called 'recall,' where the owner will walk across the ring, call the dog, and then the dog is supposed to walk over and sit down in front of the owner at a signal. Sometimes the dog might also carry things, such as a dumbbell. After the round is over, points are calculated and ribbons are distributed.  White ribbons indicate a lower amount of points, red ribbons indicate average amount of points, and blue ribbons indicate a high number of points.
In the agility event, the owner helps their dog navigate a series of obstacles, which may include jumps, tunnels, seesaws, A-frames, tires, etc. In this event, the owner can talk to their dog as much as they want. However, what makes this event tricky is that the dogs aren't on a leash, so they are free to roam about as they please.
Occasionally, dogs will make use of this liberty, often sending the audience into fits of laughter as the owner frantically chases and calls the dog. In fact, during one show, Emily's dog, a speckle-nosed, English-Springer-Spaniel-Retriever mix named Chance, fell in love with a bridge obstacle and spent the whole time running up and over it, completely ignoring Emily's attempts to have him do the other obstacles. Lucky for Emily, exhibitors have two runs (only one of which counts toward your score) and the second time Chance followed directions beautifully.
"Every dog has its day, that's just part of the fun," Emily said, laughing about the remembered incident. "Plus, the audience gets a real kick."
But aside from fun and entertainment, the 4-H Dog Shows also encompass hard work, dedication, and teamwork. Emily is a member of the Steamboat Island Kibbles and Bits dog 4-H club.  "The Thurston County Fair is an opportunity for many people to show the public what they've done with their animal and see the progress they've made over the past year," said Emily, who always sets goals for herself. Currently, she hopes to perfect an exercise called the modified down. "I love working with my dog because he is so happy to train with me – not to mention, he's extremely treat-motivated, which makes everything easier," she confessed with a smile.
So far, in her six years of showing, Emily has won a myriad of ribbons and medals, even taking on the ultimate title of "Grand Champion" at past Washington State Fairs. "4-H has been fantastic for her," said her mother, Judy. "The members develop real responsibility and self-confidence as they train, groom, and take care of their dogs."
Judy also mentioned how much Emily has learned through 4-H about presentation and public speaking. "She gave a great presentation to the Thurston County Board of Commissioners two months ago. She was clear, articulate, and gave concrete answers to out-of-the-blue questions. A lot of that confidence comes back to her practice speaking with people and giving presentations at the fair!"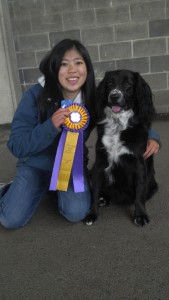 For viewers who are more familiar with dog shows or who want to learn something new, Emily recommends watching the Showmanship event, which is required for all animal projects. In this event, the exhibitors are being judged on how they handle their animal, and how well-groomed and behaved the animal is. However, if you don't know what the judge is looking for, then it can be hard to understand what's going on, so for some it might get a little boring, Emily explained. Luckily, there is a reception desk where inquisitive fairgoers can ask questions and find background information. Plus, as Judy points out, there is always a parent or two in the audience that is more than happy to explain what's taking place out in the ring.
Interested in taking home a dog? The Dog Groom Squad Competition is an especially fun event, stated Emily. "We bring in dogs from the local animal shelter, bathe and groom them, and then show them in a fun showmanship trial," she explained. All of the dogs at this event are available for adoption and the majority end up finding new homes the next day.
If you're in the mood to learn, you can watch a presentation given by one of the many 4-H exhibitors. Presentations cover a wide spectrum of topics and simply need to be related to the speaker's project (in Emily's case, something relating to dogs).
The fair will be open from Wednesday, July 30 to Sunday, August 3. During this time, there are numerous Dog Show Events with the Dog Barn open daily and presentations taking place continuously.
Here's the schedule for the Dog Show Events, all of which take place at the Chitty Barn.
Wednesday, July 30
10:30 am – Dog Judging Contest
1:00 pm – Dog Obedience Contest
7:00 pm – Dog 4-H Activities
Thursday, July 31
10:00 am – Dog Judging Contest Part 2
12:30 pm – Dog Obedience Contest
7:00 pm – Dog 4-H Activities
Friday, August 1
10:00 am – Dog Showmanship
2:30 pm – Dog Rally Obedience Contest
7:00 pm – Dog 4-H Activities
Saturday, August 2
10:00 am – Dog Showmanship
4:30 pm – Dog 4-H Knowledge Bowl
7:00 pm – Dog 4-H Activities
Sunday, August 3
1:00 pm – Dog Groom Squad Competition
4:00 pm – Dog Costume Contest
6:00 pm – 4-H Dog Awards
To see the master schedule for the Thurston County Fair shows and events, click here.