By Tom Rohrer

Most people agree that a friend will be there to help, whenever needed. A friend supports decisions and choices, even if they challenge their comrade along the way.  But some friends will go to great lengths to defeat each other in competition, no matter how close the relationship has been over a number of years.
For longtime buddies Erin Pratt and Scott Rowley, the line between friend and competitor is blurred.
The best friends met as ninth graders at Hoquiam High School.  Now Olympia residents, the duo competes with Olympia Area Rowing as teammates but will compete against each other in the fifth annual Olympia Traverse on Saturday, July 26.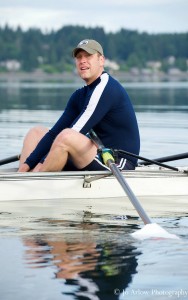 Both Rowley and Pratt are undertaking the rowing portion for their respective four-member relay teams, the perfect platform for a showdown in the water.
"It's a healthy competition," said Rowley.  "You know you're friends more than anyone else in the field, so of course I want to beat Erin."
"There's another gear added to the competition," Pratt added.  "You're pumped up already for an event like this, but seeing your buddy, that adds some more motivation."
Rowley began rowing as a college student, later taking a break from the sport during dental school and the early years of his marriage.  Since taking a sculling class four years ago, Rowley has been a member of the Olympia Area Rowing Masters Team.  A year and a half ago, he invited Pratt to take the very same class.
"He had the right body type and (OAR) is always looking for new blood," said Rowley.  "It's been awesome having him there, just a great guy and a great teammate."
"Everyone in the club and (the local) rowing community is very encouraging and they share knowledge with you," Pratt said. "Everyone's looking to see you improve."
Last summer, Rowley and Pratt got their wish for a relatively head-to-head competition.  While Pratt's cycling teammates gave him a little bit of a head start over Rowley, the five time Olympia Traverse participant closed the gap at the end of the 3.5 mile leg near Swantown Marina.
"I started a little ahead, but turning around, I could see him coming up," said Pratt. "That put some more energy in my stroke."
"Just being able to see each other throughout (the stage), that was pretty awesome," Rowley added. "We wanted that measuring stick so to speak and we were right there."
The waters around Budd Bay have long had a choppy and challenging reputation within the OAR and local rowing community.  Last year, the winds blew south-to-north on the water, creating quite a unique set of circumstances for the Olympia Traverse rowers.
"You're heading east and the winds are completely crossing you up," said Pratt.  "It's a challenge.  You're trying to move forward, stay on course, all of that at the same time."
Thanks to their consistent training with the Saturday morning group at OAR and on the rowing machine, the two friends can handle whatever the weather throws their way.
"There are few ideal days out on the water around there," said Rowley, who has competed in the Bellingham Traverse as well.  "You get used to the choppy conditions, the wind.  For us, it's normal."
For many athletes such as myself, the best part of completing a physically challenging event is the finish.  A competitively friendly event such as the Olympia Traverse naturally has a beer garden at the conclusion of the race, a perfect rendezvous point for the wary competitors.
"It is 35 to 40 minutes of straight rowing," Pratt said. "You're exhausted after you finish, so obviously, all you want to do is get on land and relax."
"That is the enjoyable part of the Traverse," said Rowley of the post-race social event. "You can talk to other competitors and just relax as friends."
Rowley earned yearlong bragging rights after last year's Traverse.  A year later, the competition continues to drive Pratt and Rowley.
"All I really care about is beating Scott," laughed Pratt. "I just want to beat him."
"I just started getting back into shape last week.  I imagine Erin is probably training, so I better get started," Rowley said with a sudden pause.  "I would say more, but I can't let Erin know all my secrets.
For more information on the Olympia Traverse, which will be held on Saturday, July 26, click here or visit the event's Facebook page.