By Jennifer Crain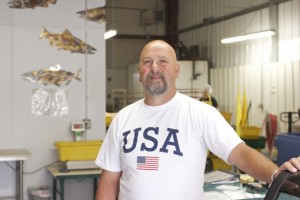 When Jay Garrison was a boy he used to go fishing on his grandfather's farm in Montana. He was intimidated by the cows that occupied the pasture next to the creek, but he braved them anyway, eager to bring home a trout he caught himself. He'd carry it home and give the fish to his mother who would bread and fry it for his lunch.
Thirty-five years later, Garrison is still handling fish. After graduating from high school in Rochester, he started his work life at a salmon farm and later spent years working at a salmon processing facility. The work led him to become a partner in a salmon smoking business, which he eventually purchased. His company, Briney Sea Delicaseas, has been in operation since 1992.
Garrison's processing facility also doubles as a storefront, making it easy for a visitor to observe behind the scenes. In fact, on the day I visited, two employees were visible from the front door, pulling fillets from plastic bins full of brine and laying them out on racks to ready them for the smoker.  These were custom orders, fresh from fishers who were just back from the beginning of Alaska's salmon season. The fillets were a deep coral red.
When they receive a shipment, Garrison says the employees first hand-fillet the fish and then remove the pin bones from each fillet using needle-nose pliers. "If it's humanly possible, we try to have a boneless product," he says. They then soak the fillets for 12 to 15 hours in a brine solution before loading them into the smoker. Garrison and his employees watch the temperature all afternoon—he says they check it every 15 minutes—and take the smoked fillets immediately to the cooler where they chill overnight. The crew vacuum packs them the following day, returns them to the cooler, and labels them as needed to fill orders.
Briney Sea has fifty or sixty accounts. That makes for a lot of fish, and Garrison says a good portion of it goes to Spud's Produce Market. The store orders up to 150 pounds of smoked products from Briney Sea every month.
"That little tiny store, they're probably one of our top twenty customers," Garrison says.
Nate LaGasa, manager at Spud's, says Briney Sea's products are popular with customers, no matter what the season.
"Winter or summer, warm or cold, people love good smoked salmon," LaGasa says, noting that they carry a number of cheeses that pair well with the Northwest product. "Their award-winning barbeque smoked salmon is definitely the most popular. The Cajun style is similar, with a little more kick to it. In addition to those, we carry King, White King, Coho, Steelhead, and Sockeye. We also carry peppered and plain smoked albacore tuna, as well as a couple different kinds of smoked salmon jerky."
In addition to Briney Sea's smoked products, Spud's carries some of their frozen seafood items including jumbo shrimp, salad shrimp, scallops, calamari, halibut fillets, and salmon fillets.
Briney Sea sources salmon from Alaska and from some of the First Nations tribes in the area, including the Nisqually, Chehalis, and Squaxin. The albacore tuna they smoke is "all pole-caught, so it's dolphin friendly," Garrison notes. They also smoke oysters that they purchase from Minterbrook Oyster Company in Gig Harbor or Taylor Shellfish out of Shelton.
Garrison says he processes both farmed and wild salmon and is aware of the differences in opinion on the subject. "I try to accommodate everybody," he says. The company processes wild and farmed fish on different days. Smoked products may be wild or farmed, depending on supply.
A good portion of the wild salmon they process comes from custom orders, like the ones I saw the day I visited. These catches, brought in by individual fishers who live as far away as Portland and Seattle, are smoked to order in the same flavors they offer to retail customers: plain, barbeque, Cajun, or peppered.
Lucky for anyone who doesn't make a yearly fishing trip up north, Briney Sea offers their full array of smoked and frozen products at markets such as Spud's between Kirkland and Rochester and out of their own storefront in Tumwater. And they love being able to do it.
A lot of people get overwhelmed by the differences between, say, a Chum and a Coho salmon, Garrison says. "We're able to explain the differences in oil content and the flavors. Some have more of a salmony flavor, some are very mild, some are more delicate than others, some are drier. That's the best part of the whole job—dealing with the customers."
Nate LaGasa feels the same way about working with Garrison's company.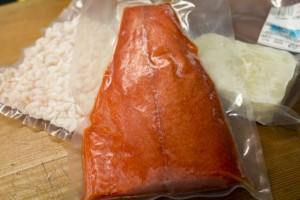 "Briney Seas was one of the vendors we had lined up before we opened our doors, so we've had their products as long as we've been open. They're super friendly, down-to-earth people, and Jay really seems to appreciate every bit of business he does. He always does his best to make sure we're taken care of."
2828 Capitol Boulevard S
360-915-9763