By Katie Doolittle
Loni Smith is a true Renaissance man with deep roots in the Lacey-Olympia community. Many locals know him as Mr. Smith, the caring and committed teacher who led them through physics, chemistry, or calculus at River Ridge High School. Others—specifically, barbecue enthusiasts—know him as the cooking genius behind Smitty's Bar-B-Grill.
Smith started making his own pickles as a complement to his main dishes. Now, he's got repeat customers begging him for large take-home orders. "I will sell pickles hand over fist," Smith laughs. "That's been the biggest surprise."
Smith's astonishment probably derives from his general attitude about cooking for the public. "I find it strange that people pay me for food because it's just what I love to do," he says. Strange or not, Smith could easily have a bustling business on his hands. His food is marvelous and his prices reasonable. But he only cooks professionally during the summer, and he tries to balance his market days and catering gigs with plenty of relaxation time. That's especially important this year, as Smith explains, "My daughter is on her way off to college so I don't want to take on too much."
It's no wonder that Smith gets excellent word-of-mouth referrals. Though barbecue is his passion, his culinary skills are varied. He makes everything from pulled pork cooked low and slow to toothsome treats for a vegan birthday party. His signature side dishes have me drooling just thinking about them… especially the "Smitty Beans" in their rich, bacon-studded sauce.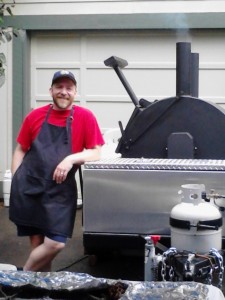 Smith describes grilling as "a more scientific endeavor than teaching," and he's certainly in a position to know. From September through June, he submerses himself fully in his job at River Ridge High School. Student athletes benefit from his coaching of boys' soccer and golf. Colleagues respect his knowledge, work ethic, and caring demeanor. And students appreciate his total commitment to their learning and well-being.
He's the kind of teacher who makes an impact long after a final exam. River Ridge alumna Kindra McDougall recalls, "He knew exactly how to control the [class] environment and engage every individual." Jordan Cobb, class of 2010, concurs. She says, "He taught in a way that was interesting, fun, often funny, and energetic, which helped me stay motivated to learn and understand the material." She describes Smith as someone who "genuinely cared about helping them grow into awesome adults."
Smith's competence and popularity were highly evident at graduation this past June, where he wowed the crowd as the class of 2014's student-elected speaker. The graduates broke into spontaneous cheers on Smith's behalf, chanting his name and nearly moving him to tears.
Co-worker Angela Farley sums it up: "He's such a valuable asset to our building: teacher, coach, friend, parent, district alum."
Intriguingly, this last bit has had a huge influence on Smith's cooking style. Growing up in North Thurston Public Schools, Smith's social network was quite diverse. Many of his friends came from military families, and others had first-generation immigrant parents. Eating at one another's homes was a culinary experience Smith still appreciates to this day. Enthusiastically, he recalls the homemade sauerkraut and kimchi he encountered as an adolescent, describing how the flavor of a vegetable changes and sweetens in the pickling process.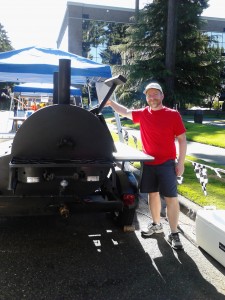 "I've enjoyed cooking since I was a young kid," says Smith. "As a Boy Scout I realized I liked cooking over an open flame… and I was pretty good at it." His focus on barbecue began around age 18, and Smith describes his learning process as "burning and overcooking a bunch of stuff before I started to get it right." It's a process he recommends wholeheartedly for any budding barbecuer. "Experiment. Don't be afraid to burn food. Don't be afraid if it tastes bad. Don't be afraid to fail."
Does that advice come from Smitty the grill master, or Mr. Smith the teacher? Actually, it's nearly impossible to separate these facets of Smith's personality—a fact he readily recognizes. "There is a definite science [to barbecue]," he says. He goes on to describe how he develops various flavors and techniques using observation, measurement, and testing. It's the classic scientific method at work in the kitchen. Smith says the process "is much like that in a science experiment, but at the same time it's very natural and holistic."
There is, of course, one important distinction: I've never wanted to eat the results of a high school chemistry or physics lab. But you can bet I'll be in line at Smitty's Bar-B-Grill this summer, waiting to taste the fabulous results of his latest culinary experiment.
Smitty's Bar-B-Grill has been a food vendor at the Lacey Community Market for the past four years. (The Lacey Community Market runs once a month on July 12, August 9 and September 13, this year.)  Do yourself a favor: come for the barbecue. Stay for the pickles.