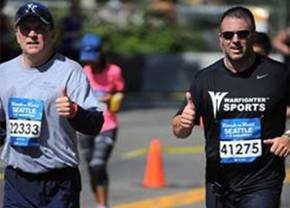 Submitted by Brian Hoddle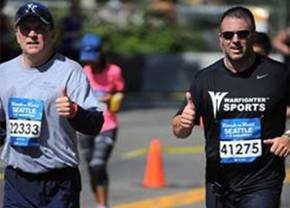 USA Track & Field honors service men and women with the launch of the Run with a Soldier program, Nov. 8-9, during Veterans Day weekend.
Run with a Soldier is a first-of-its-kind USATF initiative, motivating runners across America to connect in person and on social media with men and women who have served in the U.S. Armed Forces. Avid runners are encouraged to identify soldiers in their communities and run alongside the service men and women in local races.
Competitors and spectators can share their experiences on social media by utilizing the hashtag #RunWithASoldier. Images tagged with the special event hashtag will also appear in a Run with a Soldier photo gallery on USATF.org.
"USA Track & Field is proud to support Run with a Soldier," said CEO Max Siegel. "This program provides an opportunity for all Americans, including USATF and the U.S. running community, to honor the brave men and women who risk their lives for our country. We can all be a part of a national demonstration of support, using our sport as a platform."
Run with a Soldier is a product of Athens 2004 U.S. Paralympic Team head coach Bryan Hoddle's vision to help rehabilitate wounded warriors as a volunteer at the Walter Reed Army Medical Center and with the Lakeshore Foundation. His mission is to help recuperate soldiers who have sustained injuries in battle.
"My inspiration for the Run with a Soldier program really kicked in after returning from the Captain Kyle Comfort Memorial Foundation 5 km last Veteran's Day weekend in Anniston, Ala."
Hoddle, a USATF certified Level 1 and level 2 instructor, has helped three Paralympians to world records and was recently honored by the state of Washington's House of Representatives for working with disabled soldiers and athletes with disabilities.
"I knew USATF was exactly where I should start with this program because our sport changes people," said a passionate Hoddle. "Running is healthy for both the body and mind. I realized that we could make Veterans Day so much more impactful by joining forces with the sports governing body to hopefully start a national running tradition."
You can read more about Bryan Hoddle's work by clicking here.