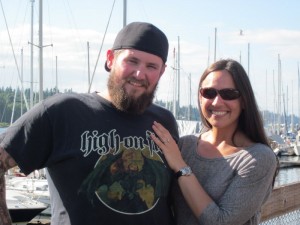 The company picnic needs planning.  Maybe your daughter is designing her dream wedding.  Organizing the shareholders annual lunch has just landed on your "to-do" list.  You've decided to surprise your spouse with special anniversary dinner party in your home.
Don't panic.  You don't have to tackle the planning of these events alone.  All are easily planned, and executed, by Stephanie Miller and her team at Budd Bay Café Catering.  "We try to make the experience as easy as possible," shares Patrick Knutson, Managing Partner of Budd Bay Café and River's Edge.  "And Stephanie and her team can organize and carry out any size event without a hitch."
Catering options through Budd Bay are extensive.  Opt for a spacious area within the classic waterfront dining room at Budd Bay Café, available for up to 40 guests.  If a more private space is desired, Budd Bay's sister property, River's Edge in Tumwater, has private event rooms available.  "At River's Edge we have the ability to combine event spaces as well as extend onto the patio outdoors.  We can even add tents and utilize our pavilion for large events such as wedding receptions and corporate events," shares Miller.   And with the gorgeous Tumwater Valley Golf Course as the backdrop, events hardly need décor.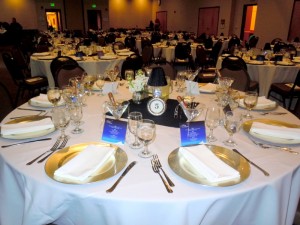 Have a venue in mind already?  Catering services for any location, whether a large event hall or your own dining room, are easily managed by the experienced team.  "We try to be a one stop shop for your event," explains Miller.  "We are able to accommodate nearly any request and provide nearly any service."
To accomplish this, Miller sits down with each client and talks through the event – the theme, the "feel" the customer wants, timing, and food.  Armed with this comprehensive list, she is able to work with the chef at Budd Bay Café to design a specific menu tailored to each event.  Additionally, Miller arranges for all rentals, a bar, staff, and décor.  Truly, a full service catering group.
"After 25 years of catering experience, we really know what works," explains Knutson.  "Stephanie wants to know your vision and then offers her suggestions, knowing what will make an event a success."  Her experience has taught her the vast difference in catering needs between a firefighter's annual dinner and a wedding shower luncheon, for example.
"For me," Miller elaborates, "it's all about customizing an event to make it a success.  I treat each event as if I was the hostess and want to make all my guests feel comfortable and to go away at the end feeling great."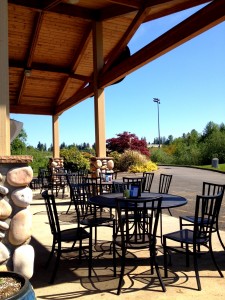 A key component, to any event is the food.  If the food's not great, the event can be a flop.  With Budd Bay Café Catering, you get the same outstanding quality food that is served at the waterfront dining room.  All the food for catered events is made fresh in the Budd Bay kitchen and includes restaurant favorites as well as custom choices.  From a casual taco bar to plated formal dinners, boxed lunches to breakfast buffets on game day – complete with their famous Bloody Mary Bar – the Budd Bay team has got you covered.
Washington Business Bank's VP and Director of Marketing, Joanna West, knows what to expect when working with Budd Bay Catering.  She has been in charge of numerous events for both Washington Business Bank and the Thurston County Chamber.  West has chosen to work with Budd Bay Catering to throw events ranging from a small holiday dinner party in a private home to a plated, sit-down dinner for 250 people to the annual shareholders buffet lunch.  "No matter what the event, it went smoothly and the food was great. The staff is willing to do whatever it takes to make is a success."
Miller is quick to credit her outstanding team for the group's consistently rave reviews.  "I enjoy what I do so much because the team I work with is unbeatable.  They really go the extra mile for customers. Our team reflects who we are at Budd Bay Café –a family."
West knows first-hand how dedicated the team is to their customers.  During one event, she realized she hadn't ordered a dessert .   The Budd Bay staff simply sent a team member out to find the perfect item to end the meal.  They were back in no time with a delicious treat and the guests were none the wiser.  This type of service is the norm, not the exception.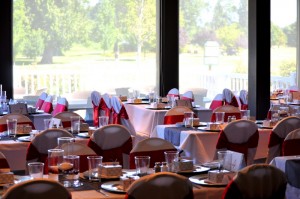 Look to Budd Bay Catering next time you are hosting a special event.  Miller and her team can handle just about anything you can dream up with efficiency, style and class.  And, most importantly, with delicious food crafted by one of the longest-standing restaurants in Olympia.
360-357-6963