By Kelli Samson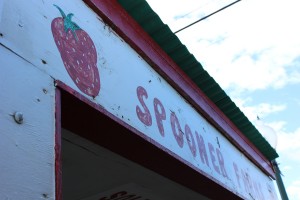 Some people mark the arrival of summer by the annual barbecue over Memorial Day Weekend. For others, it's the last day of school before summer vacation.
Those folks? They clearly are not from around here.
That white Spooner Berry Farms barn with strawberries painted on it makes its appearance in the parking lot of Ralph's Thriftway each June, and its arrival marks the unofficial kick-off to summer: strawberry season.
This year, the berries came about two weeks early due to our mild spring. Joy Pretty, who has been working for the Spooners for eight seasons, says, "Usually we start selling them around Father's Day." Early strawberries? Yes, please.
Buying locally is important to most Olympia residents. Spooner Berry Farms is owned and operated by Tim and Sue Spooner, so the dollars you spend at the berry barn at Ralph's Thriftway (owned by the local Storman family) go right back into our community's economy.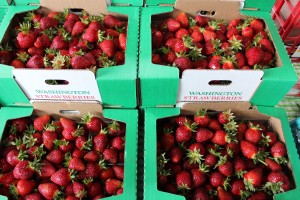 Another perk of Spooner's berries? They are picked and delivered to the Berry Barn on the same day. Lots of times the berries are still warm from the sunshine in the field.  Once those freshly picked berries are gone, however, you're out of luck until the next day. Get there early to buy yours, as they generally sell out of the berries daily.
Spooner's berries are also sold by the pint at Bayview Thriftway, in the produce department.
If simply buying your local berries at the Berry Barn is just not enough for you, never fear. You can visit their farm and pick your own berries daily from 8:00 am to 6:00 pm for $1.65 per pound. Visit www.spoonerberryfarms.com for more information.
Up next for Spooner's? July brings marionberries and raspberries, and blueberries follow suit in August.
Tips for Handling the Strawberries
Spooner's grows their berries for flavor over shelf life. That being said, their website offers some nice tips for keeping the berries fresh for as long as possible.
Refrigerate the berries as soon as you arrive at home. Getting the berries cold stops their ripening process.
Do not wash your berries until you are ready to eat them. Washing them all right away and then storing them encourages mold growth between the berries.
A Recipe for Strawberry Buttermilk Sherbet
Ingredients:
2 pints of fresh strawberries, rinsed and with tops removed
¾ cup of sugar
2 cups of buttermilk
The juice of half a lemon
¼ tsp. cardamom
Directions:
Run the berries through a blender or food processer until liquefied. Press liquid through a fine-meshed sieve into a large bowl. Discard solids.
Stir in remaining ingredients
Freeze mixture in an ice cream maker for 30 minutes, or according to the directions of your appliance.
Transfer mixture to an airtight container and freeze for about five hours before scooping.
The best thing about this recipe? It works well with all the other berries that are about to join us this summer. My family enjoys it with local berries from June through August, and I hope yours will, too.