By Tom Rohrer
Forty three seconds isn't a lot of time.
Perhaps you can tie both shoes, take out the trash or rinse with mouth wash in these fast seconds.
For the River Ridge High School 4 x 100 meter boys relay team, 43 seconds is plenty of time for a journey around the track to take aim at Washington State track and field history.
The junior quartet of Chris Leiba, Ika Morton, Michael Key and Dejuan Frye will enter this weekend's WIAA 2A State Track and Field meet as the favorites in the event and have posted the state's top time to this point in the season.
That top time of 42.50 seconds came last weekend at the 2A District IV Championship, when the foursome sprinted towards a title and helped lead the River Ridge boys to a dominating team championship at the meet as well.
Leiba, Morton and Frye teamed with Joseph Wollor in 2013 to run a 42.37 at the state meet to win the championship under head coach Phil Lonborg.  A year later, the group is again feeling confident about where they stand.
"I think we started off a little rough and now we're picking it up," said Leiba, a member of the Hawks football and basketball teams. "I think our mindset is good now, and we can run the time we're looking for."
Heading into the outdoor season, the three returners knew Key would be a candidate to replace the graduated Wollor.  Assistant track and field coach Steve Schultz inserted Key into the group, a decision that has paid off despite some early jitters from the former soccer player.
"I knew (Key) is a competitor.  He's focused and he's humble," said Schultz, the head football coach for River Ridge. "He knows there is pressure and that if he does his job, this team wins.  He understands that and that drives him to give his best."
"He works so hard," said Frye, the District IV champion in the 100, 200 and 400 meters.  "We didn't want to put any extra pressure on him because he knows the stakes."
"In the first race, I felt the pressure a lot," said Key, also a member of the Hawks football team. "Once I got to the block and was extending, I realized how much it meant.  After that race, the pressure all went away and now I know I belong."
With great success comes great expectations and even tougher competition.  Last year's state title propelled the relay team to famed status within the state's track and field circle.  Every meet, the team receives the best shot from their opponents, both a challenging and rewarding experience.
"I like the pressure and to know that it won't be easy," said Frye. "If it doesn't go perfect, we've got to step and do what we need to do and win."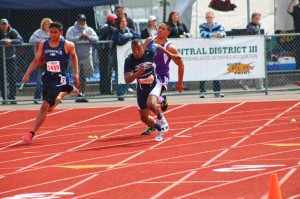 "I notice if they get beat, the other team is jumping up and down like they won the world championship," added Schultz.  "They're getting everyone's best effort."
Even with the increased pressure and raised level of opposing competition, the group won five of six meets in the event, with the only "defeat" (a third place finish at the Kent-Meridian invite in March) coming in a race without Morton.
"We're tougher now at this stage of the year than we were last year," said Leiba, who finished second twice and third respectively in the 100, 200 and 400 meter district championship races.  "With all this (competition) we're prepared for state."
Last weekend's 42.50 second victory was testament to Schultz feelings that the bigger the race, the bigger the level of performance from the group.
"That's normal for us," said Morton, who finished second in both the long and triple jump at the district championships.  "In those type of races, it's go time."
"As a coach, I don't need to say much, if anything, in those situations," said Schultz.  "I know those guys will rise to that level.'
Being able to perform at a high level in the biggest races is a byproduct of the camaraderie between the four runners and the trust they all have in one another.
"We have good team chemistry, and we're always communicating," said Morton. "We all have that mindset that helps us go to a new level once we're at state."
"It's a brotherhood and we're all part of that," said Leiba. "Mike is part of that now.  It's more than just being friends at track or at school.  We're all really close."
Come this weekend at the 2A State Meet (held with the 3A and 4A meets at Mt. Tahoma High School on Thursday, May 29 through Saturday, May 31), the Hawks relay team will face their toughest competition yet.  Nipping at their heals for the top time in the state will be a quad from Olympic High School along with contending teams from Lakewood and West Valley High.  The experience the Hawks group has winning in this very environment could give them an edge this weekend.
"Man, state is a dogfight," said Frye. "You can just feel the pressure building up.  Everybody is measuring everybody up and you can just feel the juices flowing."
"There's a mix of excitement and nerves and you just have to handle it," said Morton.  "We did last year, and it's hard to describe that feeling."
Maybe after this weekend, Morton, and the rest of the team, will remember exactly how that feels.