By Carolyn White

Imagine travelling from Olympia to Port Townsend and back for $21.25 or $9.60 if you are over 65. During this 220 mile round trip, you are also enjoying the scenery as someone else is driving. Impossible?  Not if you are one of the Rebels by Bus.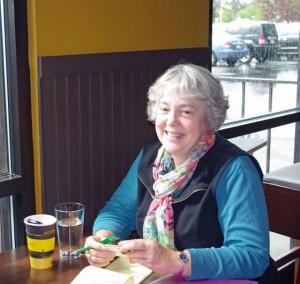 Who started this revolution? The chief leader is Mary Williams, a long-time Thurston County resident and a retiree since 2008. During the last few years of her work life, she started riding a bus from her home in Lacey to meetings in Seattle. Driving to DuPont and taking the bus into downtown Seattle, she appreciated that traveling by bus was more economical than driving her car. Leaving the driving to someone else meant that she could work or relax while en route. Taking the bus left Mary stress-free when she arrived at her meetings.
Shortly after retiring from her position with the State of Washington's Juvenile Justice Department, Mary and her friend Gail Johnson were cruising on Seattle's water taxi. In the moment of enjoying the ride, both experienced an epiphany —public transit is fun and economical —and they felt inspired to spread the word.  Hence, they initiated the Rebels by Bus (RBB) movement.
Mary and Gail launched RBB via a blog in February 2010, which espoused their mantra of "Slow Travel with Low Carbon Footprint." Their blog acquainted its readers with the virtues of the rebellion—getting out of your car, freeing you from oil dependency and traveling in a laid-back style. Mary and Gail wanted their message to be both motivational and practical. Their rhetoric came with detailed instructions on how to get from a variety of points via public transit. Additionally, they shared their adventures, which inspired other rebels to join them on their trips.
Although Gail has since retired as a Rebel by Bus advocate, Mary continues to plan and lead adventures by bus throughout the South Sound region. Besides her passion for economical travel, how did she become aware of the intricacies of transit systems?
Mary knows public transit systems. Olympia's Intercity Transit awarded her a plaque that designated her as an official Transit Ambassador.
During her work life, Mary served as the Community Service Program Director for Thurston County's Public Health Department.  In this position, Mary realized that segments of the population, such as single working moms and entry level workers, were not benefitting from public health programs.  Lack of public transit was a barrier to clients' participation. Understanding this problem, Mary became an advocate for broader public transit opportunities. Her department started petitioning for more transit funding, writing grant proposals.
As a result, Thurston County's Intercity Transit established the Village Vans program.  Village Vans provides free transportation for work-related activities to low-income job seekers in Olympia, Lacey, and Tumwater's greater urban areas. Any low-income citizen looking for work or beginning a new job qualifies for this service.  In addition to bus driver training, Village Vans supports work-related activities such as providing free transit to day-care facilities for low-income parents.
Mary's efforts also helped establish the Rural and Tribal (R/T) Transportation program. R/T offers accessible transportation services for the Nisqually Indian Tribe, the Confederated Tribes of the Chehalis Reservation, the communities of Bucoda, Rainier, Rochester, Tenino, Yelm and other parts of rural Thurston County.  R/T provides connections to Intercity Transit in Thurston County and Twin Transit in Lewis County. Anyone who lives in Thurston County can ride on this system that offers service from 6:00 a.m. to 6:00 p.m. Monday through Friday.  R/T supplies pre-scheduled pick-up and delivery, with limited after school service in the Rochester area.
Mary's passion, coupled with her expert knowledge, make her the ideal leader for the RBB.  To further the revolution, Mary has partnered with South Puget Sound Community College (SPSCC), where she offers a basic workshop in How to be a Rebel by Bus as well as accompanied RBB Adventures to various locations readily accessed by public transit.
The basic How to be a Rebel by Bus workshop empowers you to plot your leisure trip around the greater Puget Sound area via public transit systems. Mary inspires and encourages you to use public transportation by showing you how to navigate transit schedules, determine fares and plan your trip. She believes that this knowledge of easy and economical travel will open new horizons of adventure and fun.
During this afternoon class, Mary shares dozens of trip examples to destinations such as Tacoma, Vashon Island, Westport, and Seattle. She discusses which counties offer free transit fares as well as reduced fare opportunities. Through practice of reading bus schedules and learning how to navigate inter-county transit systems, you, too, can become a RBB.
Many who take Mary's "How to be a Rebel by Bus" workshops go on to independently create their own bus adventures.  For those that desire a hands-on RBB experience, sign up for one of the RBB Adventures offered by SPSCC throughout the year.
For each adventure, Mary provides a detailed bus itinerary, complete with times, transfers and costs to the destination and return. Lunch is usually on your own. She suggests walking tours of the destination area as well as sight-seeing highlights. Plan on enjoying an all-day adventure as each trip leaves around 9:00 a.m. and returns later in the afternoon or early evening.
Since 2012 when Mary began the RBB adventures through SPSCC, she has not lost one participant, although, on one trip, she thought she did. When making a roll-call, she announced a name and didn't get a response. Yet, she had accounted for the correct number of bodies. It turns out that the no-response individual usually went by a nickname and didn't normally answer to her "real" name.
Mary also conducts RBB adventures for the Senior Services for South Sound. This July, she will lead her first overnighter for this group, traveling from Olympia to Port Townsend and back. The total transit cost for the Coupeville/Pt. Townsend Loop trip is $21.25 for adults and $9.60 for a Reduced Fare Permit (eligible at age 65).