By Carolyn White

Thurston County is blessed with an abundance of natural beauty. The majesty of Mount Rainier rules over the landscape, a reminder of the many season-round recreational opportunities available in the mountains.
Yet, a grander, natural wonder lies over the western horizon—the Pacific Ocean.  About a ninety minute drive from Olympia, the coast of Grays Harbor County offers many fun and relaxing destination venues for all ages and interests. Directly west of Olympia, the sands of the Pacific beaches are dotted with eight state parks.  Grays Harbor is also home to a National Wildlife Reserve.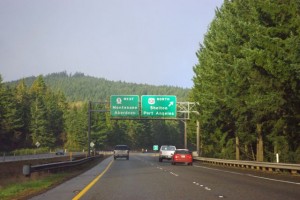 Because of the tempering nature of the Pacific Ocean, the beaches are open year-round. In the late fall, when the I-5 corridor undergoes temperature inversions accompanied by low, overcast skies, the coast is clear and sunny. During the inland's summer hot spells, the sea moderates the coast's temperatures. Winters can be milder than inland. Storms at this time of year often produce impressive surf shows. Wind-whipped waves and churning surf attract storm-watching visitors and storm chasers, anxious to witness the spectacular symphony of crashing water and gusting winds.
Whatever the time of year, the Pacific Ocean beaches are open for exploring, walking, and listening to the surf. The wide-open sands are perfect for romping or flying kites. Depending on the season, you can go clam digging or crabbing.
Getting There
Washington State Highway 8 (WA 8) is the most direct route from Olympia to Grays Harbor County's ocean beaches.  Its four lanes gently travel through rolling hills and forests. Branching off US 101 northwest of Olympia, WA 8's sole purpose is to link West Olympia with US Highway 12 at Elma. US Highway 12 terminates at Aberdeen, gateway to Grays Harbor and the ocean beaches.
Several interesting sights and adventures are available along the 21 miles of this road.  Next time you venture to the ocean beaches, stop and explore what the communities along WA 8 have to offer. Although many of the services and shops are open year-round, check the dates and hours for specific seasonal destinations.
Summit Lake
Heading west from Olympia, about eight miles from the junction of US 101 and WA 8, you see a "Tourist Attraction" road sign announcing Summit Lake Antiques.  Take the next right, which is Summit Lake Road NW. Summit Lake Antiques is about three-quarters of a mile down this road at 10724 Summit Lake Road NW.  Owners Bob and Barbara Jasper have been in the antique and refinishing business for over 30 years at this location. Since the Jaspers live here, the three buildings housing over 10,000 sq. ft. of antiques are open generally from 9:00 a.m. on weekdays and 10:00 a.m. on the weekend.  It's well worth the stop to view their collection as well as consult with Barbara about restoring a family heirloom.
After visiting the antique store, you can double back to WA 8 or continue along Summit Lake Road NW, which eventually loops back to WA 8. If you like lakes, drive another mile, and then turn right (east) and continue another half-mile on Summit Lake Short Road to Summit Lake. This is a Washington State Water Access site open to the public from the last weekend in April to October 31.
Just before Summit Lake Road NW joins WA 8, Kennedy Creek Pottery, 12320 Summit Lake Rd NW, offers the work of ceramic artists Dave Siemens and Maggie Roberts. View their hand-made ceramics that range from table ware and sculptures to garden art. Check their website for their open house events, as well as classes that focus on specific ceramic projects.
McCleary
West of the Summit Lake area is the town of McCleary, a few blocks north of the junction of WA 8 and WA 108.
If your passengers need a recreational break, visit the seven-acre Beerbower Park, located mid-way through the town on WA 108.  This city park provides a children's playground, picnic tables and restrooms. Featured is an antique locomotive purchased in 1905 by the town's namesake, Henry McCleary, and donated in 1962 to the town by Simpson Timber Company.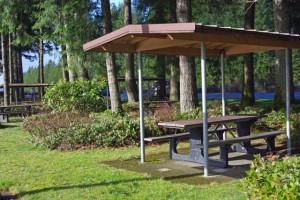 McCleary is the home of the annual Bear Festival. Since 1959, the community has hosted this annual event held the second weekend in July.  Famous for its bear stew and softball tournament, the Bear Festival features many activates for all ages.  There are food and craft vendors, parades, live music, and a car show. Events are scheduled so that you can attend one or stay for the entire weekend.
During the summer, the McCleary Museum at Carnell House is open on the weekends between noon and 4:00 p.m. Located at 314 South 2nd Street, the museum is a wealth of information about the area's history.
If you are headed to the coast on the third Saturday in September, check out McCleary's city-wide garage sale. From WA 8 westbound, you can loop through the town by turning right on Mox-Chehalis Road. Head west on W Simpson Avenue, which is WA 108, then follow the road signs pointing to Elma.
Elma
Located at the western end of WA 8, Elma is about halfway to the coast.  Before you continue west along US 12, stop by the Elma Variety Store, 325 W Main. This store is one of the few remaining, independently operated, five and dime stores.
The five and dime stores were popular in the early to mid-20th century. This type of store provided a wide variety of goods sold at affordable prices—five to ten cents in the early days. Even though the five and dime prices have long since vanished, the Elma Variety Store retains its mid-20th century flavor, with a selection of products ranging from household supplies, hardware items and dry goods.
Additionally, this store has one of the largest selections of craft supplies in Southwest Washington. The Quilt Peddler section of Elma Variety, a familiar stop for Southwest Washington Shop Hop participants, boasts over 6500 bolts of fabric. Some of these fabrics find their way into finished creations displayed at the annual Around the Block Quilt Show, a non-judged show at the local county fairgrounds.  In addition to hand-made quilts and fiber art, this show features vendors and prize drawings.
Elma is home to the Grays Harbor County Fairgrounds, located on the east side of Elma at 32 Elma-McCleary Road.  Besides holding the annual Grays Harbor County Fair in August, this facility hosts many other events. One weekend per month, from October through May, there is an indoor swap meet.  Check out the Fair's calendar of events—perhaps your trip to the coast may coincide with their annual car show or the November Country Christmas Bazaar, a tradition since the 1970's. For animal lovers, there are several horse, livestock, and dog shows throughout the year.
The Antique Tractor Pull & Engine Show, the fairground's main event in July, may have provided inspiration for the Rusty Tractor Restaurant located at the corner of Main and Young (602 E Young St). The eclectic inside décor of this family-style restaurant complements the outside display of rusty tractors and farm implements.   If traveling in a motor home or with a trailer, there is plenty of parking for big rigs.
For a quick coffee or snack, the Coffee Coop adjacent to the Rusty Tractor serves coffee as you like it plus goodies.  You can drive up on either side of the Coop. If you want to take a break from your car, there is a table inside where you can enjoy your beverage with the faux chickens.
This is only a sampling of the places to stop and visit along WA 8. On your next trip to the ocean beaches, whether it is for a day or longer, take the time to discover what these communities have to offer.