By Katie Hurley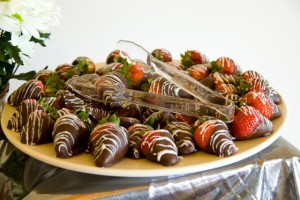 The day we honor the moms in our life is fast approaching.  Whether you celebrate with a home-cooked meal, decadent sweet treats, flowers or gifts, locally-owned Bayview Thriftway and Ralph's Thriftway have lined up a great selection of goodies and gifts for Mother's Day celebrations.
Hand-Dipped Chocolate Strawberries
On May 9 from 8:00 am to 6:00 pm and May 10 from 9:00 am to 6:00 pm in the Bayview Deli and the Ralph's Produce Department, employees will be hand-dipping large, juicy strawberries in chocolate and finishing them with a white chocolate drizzle.  They will be available in packages of 2, 4 or 10 berries.  Purchases 4-packs and 10-packs will include a bonus credit back on your Thrift-e rewards card.
Wine and Cheese
Along with the chocolate-dipped strawberries will be demonstrations of wine and cheese pairings.  Select the perfect wine and cheese combination to add to a gift basket for mom, or choose some to serve with Mother's Day dinner.
Housewares
At Ralph's Thriftway, a special selection of housewares and gift items will be featured on May 9 and 10 for Mother's Day.  ThrifteCard members earn 10% back on purchases through May 11.  For a mom who likes to cook, bake or entertain, you'll find plenty of great gift items as well as cards, gift bags and wrapping paper.
Lobster Tent Sale
Not many things say "It's a Special Day" like Maine Lobster. Ralph's Thriftway's legendary Lobster Tent Sale will take place on Friday, May 9 beginning at 9:00 am, while supplies last.  Lobsters will be $10.99/lb.  Buy whole lobsters, live or cooked on site, fresh local steamer clams for $2.99/lb. with a five pound limit and local oysters for $4.99/dz.   For an easy Mother's Day feast, throw some oysters on the grill, serve whole lobster with melted butter, and round out the meal with a green salad and a loaf of crusty garlic bread.  After a rich lobster dinner, a few chocolate-dipped strawberries would make a perfect dessert.
Kids' Card Making
At both Thriftway stores, kids will have the opportunity to create hand-made cards for Mom from 1:00 pm to 3:00 pm on Saturday, May 10.  While the kids are making cards, this is a great time to pick up the ingredients for a Mother's Day celebration.
Produce Tent Sale
Beginning on Thursday, May 8 and running through Mother's Day from 9:00 am to 5:30 pm daily, Bayview is having a Produce Tent Sale under the big tent in the parking lot.  Special pricing will be offered on some of the season's best, including Walla Walla asparagus sweet corn and pineapple.
Flowers and More
Both Thriftway stores will have plenty of special Mother's Day bouquets, hanging baskets and potted flowers and plants, ready to give to the mom in your life.  
Mother's Day Menu Ideas   
For brunch, a Dutch Baby Pancake with blueberries, Isernio's Chicken Breakfast Sausage from the meat department and some juice or coffee would make almost any mom happy.  Grab a bunch or two of fresh tulips from the floral department at Ralph's or Bayview to decorate the table.
With any luck, the weather might be nice enough for a picnic lunch.  Two easy make-ahead recipes plus a dessert from the bakery and some champagne or lemonade would make a lovely lunch. Pick up some lemons, English cucumber, sweet onion, fresh dill, fresh mint, grape tomatoes and a seedless watermelon at Bayview's produce tent sale to make Pasta Salad with Poached Shrimp and Lemon-Dill Dressing, Watermelon Salad with Mint and a beautiful Alaska Silk Lemon Poppyseed Cake from Bayview's bakery.
One-Stop Shop
For all of your Mother's Day meal and gift needs, if you make Ralph's Thriftway or Bayview Thriftway your first stop it will be the only stop you need to make.
Bayview Thriftway
516 West 4th Ave., Olympia
360-352-4897
Ralph's Thriftway
1908 East 4th Ave., Olympia
360-357-8011