By Libby Kamrowski, Timberline High School intern to ThurstonTalk

"We interact with customers. You don't get that anywhere else. It's nice to be able to lean out the window and ask about their car, their dogs, etc. There are actually human beings that speak to you," said Michael Fritsch, owner of the iconic Eastside Big Tom burger drive-in.
Through a mindset of outreach, both socially and environmentally, Big Tom's has evolved to embrace the community around it under the leadership of the Fritsch family.  As a result, it's become a food staple of Olympia.
The Eastside Big Tom Drive-in is one of the oldest in the state of Washington, getting its start when Millie Eagan opened its doors in 1948. Purchased by the Fritsch family in 1969, Michael Fritsch has been in the business almost his whole life, though he was only a small child when his parents bought it.
Witnessing and maintaining key aspects of both familiarity and reliability has kept customer loyalty over the decades. The classic Goop sauce recipe has stayed the same since the 1960s, and Fritsch takes pride in the fact that customers can return to the drive-in and taste the same recipes they did decades ago.
Even after the keys to the building shifted from his father to Michael roughly seven years ago, the focus has remained on customer experience and attention to detail.
And with such a wacky menu, close communication is vital. Fritsch explains that success is "Attention to detail. We customize everything for people."
He likes to keep Olympia and loyal Big Tom-ites on their toes with a menu perpetually changing. The secret hidden menu, unpublished for lack of sign space and inability to keep up with the evolution of burgerdom, hosts items to satisfy all walks of hunger. Here you can find an array of ingredients from six cheeses to jalapenos, sauces to shakes, and other edible experiments. Custom created milkshake flavors are often guests on the hidden menu, such as last month's Lucky Charm (containing real cereal bits that you can enjoy once the liquid shake is gone!).
The extensive shake selection is mixed from base ingredients and Darigold shake mix. The business-booming blackberry and smooth strawberry contain real fruits – no artificial flavors here. The vanilla and butterscotch are mixed using Big Tom's genius. The powerful mocha milkshake, consisting of real Folger's coffee crystals, is equivalent to four shots of espresso, if you need such a jolt. Seasonal favorites, also concocted from Big Tom's creativity, include hot fudge, Almond Joy (June), orange creamsicle (July), and a recent hidden-menu favorite, maple bacon.
The vault of possibilities is endless, and if it's a peek at this menu you seek, many of the unofficial items are found on the Eastside Big Tom Facebook page. Fritsch occasionally posts item-naming challenges for free food or Big Tom's shirts. The Facebook page is home to pictures featuring mascot Tom, quirky creations like the Glazed and Confused donut burger, and other custom menu items.
Big Tom's doesn't have a hard time catching your attention on the roadside, either. Most businesses host a humble business sign in addition to a sandwich board at best. Big Tom's clearly isn't most businesses. Depending on the season, larger-than-life Tom's "dress up" in costumes and are posed around the parking lot. There are between 20 and 40 colorful plywood cutouts, the majority painted by Abe Poultridge and Arthur Crews. Poultridge, now a student at the University of Washington, has been creating Big Tom's art since 2009. They started young, at age 14, and have created favorites such as 12th Man Tom, the Marvel Superhero set, Yoda, Dr. Who, and festive holiday Toms.
"I keep doing it because I love drawing and painting," Poultridge said. "Usually they are things I have to make my own time for, but working for Michael is a rare opportunity where I get to do what I enjoy and be of use at the same time."
In addition to the oddball entertainment of Eastside art, the bright colors of the outdoor seating and classic picnic tables provide a cheerful atmosphere.  Don't miss the large lawn toys such as the alien spaceship "crash landed," courtesy of Fritsch's playful nature, in the yard of the neighboring house he bought for his grandmother.
As a well-loved community member, Fritsch can be seen any day of the week on the premises. And as hard as he works for Big Tom's, he works just as hard to give back to our community. Fritsch says, "I have the distinct advantage of owning a business that has been here for 66 years." That advantage allows him to receive the love of Olympia, just as they love Big Tom's.
The drive-in is closed only five days a year, but every single day of the year Big Tom's supports Olympia. Eastside Big Tom supports local sports teams and school organizations with donations and sponsorships. Equally invested in the environment, the building has been energy efficient since the 1970's with the introduction of solar power. In 2010 a solar heated water system was installed, and by 2019 the goal is to be dependent on solar utilities only.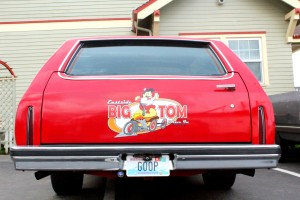 Although there are no plans for building expansion – the lot space does not permit – customers can look forward to the opening of a new Westside location in the next couple of years, as a new Big Tom's looks to drive in even more happy customers.  Follow Big Tom's on Facebook for more information.
Monday – Saturday from 8:30 a.m. – 8:00 p.m.
Sunday from 9:00 a.m. – 6:30 p.m.
2023 4th Ave East in Olympia