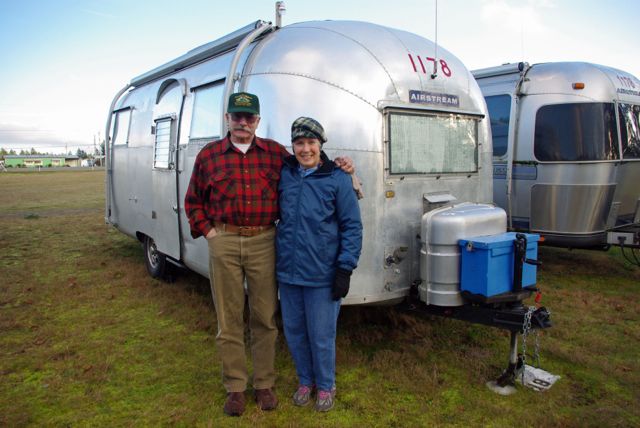 By Carolyn White

Where do you sleep?  Where is the bathroom? These are common questions that residents of Thurston County's Washington Land Yacht Harbor (WLYH) hear regarding their vintage Airstream trailers and motor homes. Anyone who has traveled on the highways during the past 70 years recognizes the iconic silver "Twinkie" outside. What does the "living side" look like?
After the article on Vintage Airstream Trailers appeared in Thurston Talk, readers expressed interest in the interiors of the vintage trailers. With all the residents at the WLYH Yacht Harbor owning, or have owned an Airstream, these trailers are definitely an aspect of Thurston neighborhoods.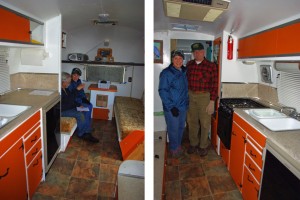 Founders of the WLYH lived in their trailers while building their community. Some owners spend many days during the year traveling and living in their Airstream. Others have lived full-time in their RV, using the WLYH as a home base for their on-the-road adventures. Imagine daily living in a space that is 150 to 200 square feet— the available living space of a 22' to 31' Airstream trailer. These trailers were forerunners of the Tiny House movement before small footprint living became popular. Featuring several of the owners at the WLYH, take a tour of life inside a vintage Airstream —from sleeping, cooking, and onboard sanitation.
When Vintage Was New
Years ago, my parents owned a then–new 1957 16' Shasta travel trailer.  This style of trailer is affectionately called a "canned ham" due to its shape. A step up from a tent, the Shasta offered little more than sleeping in an enclosed area.  Because of the limited space, our beds transformed into seating and eating places during the day.
The trailer had a small, on-board water tank where the ambient temperature regulated the water's temperature. A hand pump delivered the water, which drained overboard onto the ground.  For use in the dark of night, we had a thunder mug— the low-tech precursor to the porta-potty. That was the extent of our indoor plumbing.
For indoor light, we lit a single Humphrey propane gas lantern.  This worked really well to take the chill off cool mountain evenings. A double burner propane cooktop warmed the food stored in the small, three cubic foot, front loading ice chest.
Back in my Shasta days, RV parks were few and far between. If we wanted full hook-ups, we usually had to find a mobile home park in a city. Most of our camping happened in national forests, state and national parks. Campsite access was often limited to one-lane, unimproved truck roads. Parking spots were wherever we found space for our rig.
Camping in a trailer created camaraderie amongst all trailerites, including Airstreamers. I first noticed, though, that the folks traveling in the Silver Twinkies were different.  I usually didn't see them taking splash baths in cold mountain streams nor queuing at the local outhouse. Being curious, my mom and I started the habit of knocking on all the silver doors we encountered, inviting ourselves inside.
Once inside, I first noticed the full, dedicated bathroom, usually at the rear of the trailer. Except for the smallest Airstream under 20' long, each trailer had a toilet, sink, shower and, in most models, a tub. A decent shower required hot and cold running water, which was provided by a propane water heater and electric water pump.   High capacity 12 volt batteries and propane tanks provided the juice to power these conveniences.  Properly vented enclosures insured the safe use of these resources.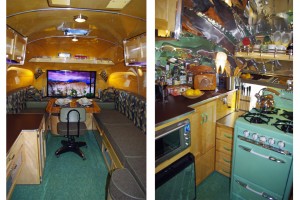 That hot and cold running water serviced the stainless steel sink in the galley. Besides a propane cooktop, most units sported a separate oven, often big enough to cook a turkey. No need to seek out blocks of ice, as the Airstreams had absorption style refrigeration systems that used propane as an alternate energy source when not plugged into 120 volt AC shore power.
The Airstreams did share a common feature with our Shasta. Because of space limitations, sleeping areas by night transformed into seating areas by day. Dinettes converted into single beds. Couches, or gauchos as they were called, became small double beds. Only trailers 24' and longer had dedicated beds, which were usually single-sized.  Due to the rounded ceilings, bunks, like in our Shasta, were non-existent.
Being claustrophobic and having an aversion to cold, I never really liked sleeping in a bag in our non-heated Shasta. I was envious when I discovered that the Airstreams had a forced-air propane furnace. Ahhhh, warm air, hot water—hot baked goods, cold beverages.  I loved this totally self-contained living and having the creature comforts of home without being home.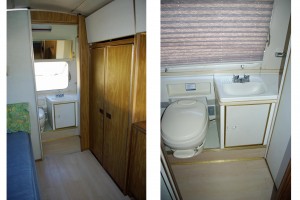 Because of these totally self-contained features, which included carrying a water supply and holding tanks for effluent, the early Airstream models were called "Land Yachts." Like ships at sea, these trailers traveled over land, providing a home wherever their owners parked.
Self-contained living comes with a price—an awareness of the finite nature of the resources at hand. The water that comes from your 20 gallon onboard tank lasts longer if you turn off the faucet while brushing your teeth.  Since your holding tank is 25 gallons, limiting your dish washing routine to one gallon for a wash and rinse means you can stay out weeks before reconnecting with civilization.
As form follows function, the interiors of the vintage Airstream trailers were designed to elegantly accommodate these self-contained living features. Ovens and cooktops were built into the counter tops and walls. Services such as water tanks, pumps, and heaters were tucked behind cabinet doors and under beds.  The refrigerator nestled amongst the pantry cabinets. A place for everything and everything in its place securely anchored to withstand the rigors of road travel.
Yes, you could take it with you in your vintage Airstream – to a point. Overall trailer weight was so critical to the vintage Airstream.  Their light-weight aluminum construction, along with the iconic body style contributed to the ease of towing. To keep the overall weight down, innovative construction materials fashioned the storage areas. Laminates formed the cabinet doors and shelving. Airstream crafted drawers and storage bins out of high-impact plastics.  These light-weight construction methods provided the appropriate space to weight ratio for carrying food and personal effects.
Vintage Interiors—Modern Owners
As featured in the article Vintage Airstream Trailers, over two-thirds of Airstreams manufactured since 1936 are still on the road. This leads to challenges for maintaining the interiors of vintage units.  Surprisingly, many units still have an operational cooktop and oven.  When the DeRoules originally purchased their 1975 31' Airstream, Yvonne's husband chrome plated the cooktop's surface and lid. This, plus years of TLC make this stove perfectly functional today.  A popular design placed the galley area in the mid-section of the trailer. Longer models had the counters along both sides.
Some vintage Airstream owners prefer to maintain the original look and feel to their trailer while others choose to modernize or update non-functioning appliances.  When my husband and I replaced the badly damaged counter top in our 1975 24' Airstream Argosy, we swapped the original stove/oven combo and sink for a modern propane cooktop, micro-convection oven and round stainless steel sink.  We fashioned these upgrades around the existing cabinetry.  The original refrigerator still worked, so we retained it.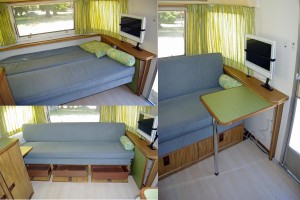 Over the years, the usual suspects— flooring, cushions and curtains—wear out. The Taylor's spruced up their 1968 31' Sovereign with a retro-green new cushions and a splash of color accents. The Westerfields chose to replace these items plus repaint the interior in their 1961 22' Airstream Space Liner. Like many of the vintage Airstreams, these two models featured the galley midway along the side and the bathroom in the rear.
Whether from years of neglect or personal preference, a modern vintage owner may elect to "gut" the inside and completely redesign the interior. This choice is not for the faint of heart, as it requires hours of labor and/or very deep pockets. This type of renovation might reuse restored vintage components.  Keep in mind that many parts installed in these vintage units were hand crafted at the factory—not off-the-shelf replacements.
The Smith's 1955 22' Flying Cloud experienced a total interior remodel. The paint was removed from the ceiling exposing the aluminum, which was polished to a mirror finish. A restored vintage stove found a home nestled with modern appliances in this rare front kitchen model. The rear features a long dinette that converts into a bed. A small toilet area sits behind the front kitchen on the road side.
Nostalgia or modern, the interiors of vintage Airstream trailers reflect the vision and dedication of their owners. The longevity of these trailers coupled with innovative design concepts—many that are used in modern recreational vehicles—attest to the spirit of wanderlust and traveling wherever the road leads.