By Jean Janes

It would be so much easier not to think about the warfare our country has been embroiled in for over a decade now, easier not to think about the toll that our military families have paid and continue to pay each day. It would be easier not to think about the nearly 6,800 service members who have given their all to serve this country.
While most of us have the luxury of not being confronted by those bleak truths and those sacrifices and need only reap the benefits, Mike Viti would have us all remember and appreciate those sacrifices, and he's willing to sacrifice 233 days of his life this year to help us do just that.
Mike Viti, in cooperation with Freedom Has a Face, will be Hiking for Heroes beginning April 26 and walking 36 kilometers a day, six days a week until he walks a kilometer in honor of each service member who has died in Iraq and Afghanistan. He will travel about 7,100 kilometers total and the projected finish date is December 13, 2014.
Even though he is a veteran who has served in Afghanistan, such devotion to the fallen troops is extraordinary. When asked where the Hiking for Heroes idea came from, Mike explains that after leaving military service and rejoining civilian life, "I was just a little shocked to see how out of touch the average American was."
Coming from a style of life that is extremely focused on the sacrifices the military demands, Mike was especially sensitive to the fact that not only are families still dealing with the losses of their service members, but that these losses are ever increasing. He considers, "I mean, we're still fighting a war.  There are still families impacted by this."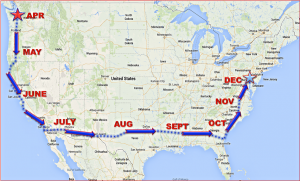 In an effort to remedy this social flaw rather than simply dwell on it, Mike is taking action, and Hiking for Heroes will be his battle plan. Each kilometer will represent a fallen service member, and, he explains, "At the beginning of the day, I am going to write their names on the flag and at the end, take a picture of the flag. That way I'm honoring each one individually each day with the kilometers that I walk and take a picture to commemorate that day for them."
And this is no small task. Mike's hike will take him down the west coast, across the southern states, and back up the east coast.
Mike is not alone for his monumental task. Along with the support of his followers on social media, the donations made to his cause, and the Freedom Has a Face organization, he has support from such groups as the Chehalis Tribe.