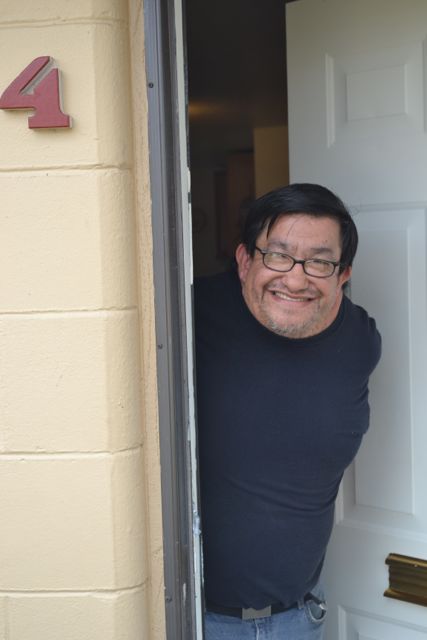 By Barb Lally

David woke up on the floor. But it was only because the temporary air mattress his caregiver had lent him had sprung a leak during his first night in his new home
David didn't want to wait for his bed to arrive before he moved in. As soon as Homes First! had his place ready, he was in the door. Homes First! is a local non-profit that owns and manages affordable housing in Thurston County for families that are strapped, those recovering from substance abuse and adults with disabilities like David.
"I was surprised that I was on the floor in the morning, but I slept well," David says with a laugh. Sleeping on the floor hasn't always been such a funny story for David.
Up on His Feet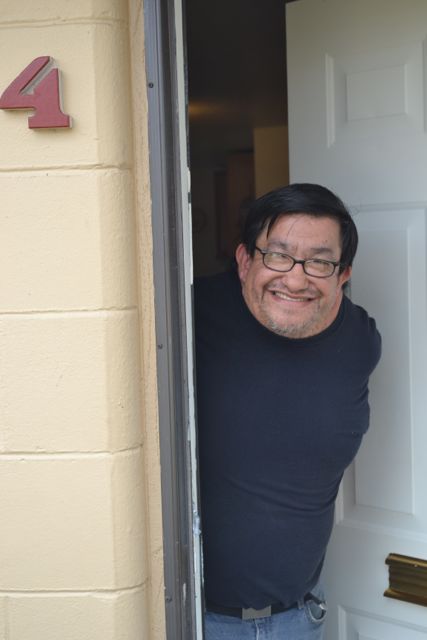 By age three David could not talk and could only crawl along the floor. Born with disabilities that impaired his ability to walk and to hear, Seattle doctors told his parents he would probably not live much longer. That was in the 60s. David says that his "body just kept on going."
His family moved to California where with the help of his parents, hearing aids and some good doctors, David eventually learned to speak and walk.
David credits his Dad with teaching him to walk. "He would help me up on my feet," David explains while holding out his hands as if helping a toddler.
As an adult, David was able to work a job as a janitor both in a veterinarian's office through a non-profit agency, and eventually, when he moved back to Washington, at the UW Campus in Tacoma.
But he has had on again and off again living situations, some good, some okay, some bad.
On the Floor Again
Most recently, when he couldn't bear living in a home any longer where he paid $400 for just two rooms, he moved into a fifth-wheel travel trailer parked in Rainier with his brother and his girlfriend.
David was again on the floor, but this time it was in a small cramped space shared with a piece of old furniture in the tiny camper's living room.
"It was hard for me to get up from the floor in the morning because of my back," David says. "Each day I would try to clean, do the dishes and fix the place up, but it wasn't how I wanted to live."
He knew he had to find a way out. David and his caregiver, Kathy from Catholic Community Services, spent a lot of time trying to find a new home for David.
"There was just nothing he could afford on his limited income from Social Security Disability," says Kathy. "Most of the apartments we looked at required two times the rent just to get in. Then we walked into Homes First!"
Homes First! Home Helps David on His Feet Again
Homes First! Executive Director Trudy Soucoup and Property and Project Manager, Mike Fouts, explained to David and Kathy there was a one-bedroom apartment available but there were applicants ahead of David.
David kept checking back. And checking back.
"Finally Mike called and it was good news," smiled David. "I got my place. I said, when can I move in? Can I move in now?"
Mike Fouts registered sheer joy in David's response. "He wanted and needed that place so much and his persistence won out. Now, we have another great tenant."
The staff and volunteers worked hard to get the apartment ready for him with new lovely laminate floors and other upgrades, cleaning and repairs. David couldn't have a better landlord.
"It's affordable living that allows him to be so much more independent," says Kathy. "David can walk to the bank, the store or the bus stop nearby and he has even taken the bus to the mall once. Homes First! helps people live their dreams of having what other people have."
Homes First! has been serving Thurston County communities for nearly 25 years and is currently inviting the public to a one-hour inspirational presentation about its mission held twice a month on location, right in one of their homes. They call it "Opening Doors to Homes First."
"Attendees are amazed when they understand the positive effect of a decent, affordable home," says Trudy. "It sort of catalyzes other great things in our tenants' lives. Local county commissioners, mayors, city council members, business leaders and more have stopped by the presentations and have thoroughly enjoyed it."
David Keeps a Promise
Homes First! tenants are openly grateful. David says it simply, "When I came into this house I felt like I was in a whole new world. This is my home and I will never sleep on the floor again."
His thankfulness is clearly expressed in his care of the place. It is immaculate, cozy and comfortable. David has weeded flower beds and replanted gardens and proudly shows them off. He takes great pride in all he has accomplished since he has been there.
"Before my Mom died in 2006, I told her not to worry," David says proudly. "I told her I would be okay and live my life the best I know how and stand on my own two feet."
Clearly, Homes First! has helped David keep his promise.
The public is invited to an in-home outreach event called "Opening Doors to Homes First!" RSVP online at www.homesfirst.org for the one-hour presentations held on May 20 at 5:30 p.m. or May 22 at 11:30 a.m.  Future events scheduled June through August.