By Eric Wilson-Edge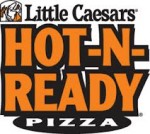 Some of the best moments from my childhood were spent around a table.  Here I strategized, moving my plastic army into position.  The goal was victory and bragging rights.  My friends and I played Risk late into the night to the point of exhaustion and delirious laughter.  By the end the room smelled of boy, a thick haze of sweat and bodily functions.  I typically lost.  Slap Jack is more my speed.  It didn't matter.  I relished the time spent with friends.
The same spirit is behind International Tabletop Day.  The event is the brainchild of Geek and Sundry games.  Last year more than 3,000 gaming events were held in 64 countries around the world.  Locally, Olympic Cards and Comics played host to the gathering.
This year's Tabletop Day will be on April 5.  Once again Olympic Cards and Comics will open its doors to gamers of all skill level.  Owner Gabrielle Trautmann is a fixture in the Olympia area.  She started working at OCC when she was 15, bought the business when she was 18 and has transformed it into a community hub.
The building on Pacific Avenue is 7,000 square feet of revelry.  Comics and collectibles of every sort fill the space.  As I walk through I spot a life-sized Silver Surfer in a corner high above.  He's wearing a Superman robe.  In the next room a couple of people are playing a card game.  They're lost in thought, relaxed, like this was a home and not a store.
"Last year was pretty crazy.  It was way busier than I thought it was going to be," says Trautmann of the inaugural Tabletop Day.  Hundreds showed up to try their hand at games old and new.  One of the highlights was a phone call from Will Wheaton and Felicia Day.  "I was totally cool until I got off the phone and then I was like 'I have to vomit,'" says Trautmann.
Tabletop Day is free and open to players of all ages.  Volunteers will be on hand to answer questions and provide instruction.  "My favorite days in the store are the days that these tables are full and the couches are full and I have a house full of people," says Trautmann.  "There's a happy din that comes from a house full of gamers.  That's my favorite sound in the world because all those people are having fun."
Rich Edwards is a retired librarian and an avid gamer.  He comes to Olympic Cards and Comics on a regular basis.  He's here pretty much every Thursday for game night.  "I find it a very intellectual exercise that's heavily social," says Edwards.  "I've met some of my best lifelong friends from gaming."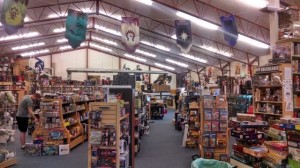 Edwards talks passionately about different kinds of games.  He mentions something called "Ticket to Ride."  When I tell him I've never heard of it he gives me a quick tutorial.  In this version, the goal is to build rail lines across the United States.  The more completed lines you have the more points you earn.  Edwards smiles as he explains the finer points.  For Edwards there is real joy in teaching and sharing something he loves.
Olympic Cards and Comics will open at 10:00 a.m. on April 5 and will remain open until midnight.  You're encouraged to bring a game of your own but don't worry, there will be more than enough for everyone.
Olympic Cards and Comics is located at 4230 Pacific Ave SE in Lacey.