By Claire Smith, Capital High School Intern to ThurstonTalk

ThurstonTalk's articles often highlight people or places in Thurston County. To highlight a thing is more rare. How is it that an unassuming rock, of all things, has bound a community so tightly?
The rock outside Capital High School has had what can only be described as a colorful history. Throughout  the years, the rock has been spray painted dozens, if not hundreds of times. Whether it be the opening activity for DECA week, the cross country team making it to state, or an important football game celebration, there is nearly always a cause that calls for the rock to be decorated in celebration of Capital High School student's accomplishments.
There's something unique about the rock that makes it dear to the hearts of students – it's a way for them to connect.  Social cliques don't outlaw others from painting or talking about the rock. It's property to every student of CHS. It's unique.  It's for the whole school to share.
Occasionally, a rival school will discolor the rock, and paint their slogans over it. But CHS students are relentless. The vandalism is never present for more than a week before the students, armed with their spray paint, take back what's rightfully theirs.
Over the years since the rock has been around, many classes have tried to leave their mark. The class of 1991, shares alumni Erin Gantenbein, even successfully carved a 91 into the rock using a gas powered jackhammer. While years of spray paint and Washington's rainy weather have made it disappear, the class, and the rock, still remember.
The rock has also lead to other spray paint adventures such as the one 1987 graduate Chris Merchant admits.   "While spray painting the rock to rid the rock of a tragic discoloration," he explains,  "we [the seniors] got a little side tracked and decided to designate several choice parking spots for 'seniors only'." While the specialized "spots" may not have lasted long, the memory created by, and linked to, the CHS rock certainly has.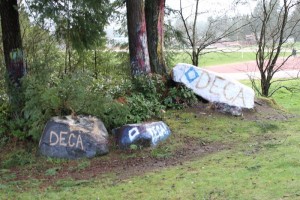 The seniors aren't the only ones who get to have fun with the rock. Juniors  have been known to cover the rock with dirt before a big spray painting session to mess with the upper class students. And for club or sports related paintings, younger students are often invited along to help. This also gives those students a chance to become practiced in this cherished art so they can carry on the tradition their senior year.
The rock has been at the school since it's construction in 1975. It has witnessed the school celebrate nineteen state championships in athletics, and also crossed paths with future major league baseball players, a soon to be professional golfer, and even an Olympic rower.
And in the midst of today's tech-focused society, with our social media, Snapchats and the infamous selfie, the rock certainly doesn't want to be left out. You can find the rock on Twitter at @chsROCK.
This rock is the center of  celebrations for all Capital High students. It's seen classes come and go, trends rise and fall, and whole generations of students paint its face.  Through it all, it remains a cherished item held close in the hearts of all alumni and students at CHS and will be for years to come.