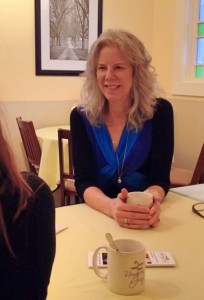 Many people think of spring cleaning as a day to buckle down and do the hard tasks we put off throughout the year – scrub the baseboards, wash the exterior windows, clean out the closets.
After the loss of a loved one, there is a tendency to hang on to physical items belonging to the person you lost.  This is a normal response and part of the grieving process.  However, there comes a point when doing some "spring cleaning" on your grief is a necessary step towards healing.
Joan Hitchens, founder of Navigating Grief and the Discover-Create-Share Center in Olympia, shares that "the fear of forgetting someone is one of the hardest parts of loss.  We think if we get rid of their 'things' that we are losing them all over again."  But she also shares there is tremendous emotional pull connected with the belongings of someone who is gone.  They hold memories and therefore become entwined in the fear of forgetting that beloved person.
"Part of the process of going through and looking at the physical items, a room, furniture or the clothing of someone you loved," explains Hitchens, "is asking yourself whether it's a memory you are holding onto or whether it's the physical 'stuff'."
Often, it's the memory that we wish to hold tight in our hearts.  Hitchens suggests taking a photo of the item and writing a story to go along with it, keeping it safe in a scrapbook or memory box. This allows people to get rid of the physical clutter and keep the memory, ultimately helping move towards healing.
This is just one idea for dealing with the physical clutter that may be holding up your journey through grief.  Hitchens has a myriad of solutions for clutter, physical and mental, and helps clients find the right one for them.
"What's most important is to learn to make the best of the memories you have and a way to keep them safe – a book, a photo, a story.  It's an important part of holding the person in your heart forever," shares Hitchens.
Navigating Grief will be hosting a Spring Cleaning after Loss Workshop and Showcase on April 12.  For more information about this event, click here.
To learn more about Joan Hitchens, click here.