While the weather still feels decidedly "wintery" outside, spring is not far away.  Daffodils emerge, trees begin to bud, and children have a much needed week-long break from school.  Some families may have plans for family trips to catch the last few powder runs of the year or possibly to add some color to their pasty Northwest winter complexion on a sunny getaway.
However, for many of us, Spring Break is just that – a break.  A break from packing lunches, catching busses, setting alarms.  But it comes with challenges as well.  The "Mom, I'm bored!" phrase usually emerges around the second day and what happens when I need to head to work?  A scramble for playdates and grandparent time ensues.  How to avoid both of these situations?  Enroll your children in one of the outstanding Spring Break Camps offered throughout Thurston County.  Whether your child is an animal lover, sports nut, or just wants to make Rainbow Loom bracelets ALL DAY LONG, there is something for them in our listings below.
Hands On Children's Museum Spring Break Camps
With a variety of offerings for children ages 3 through grade 4, the HOCM can always be counted on to provide enriching, engaging activities.  Camp offerings include half day topics that can be combined for full day fun.  For the little ones, Insects and Gardening and Pop Art are the camp topics.  For grades 1-4, Wearable Art (yes…this means Rainbow Loom!!) and Pets and Vets are offered.
Cost:  $105/member, $125/non-member, plus $15 materials fee for half day camps.  Combo options available.
Time: 9am – Noon and 1pm – 4pm
South Sound YMCA Spring Break Camps
Our South Sound YMCAs never disappoint with their afterschool, and break camp options and Spring Break is no exception.  With locations at the Downtown and Briggs Y as well as several area elementary schools, there is likely one close to you.  Kids in grades K – 6 can be dropped off as early as 7 a.m. and picked up at 6 p.m., great for working parents.  Topics include art, sports, robotics, space, and much more.  Visit the website for full details and camp locations.
Cost:  $120 week/$28 daily for Facility Members;  $128 week/$30 daily for Program Members.
Time:  7 a.m. (5:45 a.m. option at Chamber's Prairie) – 6 p.m.
YWCA Girls Without Limits Middle School Spring Break Camp
Girls Without Limits (GWOL) is a YWCA "program that encourages girls ages 10-14 to develop skills in science, technology, engineering, and math (STEM), gain career awareness via mentorship with professional women, and foster self-esteem and leadership skills in a positive and fun learning environment."  Sounds good, right?  The Spring Break camp offered for 2014 focuses on coding.  Girls will work with professional software engineers to build their own laptops. A field trip to Intel's Portland Campus is included.
Cost:  $130 for the week / Scholarships available
Time:  9:30 a.m. – 4:30 p.m.
Alley Oop Gymnastics Spring Break Camp
Located on Olympia's Westside in the Mottman Industrial area, Alley Oop Gymnastics is known for their quality, safe, and fun programs.  The all-day camp is for ages 6 through 12 and runs the full week.  Campers will engage in traditional gymnastics activities using the apparatus as well as fun games, crafts and activities with their peers.  Each day has a different theme.
Cost:  $300 for the week
Time:  8 a.m. – 4 p.m.
City of Lacey Parks and Recreation Spring Break Camps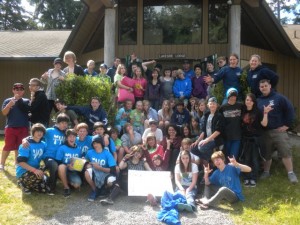 The City of Lacey has put together a week of fun for your kids involving a fun field-trip each day.  Meeting at Mt. View Elementary, campers ages six to twelve will engage in great activities including bowling, an outdoor day at Burfoot Park, Charlie Safari, and swimming.  This one's sure to deliver tired, happy kids at the end of each day.
Cost:  $150 per camper for the week
Time:  7:30 a.m. – 5:30 p.m.
City of Olympia Parks and Recreation Spring Break Camps
The City of Olympia also offers some great field-trip style options for kids as well, all based out of Lincoln Elementary School.  Campers ages six to eight will enjoy a Spring Break Safari with trips including a variety of outings including swimming and NW Trek.  Campers ages nine to twelve will engage in more outdoor adventures with rock climbing, hiking, sea-kayaking and more.
Cost:  $155 ages 6 – 8 / $179 ages 9 – 12 for the week
Time:  Drop off from 7:30 – 9 a.m. and pick up from 4 – 5:30 p.m.
This rural farm located on Olympia's Westside off Delphi Road offers campers ages four to thirteen a truly memorable week on the farm.  Activities include spring garden planting, nature hikes, spring tea parties, and of course time with the farms wide variety of animals including chickens, horses, goats, bunnies, peacocks and loveable barn cats.  Campers will not ride horses during this camp.  You can feel good about sending your child to Nature Nurtures as all proceeds from Farm Camps go directly to support the farm's Youth Mentoring Program.  You can read more about the farm's mission here.
Cost:  $250 for the week
Time:  9 a.m. – 4 p.m. (before and after care available at additional cost)
The Valley Athletic Club Spring Break Sports Camp
Have a sports nut in the family?  The Valley's sports camp is just the ticket.  The week long camp offers full and half day options for kids ages six to thirteen.  You can sign up for the whole week or just a day or two.  Sports include soccer, basketball, raquetball, tennis, swimming and more and are taught by sports professionals at the gym.
Cost:  Half Day:  $35 / Full Day $45 /  Full Week $170  (Non-Members add $5 per day)
Time:  Half Day:  7:30 a.m. – 12:30 p.m. / 12:30 p.m. – 5:45 p.m.   Full Day:  7:30 a.m. – 5:45 p.m.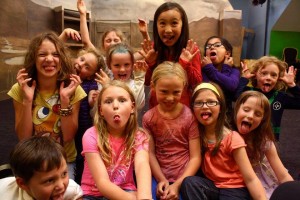 Olympia Family Theater Spring Break Camp
The quality and whimsy of the productions at OFT carries through to their camp program for kids ages eight to thirteen (or so…).  Campers will rehearse and perform an entire play during the week culminating in a performance on Friday.  The play, entitled "The Quest, A Fairy Tale with Attitude!"  by Eddie McPherson is sure to engage your most dramatic family members.
Cost:  $185 ( + 2.00% ) for the week
Time:  9 a.m. – 3 p.m.
Environmental Connections Outdoor School Spring Break Camp
For the nature lover in your family, this camp combines educational plays, skill building games, songs, dancing, and activities to help children connect with nature and themselves.  Campers will explore nature physically as well as with movement and drama culminating in a wonderful performance for families on Friday.
Cost:  $200 for the week
Time:  9 a.m. – 3 p.m.
Thrifty Thurston highlights inexpensive family fun in Thurston County.  The weekly series focuses on family-friendly activities throughout our community.  If you have a suggestion for a post, send us a note at submit@thurstontalk.com.  For more events and to learn what's happening in Olympia and the surrounding area, click here.
Boys and Girls Clubs of Thurston County Spring Break Camp
This year's camps will be held at the Lacey, Rochester, and Tumwater locations only.  Olympia location kids are welcome at any of these sites.   As always, Boys and Girls clubs focus on building friendships and academic skills along with creating fun memories for kids.  A typical day will include games in the gym and game room along with educational programs to build skills while having fun.  Arts and crafts along with Technology projects are included.
Cost: $25 membership fee (good through August 2014); $95 for extended hours; free drop-in hours from 10 – 4 with membership.
Time: 7 a.m. – 6 p.m.