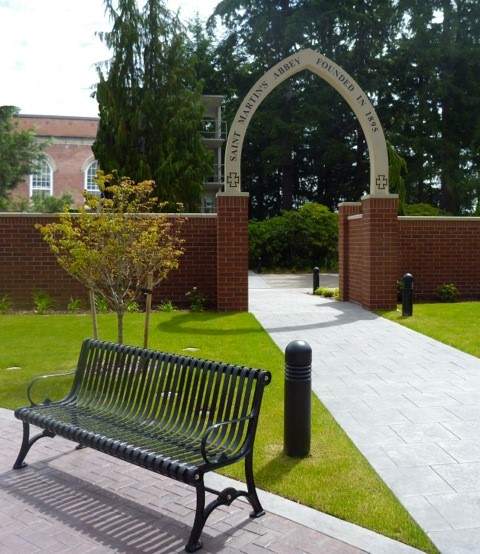 Submitted by Saint Martin's University
Saint Martin's University is one of 15 institutions partnering with CSO Research Inc., a company based in Austin, Texas that provides career center automation software to more than 830 college campuses across the US and around the world, using  The Outcomes Survey to answer the question: "What can I do when I graduate?" for students, parents and the White House College Scorecard.
"We are thrilled that Saint Martin's and 14 other schools have chosen to show visionary leadership and become our partners in innovation on The Outcomes Survey," says Erik Mulloy, CSO's CEO and founder. "Students, parents, lenders and policymakers want answers to that long-standing question, and The Outcomes Survey provides the answers."
"Saint Martin's University has a focus on the outcomes of our graduates through the social media campaigns of #FromHereYouCan and #SaintsHaveAPlan," says Ann Adams, associate dean of students and director of career development.  "This product fits in well with those efforts and to provide accurate data on the first destinations of our alumni."
In addition to Saint Martin's University, the following schools have partnered with CSO on this initiative, making three-year commitments to gathering first destination career outcomes data on their graduates using The Outcomes Survey: University of North Texas (Texas); Virginia Commonwealth University (Virginia); Rider University (New Jersey); Harding University (Arkansas); Metropolitan State University of Denver (Colorado); St. Mary's University of San Antonio (Texas); Midwestern State University (Texas); St. John Fisher College (New York); East Central University (Oklahoma); Montana Tech of the University of Montana (Montana); Ohio Dominican University (Ohio); Roger Williams University (Rhode Island); Concordia University (Texas); and Wisconsin Lutheran College (Wisconsin).
The Outcomes Survey is the only turnkey solution available that provides standardized and comprehensive "first destination" career outcomes data on new college graduates, including data on full-time employment, graduate school enrollment, part-time employment, military service, gap year, fellowship program and service program participation, and those graduates choosing to start their own businesses or work as independent contractors.
According to Max Wartel, CSO's head of research and analysis, "Most other sources of standardized career outcomes data are state-supported tools that rely solely on graduates working full-time within the state. Graduates working out-of-state, in part-time jobs, gap year or service programs, pursuing entrepreneurial endeavors or otherwise working independently are not counted, nor are those pursuing graduate school or other educational paths.  As a result, these data, while sound, are not representative of the variety of first destinations new graduates may choose to pursue.  The 21st century workforce is complex.  The Outcomes Survey takes this complexity into account."
In addition to data on employment and graduate school admissions, The Outcomes Survey collects data on student participation in internships and experiential education, levels of engagement in their search for post-graduation work, satisfaction with their first destination, and personal motivations in seeking work or further education.
Matt Berndt, CSO vice president and head of The Outcomes Survey initiative, says, "Gathering data at a single point in time – particularly only at graduation – provides an incomplete picture of graduate outcomes.  We want schools to be able to tell the whole story about their graduates' pursuits, whether they are telling that story to prospective students and their parents, to accrediting bodies, or to federal agencies."
The Outcomes Survey collects valid, reliable and comprehensive data that can be used in reporting to the White House College Scorecard, Business Week and US News & World Report. It meets Rubio-Wyden "Student Right to Know Before You Go" standards, the new guidelines from the National Association of Colleges and Employers (NACE), and standards under consideration by the US Department of Education related to financial aid and gainful employment in recognized occupations.
The Outcomes Survey is available now to colleges and universities seeking to survey their May 2014 graduates and beyond.
For more information on The Outcomes Survey, go to:  http://TheOutcomesSurvey.com, email outcomes@csoresearch.com, or call 1-866-705-4201, x3.
For more information on CSO Research Inc., contact Matt Berndt at 1-866-4201 ext. 128 or via email at mattberndt@csoresearch.com.