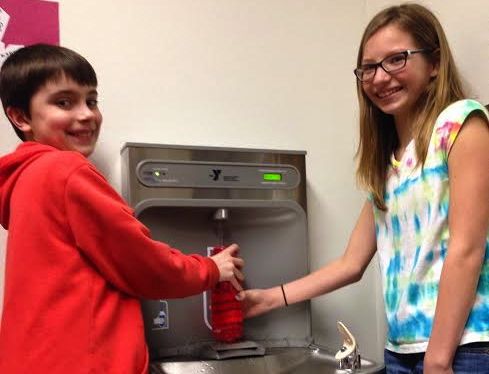 By Eric Sims-Brown
Ask a kid to name a few of his or her favorite things. Chances are, water isn't on that list. On the surface, water isn't exciting. It's the thing your mom tells you to drink when what you really want is a soda. Well, there's an effort underway to change this thinking.
The South Sound YMCA and Tumwater School District's Michael T. Simmons Elementary have teamed up to get kids to drink water. The Y received money from the Robert Wood Johnson Foundation to install water bottle filling stations. Michael T. Simmons was first on that list. "It's really important to educate about the harm of sugary drinks and really important to provide a healthy alternative," says the Susan Anderson, Executive Director of the Statewide Pioneering Healthier Communities program through the Y.
One goal of the program is to reduce the number of children who are overweight or obese. In Washington State 25 percent of children ages two through four and receiving WIC services fall into these categories while 23 percent of tenth graders are classified as overweight or obese.
"To fight childhood obesity and diabetes, we need to start implementing healthy practices for kids at a young age.  This is part of that process, and we think it will be a example the rest of the country can follow," comments Mike West, President and CEO of the South Sound YMCA.
Filling stations will be installed in a total of 32 schools and Y's across the state. The one at Michael T. Simmons went in a few weeks ago. "I'm surprised by how many kids are bringing bottles and filling up," says Principal Shannon Leatherwood.
The stations are pretty ingenious. "They're designed to be quick, clean and green," says Anderson. The machines are three times faster than a standard drinking fountain and operate using sensors. A child (or adult) simply places their bottle in the correct spot and water starts to flow automatically.
Perhaps the most intriguing part is the green ticker that keeps track of how many 20 ounce water bottles have been saved from the landfill. When I was at the school the number was 1,636. "We don't want our youth to pass up on tap water," says Anderson. "Bottled water is expensive, energy intensive and environmentally damaging."
The positive response isn't just from students. Leatherwood says teachers are lining up to fill their bottles. At least one parent I spoke with welcomes the new approach. Donna Elliott's daughter is in third grade at Michael T. Simmons.  Elliot thinks, "it's a great idea. I push a lot of water in our family."
Most of us know water is necessary for proper hydration. However, it can also play a key role in learning. "Water helps with cognitive functioning of the brain which can translate into improved academic performance," says Anderson.
Filling stations are expensive. However, most costs, including installation, are covered by the grant.  Maintenance is minimal and consists of changing the water filter once a year. The price per filter is $100 and is paid for by the school.
Principal Leatherwood takes me to the filling station. It's strategically placed in view of the main office.  A student has just finished putting water in her bottle. Leatherwood asks the girl what she thinks. The girl replies with an-awkward-for-the-age "I like it."
The early success at Michael T. Simmons could result in more stations in more schools. The Washington Alliance of YMCA's and the Childhood Obesity Prevention Coalition submitted a $3 million Capital Budget Request for water bottle filling stations in schools. The current House Capital Budget proposal has included a $750,000 grant for the program.
Find additional photos from the ribbon cutting event here.