By Libby Kamrowski, Timberline High School Intern to ThurstonTalk
It seems that the bird has flown. Our blue and white feathered friend pervades the world, tweeting 24-7 and blanketing the earth with relatively white noise. The volume is growing louder by the second as this bird gains followers, contributing their own voices through Tweets.
The social media site, Twitter, has established dominance in the realm of social media. You may have noticed your kids fixated on their phones- but chances are they aren't just texting. They're Tweeting.
Let's start from the beginning of Time(line). A Tweet is a status update limited to 140 characters, aimed at streamlining information and limiting the potential for Internet ranting. After one composes a Tweet, it is posted into the world of Twitter and joins the metaphorical airwaves known as the Timeline. For avid Facebook users, this is similar to the newsfeed.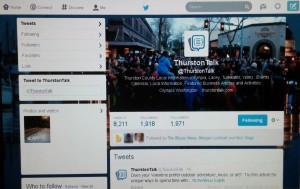 "I can think about the wording. The 140 character limit makes it fun to get the most meaning out of the smallest number of words," said 16-year-old Kylie Charney-Harrington, an avid Twitter user, who is most known for proverbial puns and quintessential comedy. Despite her sizeable platform of 360 followers, she only spends 20 to 30 minutes on social media daily.
To check how "well" your Tweet is doing, you can navigate to the "Connect" bar (resembling the notification feature of other sites). If your Tweet is "favorited" it is similar to a Facebook "like." The option of "retweeting" is a feature unique to Twitter, for those who do not select the option of a private profile. Retweeting may seem redundant at first, since it reposts someone else's Tweet verbatim, but a retweet is a stamp of approval. Retweeting is also used to spread news faster, and business owners or organizational leaders can create accounts to endorse their interests.
"It's easier to digest than any other type of blogging because it's so ridiculously small. It's fun to put yourself out there and see what comes back," Charney-Harrington explained about the popularity of Twitter.
However, this site is one that needs constant updating to maintain a decent platform. For businesses and projects, only one update every couple of days appears to keep followers loyal. For teenagers, the media world is accessed with ease through ever-present Smartphones. "I like that it's a constant feed of information from what my friends are up to, to news going on in the world. There are Tweets being posted constantly, rather than on Facebook it's an 'every once in a while' thing," said 18-year-old Bridget Zoller, followed by 289. "It's for younger generations."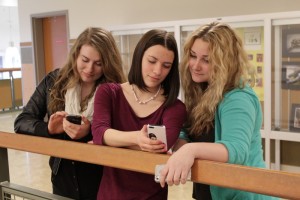 For those aiming to stay updated, Twitter is a veritable highway of information. If one falls behind with their Tweets, they become a side street, less visited, and eventually their followers may decide not to follow the beaten path.
"It is competitive in some sorts because some people really care about followers, or they argue a lot, and they want to express their opinion as better than others," said 17-year-old Drew Amburgy, a seasoned social media member, who holds an impressive 634 followers. Amburgy explained that he typically uses the fast-paced site to talk with friends, share opinions, and stay updated not only with social matters, but with sports and politics too.
Simply watching the nightly news or perusing the CNN website is becoming rapidly insufficient. In an interactive media world bursting with words, visuals are dominating attention spans, and hashtags are taking over. What one might find out through tomorrow's newspaper might not even be trending anymore on Twitter.
Popular hashtags, repeated phrases, and promotions comprise the trends bar on the left edge of the Timeline screen. These top 10 titles lead to the world beyond your following. Clicking on a trend leads to every mention of it, which can increase exponentially before your eyes.
Similarly, adding a drop to the ocean of Twitter is easy by contributing a "selfie." A selfie is a self-taken picture, usually involving a front-facing camera, often uploaded to the Avi (profile picture) of a Twitter account. Selfies can be categorized under the hashtag "#LiveTweet," and tend to flood Timelines on personal profiles to highlight activities or personal attributes, such as hairstyles or clothing.
Advice? If you have thumbs, Internet access, and a lot of opinions, Twitter is your destination. For students with personal profiles, hotspots of activity are around seven a.m. (pre-school), two p.m. (post- school), and after six p.m. (post-extracurricular hours). Business Tweets are successful during these times too, but usually tend do well around five p.m. (during rush hour and the nightly news). Amburgy justified the Tweet rush from 5-8 at night because, "It's the universal downtime for everyone."
And as always, be yourself and don't get too involved in online debate. The people with positive posting and following habits are the best social media leaders. "People who post a lot do have an advantage, but I think the people who follow back get the most followers besides celebrities or big names," said Zoller.
#ThurstonTalk #PositiveCommunity #OlyLove