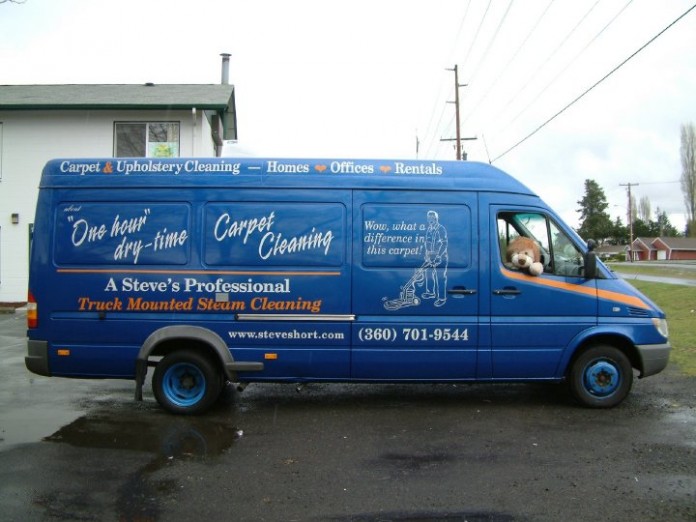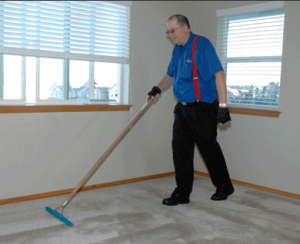 The blue truck logo for A Steve's Professional Truck Mounted Steam Cleaning features a lion riding shotgun.  While the instantly recognizable color is an obvious match to the real trucks you'll see around town, the lion is remnant of a long-ago Valentine's Day delivery to his family.  When so many passing motorists smiled, waved, and pointed, it quickly became part of the team.
In business since 1982, Steve Short's experience began when he "started knocking on doors" around town.  Since then, the company has grown to include two fully equipped trucks capable of steaming carpets at up to 250 degrees and then vacuuming away the excess water.  With his daughter and son-in-law on board as staff members, they "don't have to turn down a job because within 2-3 days it can be done."
A sense of community and civic pride leads them to seek new clients primarily via referral.  This has built a solid customer base of residential, business, and property management clients seeking maintenance of upholstery, carpet, tile, vinyl, and cement flooring.  They take the time to thank customers via Facebook as well as offering promotions that donate money to childhood cancer charities.  With Steve's young granddaughter, Alyssa, a survivor herself, the entire family team participates in fundraising events around the region.
Being a boots-on-the-ground small businessman, Steve is always willing to share his 30+ years of knowledge.  He is able to provide quotes over the phone based on client's descriptions and his personal expertise.  Quotes are determined by the service needed and severity of the stain or damage.  By providing such individualized care, clients return again and again.  Says Ray Fraley, a retired insurance employee, "Steve stands out for his commitment to his business.  His integrity is refreshing, and we find him just plain nice to do business with.  I can, without hesitation, recommend him for anything, be it business or otherwise.  If you have a chance to associate with him, do it!  The world needs more like him."
A Steve's Professional Truck Mounted Steam Cleaning can be reached at 360-701-9544.