By Tom Rohrer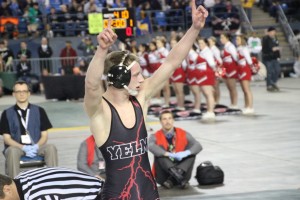 A year ago, Darren Harris's heart was filled with dismay.
Saturday night, the Yelm wrestler replaced the anguish from his defeat in the 4A 113 lbs. state championship in 2013 with joy and celebratory perspective.
Harris was able to overcome a slow start (for his standard) to defeat Central Valley's Bryson Beard 5-0 in the 4A 120 lbs. title match at the WIAA Mat Classic in the Tacoma Dome Saturday night. With the victory, Harris finishes the season with a perfect 35-0 record, and the victory in the title match was his only encounter not to end with him pinning the opposition.
A state champion in 2012, Harris was happy to bring another championship back to his community.
"It feels great honestly," said Harris moments after his victory. "Next year, I am going to come back even harder and try and win it again."
The improvement Harris showed from his sophomore to junior year has impressed Yelm head coach, Gaylord Strand.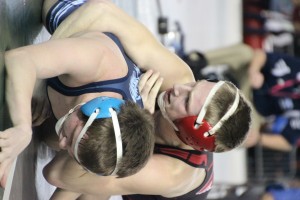 "He gives it all (in practice) and he raises the level of the room with his ability to work hard," said Strand. "Everybody grows and he's developed into a much better wrestler than last year."
Though he is the state champ, Harris was hoping for a perfect season of pins.
"I feel like I could've done way better and scored more points. I was a little timid at first until I started feeling around and got comfortable," he said.
Joining Harris, Strand and the entire Tornado program was a strong contingent from Yelm.  That support was not lost on Harris.
"It feels great, seeing everyone from the home town come and support us," he added. "It means a lot."