By Gale Hemmann
Do you want to add some retro flair to your wardrobe? Need a perfect gift for a friend?  Or maybe you've always wanted to get a piercing.  Stop by one of Metro's Olympia locations, at Capital Mall and in Downtown Olympia. Locally owned and operated since 1994, Metro has been the go-to spot in Olympia for trendy and eclectic clothing, accessories, body piercing services.
Owned by Olympia residents, Abbie and Jeff Rose, Metro sells cutting-edge fashions and rock-inspired clothing often found in bigger cities.  Both Metro locations feature a retail store and body piercing with licensed piercers available seven days a week.
Metro began in downtown Olympia in 1994.  In 1999, the company expanded to a second location, inside Capital Mall.  Abbie, who has worked for Metro since 2003, took ownership, with her husband, in 2010.  About two years ago, the couple expanded the mall location, doubling the square footage and moving to a new location within the mall.
"We are one of many local businesses that choose to operate inside the Mall," explains Abbie stating that it's important for people to know that not all mall tenants are large corporations.  "In addition to locally-owned businesses operating here, there are more than 400 mall employees working at the mall everyday.  This creates an incredible sense of community within the mall doors."
Growing up in Olympia, I have been an avid long-time Metro shopper and piercing client. As a high school student, Metro was the place to go for cool, vintage-inspired outfits for concerts, Manic Panic hair dye, and eclectic earrings. I also got my first piercing, in my septum, at Metro's downtown location. The piercing was done well and I had it for many years.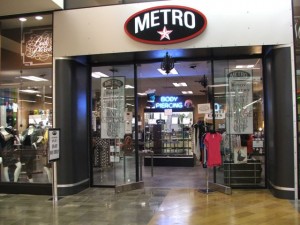 I recently visited both Metro locations to check out their newest merchandise and piercing services. Walking into the Capital Mall Metro, you are greeted by a bright, vibrant store with an eye-catching array of fun merchandise. Chrome chairs in the front corner of the store provide a lounge area for shoppers. The sales staff is friendly and greeted me right away. I found shoppers of all ages pouring over the extensive array of body piercing jewelry, asking the professional piercers questions, and having fun checking out the retro and punk-inspired clothing.
The knowledgeable and helpful piercers answered customers' questions in detail and made them feel at ease about the process. Shopping at the store, I couldn't help but be drawn to the fun and fashion-forward items: shoulder bags with vintage charm, 1950's-style dresses, and bright, glittering nail polishes in gold and midnight blue. Metro offers reasonable prices, making it both a fun and affordable place to shop.
After visiting the bustling Capital Mall Metro, I headed over to the original store, established in 1994 in downtown Olympia on Fourth Avenue. The cozy downtown store also offers punk and retro-theme clothing and accessories, as well as piercing services and a tobacco accessories shop for those over 18. The downtown Metro has a funky feel, making it a unique diversion when shopping downtown.
Select from a wide array of costumes and accessories, perfect for dress-up occasions or just a fun night on the town. I spoke with both piercing and retail staff at the downtown store, and they were informative and knowledgeable about Metro's products and services. Walking around the store, I could see why it is such a popular spot: you can truly find products you won't find anywhere else.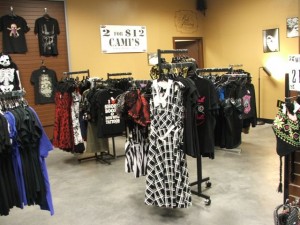 Metro is Olympia's most-established body piercing shops. Customers return for the continuously great service. Metro offers a truly extensive range of body piercings – nearly 30 different types. Along with ample experience, piercers all hold Washington State piercing licenses. Customers choose Metro because the piercers are professional, skilled, and use only high-quality piercing jewelry. You can also view portfolios of the piercers' work online on their website and Facebook pages (the Downtown Olympia and Capital Mall stores each have their own page). To get a piercing, you can stop by either one of their locations or call in advance to check availability.
Metro offers their customers great deals – in addition to their reasonable prices, they often feature sales and discounts on both their merchandise and piercing services. They offer a 15% piercing discount on your birthday and for multiple piercings done in the same day, as well as a 10% military discount.
Finally, while Metro is cutting-edge and fashion-forward, everyone can feel comfortable shopping in either location. Whether you are shopping for yourself or a gift item, you will find the friendly sales staff and laid-back atmosphere welcoming. And speaking of gift items, Metro has plenty of unique gift ideas year-round: jewelry, cosmetics, t-shirts, and more. They also offer gift certificates both retail purchases and piercing services.
Metro has been a staple in Olympia for so long for good reason: customers love and trust Metro for both their shopping and piercing needs. If you're looking for somewhere exciting and different to check out in Olympia, stop by Metro at either of their locations. You will find unique products, fantastic deals, and excellent customer service while supporting a locally owned business – and you're sure to find a fun, stylish surprise or two.