By Gale Hermann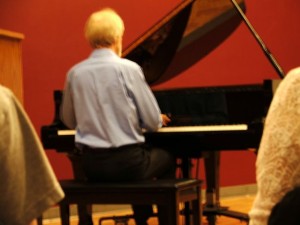 From movie soundtracks to the tunes we stream on our mobile device, music plays an integral part in our lives. Live music especially provides a powerful experience, altering our moods and creating lasting memories. For most of us, we relegate live music experiences to a weekend, outside of our "normal" routine of work and family obligations.
But did you know that you can hear a first-rate concert in the middle of the week, right in Lacey? And better yet, it's free and open to everyone. Saint Martin's University offers their "Music at 11" concert series, now in its tenth year. On the third Tuesday of each month (through April), you can listen to live music in a variety of genres. All featured performers are accomplished and dynamic musicians, chosen for their ability to engage audiences. The lineup this spring offers everything from classical music to tenor singing to an Afro-Cuban rhythm recital and workshop.
I spoke with Darrell Born, associate music professor and Chair of the Fine and Performing Arts Department at Saint Martin's University, and the person behind the Music @ 11 series. Born started the series nearly a decade ago "to raise awareness about different types of music and to provide an opportunity for students and the community to experience live music in a recital setting." As the longevity of the series has shown, Music @ 11 has been a hit with college students and Thurston County residents, bringing people of all ages together to enjoy a mid-day music break.
When asked how he selects artists for the series, Born notes his goal is to gather as diverse a representation of musical styles as possible. Past Music @ 11 concerts are testaments to this: featured events have included everything from the Manila Smiles jazz ensemble to a presentation about "100 years of women in musical theater." Born is enthusiastic about the series and deeply believes in connecting talented local musicians with audiences who love live music.
The Music @ 11 spring 2014 concert series kicked off recently with a Mozart recital and talk by Olympia pianist Wolfgang Wortberg. I attended the concert in the middle of a busy day, eager for soothing music and creative inspiration to invigorate me. The concerts are set up very conveniently: free and located in the Kreielsheimer Hall on the Saint Martin's University Campus, they are easy to find and there is plenty of free parking close by. The concerts begin at 11 a.m. and last for about an hour, making them the perfect length for a daytime "music and culture" break.
After Darrell Born welcomed everyone to the Mozart concert, Wortberg took the stage and dazzled the audience with a unique combination of piano playing and mini-talks about the composer. As he moved effortlessly from podium to piano, Wortberg created a rich portrait of the music being played and the man behind it. He told the audience about Mozart's life as a young man, his struggles for independence from his father, his quest for love, and his being one of the first artists to "break from the tradition" of artistic patronage by royalty so common in the past.
Wolfgang Wortberg is a great example of the caliber of performers featured in the Music @ 11 series. Wortberg has performed across the United States and Europe, and has been featured as a violinist in the Olympia Symphony Orchestra. He loves sharing the joys of classical music with others, and teaches piano lessons as well as giving frequent talks and concerts around Puget Sound. Wortberg has been featured in the Music @ 11 concert series in the past and one can see why he's a favorite. He plays the piano with grace and aplomb, and his vignettes about Mozart's life truly bring  the composer to life, making him seem so contemporary he could be sitting in the very same room. Wortberg left time for a question-and-answer session at the end, and was gracious and upbeat in answering the audience's questions. Having the personal touch of the lecture and discussion really enhanced the concert experience and I came away feeling like I had learned something about classical music.
Listening to music also has a multitude of health and emotional benefits. Research has shown that engaging in this activity can help reduce stress, elevate your mood and improve your cognitive performance. It has even been shown to be as relaxing as getting a massage! These are all great reasons to take time out of your work day and re-charge.
Human beings have been enjoying music since time immemorial. Perhaps the ancient philosopher Plato sums it up best: "[Music] gives soul to the universe, wings to the mind, flight to the imagination, and charm and gaiety to life and to everything."
The upcoming lineup offers something for the music lover and the music-curious alike. For more information about the Music @ 11 Concert Series, including concert dates, visit the Saint Martin's University website.