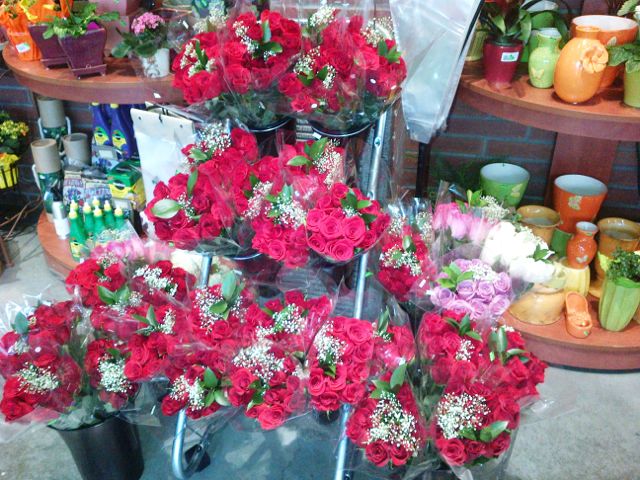 While the Pacific Northwest is known for its amazing variety of flowers and spectacular gardens, it can be hard to remember during the fogs of February.  The damp, dark, gray weather comes alive however with the colorful arrival of Valentine's Day.
Ralph's Thriftway has a long tradition of product excellence and the welcoming staff at Finishing Touch Florist is no exception.  Floral manager Michelle Murphy has been with the store for almost six years but has been a floral designer for 28 years.  She credits her "dedicated team of working designers" with the ability to make any Valentine's Day request come true.  Whether it's the store's current champagne, chocolate, and roses promotion or a unique, custom-crafted bouquet, they can design, create, and deliver their quality product to make anyone's holiday special.
Shoppers have their choice of an amazing spectrum of cut flowers, but potted offerings are available as well.  Whether it's the featured bulb garden of tulips and hyacinths or a cut arrangement, every budget, taste, and preference can be accommodated.  Says Murphy, "Fresh cut tulips arranged in a vase are a very popular choice for a more conservative budget at Valentine's Day and still pack a visual punch.  We have a great variety of colors to choose from (besides traditional red and white); yellow, pink, purple, orange and a few novelty colors.  A clear glass vase filled to capacity with a mass of orange tulips is a simple yet beautiful alternative to the traditional red rose arrangement."
Many of the flowers Ralph's provides this time of year come from local DeGoede Brothers nursery in Sumner.  They specialize in high quality products and pride themselves on "our close relationship with our customers and strive to offer the best service possible."
The partnership between Ralph's and DeGoede was a natural one, says Murphy.  They're "local, they're a family-owned business, and a great bunch of people to work with who provide an excellent quality product."  Whether it's an assorted floral rainbow for Valentine's or beautiful spring Mother's Day offerings, Ralph's and DeGoede are a perfect Northwest match.
Noted American horticulturist Luther Burbank, breeder of the Shasta daisy and freestone peach amongst other things, insisted that "flowers always make people better, happier, and more helpful; they are sunshine, food and medicine for the soul."  This is especially true during the winter doldrums.
Whether your goal is to surprise the one you love or simply brighten the lives of family and friends, fresh flowers are an easy, wallet-friendly pick-me-up.  Ralph's Thriftway offers up their dedicated staff to help answer questions, create specialized products, and even deliver your masterpiece should you desire.  They can be reached directly at 360-943-9921 or just drop by and browse.
Just wandering through the aisles of fragrant blossoms is a huge mood lifter and personally I think it's impossible to look at a bunch of daffodils without smiling.  That, in and of itself, is worth the visit.
P.S. If flowers make you sneeze, shudder, or roll your eyes, Ralph's still has you covered!  Their wine and spirits selection is grand enough to meet any Valentine's wish, want, or need and the bakery is full of local, tasty treats for every palate.