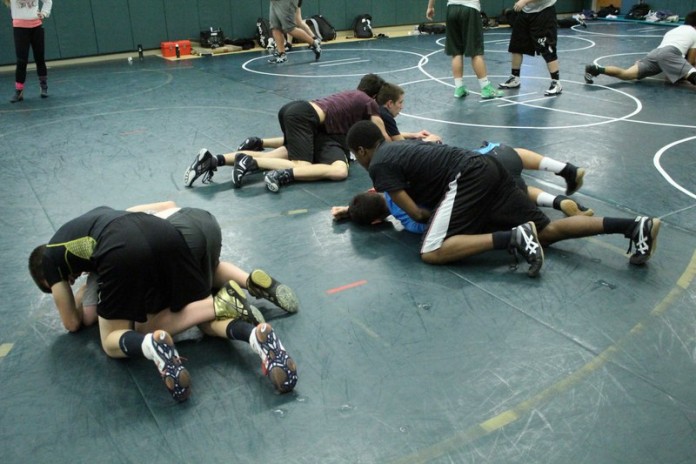 By Libby Kamrowski, Timberline High School Intern to ThurstonTalk

An athlete walks by, a notable mantra on his shirt. "With adversity comes character/ With character comes discipline/ With discipline comes hard work/ With hard work comes sacrifice/ With sacrifice comes glory. Tacoma Dome 2014."
4:00 p.m.: Coach Jeff Birbeck calls out to start practice, and his wrestlers begin jogging obediently. They then form three lines and somersault their ways backward and forward down the floor, followed by cartwheels and handstands, looking like a male-dominated gymnastics team.
But these are not gymnasts. This is the Timberline wrestling program.
And this is only the tip of the iceberg, or rather, the strap of the singlet. "With practices, we want to work them- hard. Keep them moving, keep them getting in better shape weekly, get them in positions and situations that will help in competition," said Birbeck. He has coached the team since 1992 with expertise, following in his father Coach Jeff Birbeck, Sr. footsteps, who coached from 1970-1987.
For the hardest of competitors, such as two-time state champion and 2013 Timberline graduate Stone Hart, the coaching staff made the difference. "The thing I miss the most is the coaching. Never before have I had a group of coaches motivate and encourage me like the ones on the wrestling team," Hart said. He is a particularly good result, who carried his motivations onward, and is now at Harvard University on a football scholarship.
4:14 p.m.: Sweat glistens and the team pairs up for self-sacrificing exercises, featuring "cherry-pickers" and "mountain-climbers." The real fun is just beginning for the next three hours.
4:19 p.m.: The matches begin with a casual "shake hands" and the practice goes live.
Many athletes could take an hour to do these exercises, but for the Blazer grapplers, these first 30 minutes are taken in stride. Gage George, a seasoned fifth year wrestler and competitor in the 126 pound weight class, is used to the grueling pace. "It's more physical than any other sport and it pushes your mental and physical capabilities. In other sports, it's just one or the other," George shares. His record is 14-6 with 11 pins.
Up-and-comers this year include Nathan Smith (106 pound class) with 11-6 and 7 pins, and Parker Risk (113 pound class) with 10-5 and 4 pins as of January 15.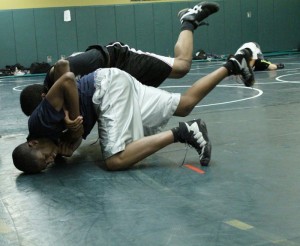 It's not the MMA throw-down that you see on television, but it's the most intense sport you can witness for free with an ASB card at a dual home meet (or $6.00 for an adult). With the gym lights turned out, the spotlight is literally on the center ring. The atmosphere is hushed, for an audience who will witness their sons (and small amount of dedicated daughters) battle using raw human strength and strategy.
For four members of the team, there is an additional challenge. This year Timberline welcomed four female wrestlers to the team, but they have more to overcome than simply opponents. "There's a definite division between boys and girls. I feel like I have to not only overcome the wrestling matches themselves, but also the stereotype that girls can't wrestle," said first-year competitor Katie Swenson.
Although Timberline holds an average record thus far in the season, the goals remain the same. "We have a strong chance of getting five guys to place at state. Also, we want to win our league," said George, reiterating Birbeck's goals for 2013-2014.
State participants Cole Stevens (285 pound class) who is 17-1 with 11 pins and Nico Lauippa (120 pound class) with 13-4 and 7 pins, have a chance with these goals.
Timberline's wrestling team, for all of the preparation and suffering to make weight, deserves the support of not only the student body, but of neighbors, friends, and community members. Jake Lancaster, wrestler of 13 years, perhaps the member with the most mat time, eyes a first place finish at state. As a state participant with a record of 12-4 and 7 pins in the 195 class, support is needed for his journey to the Dome. "Good support from the students is always a morale booster. But most students don't know the mental and physical stress we put ourselves through," he said.
It's another whole world on the mat, one that many people will never come near, but it's a sphere worth experiencing. There are still opportunities to attend.
As the season ramps up, Hart leaves parting words. "Some advice I have to the wrestlers back at Timberline, and for any other student for that matter, is to not shy away from a goal because someone tells you it isn't feasible. Don't let anyone tell you your goals are too high, because it's better to set high standards for yourself and fail, than to coast through life and be content with mediocrity."