By Katie Hurley
The Super Bowl takes on a whole new meaning when the home team is playing in the game. This isn't just getting together with a few friends to watch the game, the ads or the halftime show. Whether the Seattle Seahawks win or lose (of COURSE, they're going to win!), this year's game will be a memorable occasion and Bayview Thriftway and Ralph's Thriftway have got the goods to make your party fare memorable, too.
Show your Seahawk Colors
Ralph's and Bayview have a variety of tablecloths, paper plates, napkins, beverage cups, and plastic flatware in Seahawks blue and green colors.
Bring on the Beverages
For many of us, it is a simple equation… Superbowl = Beer. Both stores offer a broad selection of micro brews, local brews and every other type of brew one might want. Several micro brews, including some locally-brewed Fish Brewing Co. products will be specially priced at $7.99 in the days leading up to the game. For fans under 21, Jones Soda's Green Apple soda and Berry Lemonade soda represent the Seahawks green and blue.
Set Out the Snacks
The easiest part of feeding your friends and family during the game is putting bowls of self-serve munchies on the table. Check out the Bulk Foods section for a great selection of snacks, treats and game day essentials, including Seahawk Marshawn Lynch's signature snack, Skittles. Hickory Smoked Almonds, mixed nuts and Honey Mustard Pretzel Nuggets can safely sit out all day, and the most you'll need to do is refill a bowl or two.
Crunchy Munchies
If you weren't craving chips before the game started, you might be when the Doritos ads start running. Bayview and Ralph's carry a wide variety of chips including the supremely crunchy Kettle Krinkle Cut Salt and Black Pepper Chips, Tyrrells Hand Cooked English Crisps (Try the Worcester Sauce & Sundried Tomato flavor), Tim's Cascade chips and various tortilla chips.  Williams Family Salsa, made in Grapeview, is thick and flavorful and comes in mild and hot varieties blended with mango, pineapple or peach.
Serve Up Some Sliders
Sliders are easy to assemble and serve, and guests can choose to snack on just one or make a meal out of a few sliders.
Italian Meatball Sliders: When the game starts, put Aidell's Chicken Italian Meatballs or Chicken Caramelized Onion Meatballs in the crock pot with a pint of locally made Cucina Ciancetta Marinara sauce to heat up. Pre-slice dinner rolls and put them back in the package. Just before halftime, place the bottom halves of the rolls on a platter, top each one with a meatball and a little bit of the sauce then sprinkle some grated parmesan over the meatballs. Add the top halves of the rolls and serve.
Teriyaki Meatball Sliders: Follow the method above, substituting Hawaiian dinner rolls, Aidell's Teriyaki Pineapple Chicken Meatball, a bottle of teriyaki sauce and pineapple. Add a thin slice of fresh pineapple on top of the meatball before adding the top bun.
Turkey Sliders: On dinner rolls, place a slice of Boar's Head smoked turkey, a ¼" thick slice of granny smith apple, lettuce and some mustard (try AJ's Walla Walla Sweet Onion Mustard).
A Feast on the Fire
If your Super Bowl plans include firing up the grill or the smoker, Ralph's and Bayview have a lot of options for you.  "Beast Mode Baby Back Ribs", on sale for $2.99/lb., will pair perfectly with Tacoma's own Mama Scott's barbecue sauce, available in varieties from mild to spicy.  At $9.99/lb., "Russell's Rib-Eye" steaks will be a tender and juicy treat. Locally-produced Johnson's Smoked Bratwurst, Garlic Sausage or Hot Links can be grilled lightly in advance and kept warm in a crock pot with a bottle of beer. Serve them with Oly Kraut's Original sauerkraut for a flavorful, crunchy finish. A variety of salads from the deli will round out your Super Bowl feast.
Sweet Treats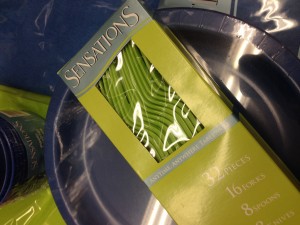 When all is said and done (and eaten) and the Seahawks have won the Super Bowl, end the evening on a sweet note. Bayview's homemade fudge and soft, chewy cookies from Cougar Mountain Baking Company are fan favorites. So are peanut M&M's, which will be featured in at least one ad spot during the game broadcast.  Or simply celebrate along with Marshawn Lynch and grab another handful of Skittles from the bowl.
Bayview Thriftway
516 W. 4th Ave., Olympia
360-352-4897
Ralph's Thriftway
1908 E. 4th Ave., Olympia
360-357-8011