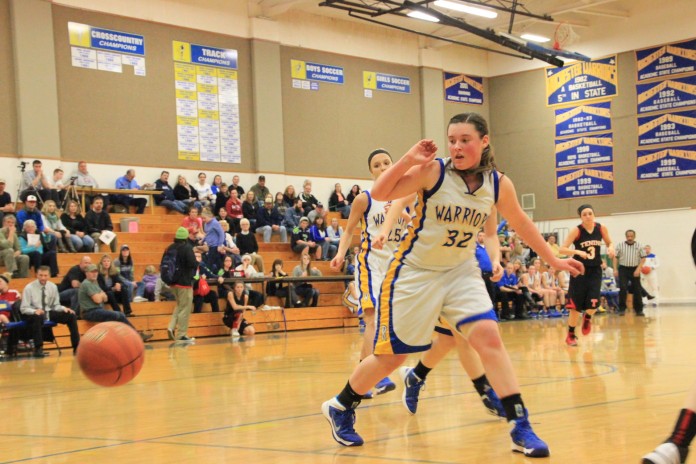 By Tom Rohrer

The foundation for the Rochester girls basketball team's 12-2 start to the 2013-14 season was not laid the previous season, nor the season before that.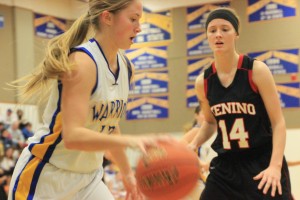 It began before the current decade, on elementary, middle and high school courts across the region.
Good things certainly have a way of finding those who wait, and the success of the Warriors is a testament to head coach A.J. Easley's patience and determination.
After taking the head coaching job in 2008, the Warriors promptly went a combined 0-40 in Easley's first two seasons.
"It was tough, for us and the players," said Easley. "That's an understatement."
"I remember going to the games, and it was basically just my grandpa and me in the stands," said sophomore Joni Lancaster.  "It's a lot different now."
The difference is evident in the stands, roster and scoreboard alike for the Warriors.
Devoid of seniors a season ago, the Warriors finished 15-9 relying largely on a group of hard-nosed freshmen and sophomores.
Rochester took third in the 1A Evergreen League and lost to Hoquiam 42-33 in winner to state/loser-out contest in the District IV playoffs.
It was a bitter ending to an otherwise sweet season for the Warriors, who had finished 5-14 the prior season.  That bitter taste lingered all off-season amongst the Rochester players.
"We all looked at it as a disappointment," said junior starting point guard Keeli Demers. "It kind of put us in check and made us excited for this season…..it's been on our mind."
With the entire team returning, Rochester shot off to a 10-0 start out of the gates, highlighted by a 50-44 victory at Hoquiam to avenge last season's defeat.
Then the flu bug hit Rochester, forcing Easley to lead a shorthanded roster in match-ups against Montesano and Elma, who currently sit at first and second respectively in the league standings.
Rochester fell to Elma at home 57-40 on January 9 and four days later were defeated by the Bulldogs 54-26 in Montesano.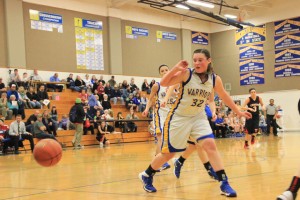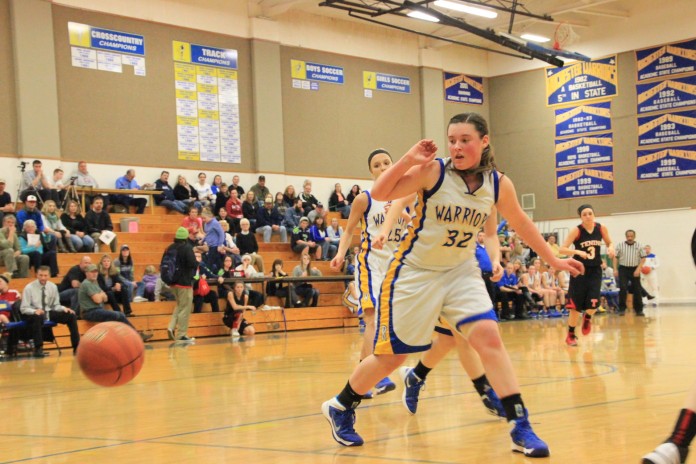 Those two losses, which sandwiched a victory over Tenino, may benefit the Warriors at this point of the season.
"When you are 10-0, riding high and are unstoppable, it can be easy forget what got you to that point in the first place," said Easley. "We've got things to work on still and those losses reminded the girls of that."
"We had that underdog mentality last year, that we needed to come out and prove a point every game," said junior Sierra Seymour. "We got to 10-0 and all of sudden we didn't think we had to put in as much work.  We've picked our intensity back up."
Intensity on defense is demanded by Easley, not just to impact the other team, but for the benefit of Rochester's transition offense.
The fast hands and persistence of Lancaster has generated fast break opportunities for the Warriors all season long.
"She's a player who uses defense for her offense," said Easley of Lancaster, who is averaging a little over 15 points per game on the season. "She had a game this year were she had 29 points, 11 rebounds and nine steals.  So those nine steals got her a lot of those points.  And if we play man-to-man (defense) whoever the other team's best guard is, that's who Joni guards."
If they were opponents, Lancaster would likely guard Demers, the team's floor general who Easley said averaged over 18 points per game a season ago.  This past summer, Demers played in an All-Star game in Spokane.
"If she hits shots early in a game, everything gets rolling for us.  She's our catalyst offensively," remarked Easley.  "She's just steady, consistent, and one of those kids where you hardly notice her during the game and then when you look at the stats, you realize she had 25 points."
Demer's classmate Seymour is depending on for her play both offensively and defensively.
"(Seymour) is kind of our 'do everything kid,'" said Easley.  "She plays great defense and can drive to the hoop on offense.  We joke that she shoots outside a lot because she knows she's quick enough to run in and grab her own rebound and score."
Standout soccer player Camryn Althauser anchors the Warriors in the post, where the 5'10″ senior is constantly matching up against a taller opponent.  Althauser's calm demeanor gives the Warriors another option to beat a full-court press.
"I tell her before every game that if it gets crazy, grab the ball and slow it down," said Easley of Althauser. "She's our (center), but we want her to bring the ball up in the fourth quarter. Cam is 5'10″ if she's lucky, but is still able to do all the things we need her to do."
Instead of relying on one or two players, the Warriors have the luxury of having talent and contributors spread across the roster.  A strong bond, forged by years of competing in basketball, softball and soccer together, is the driving force of this Rochester team, a testament to the hard work Easley and his wife Joey,  a former assistant for the Warriors, have put in.
"Our strength is our unity.  These girls are together all year basically.  There is that core group that plays every sport, and then we add a few girls who just play basketball," said Easley, a graduate of Tenino High School and a former player himself for the Beavers.  "The familiarity is strong."
"We've all grown up together, played sports together, and push each other," said Seymour matter-of-factly. "Playing as a team is easy for us."
When Easley first arrived to the district, Rochester Middle School had only 21 girls try out for basketball between both the seventh and eighth grade teams.  This past season, that number had increased to 49, evidence of Easley's basketball movement coming to fruition.
"(Joey) and I committed ourselves to building this program. We said we're not leaving until this program is in better shape," Easley said.
On weekends, A.J. and Joey coach three separate youth teams at three separate tournaments.  A.J. took the 3rd through 5th grade while Joey took the middle school hoopers.
Today, there is a youth basketball league in Rochester, comprised solely on local participants, for players from kindergarten through middle school.  This is the first season Joey is not on the high school coaching staff, as she is spending her free time away from her teaching job at Napavine High School to take care of the couple's young sons.
The Easley's also run boys and girls camps for K-through-8th grade students throughout the season.
"It's been a lot of hard work, but it's really been worth it every step of the way," Easley said.  "Seeing how much the game means in the community now is awesome.  The first kids we coached at that age are the ones winning games at the high school now."
Easley's players admire the sacrifices he gave to the program and how he challenges them to keep improving.
"He expects a lot from us and pushes us hard," said Lancaster. "That's fine because there is not much time for slacking off."
"He has stuck with us for a long time.  I was in fifth grade when I started with him," said Demers, who's twin sister Tessa is also on the team. "He's someone I can talk to and he will listen and understand things we tell him."
With all the pieces appearing to be in place for a run towards a high seed at the district tournament, the Warriors must handle heightened expectations and every opponents' best shot.
"I absolutely think getting to state is a possibility.  That's been the goal since day one of this past summer. It would be a first for the program," said Easley. "You can look under the girls basketball sign (in the gym) and there isn't much below it."
"Last year other teams had targets on their back.  That's us this year. Teams want to beat us," said Lancaster. "We expect to finish first in the league, people expect us to get first in league. We don't want to let anybody down."
Regardless of what the future has in store for the Warriors, the players are enjoying the ride and the support from the community.
"All girls' sports here are improving and it's fun to see that," said Seymour.  "Now the fans are always full for our games and I really can't imagine it being any other way.  We can say we helped make the happen."