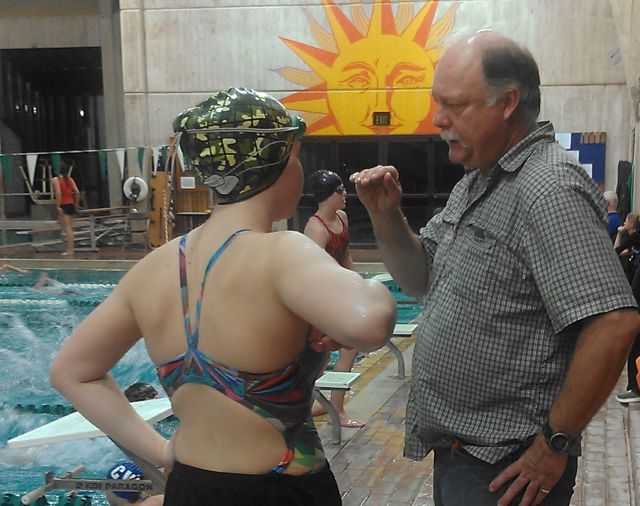 By Tom Rohrer
Long before a career as an athlete and coach in the pool, Randy Trowbridge wanted to be a gymnast.
As an eight-year-old harnessing his tumbling, climbing and jumping skills, Trowbridge's gymnastics coach moved away from the Olympia area.
While looking for a productive activity to fill the void left by gymnastics, the Trowbridges were approached by legendary Thurston County swimming coach Don Martin.  Martin had seen Trowbridge swimming during lessons at the Olympia Downtown branch of the South Sound YMCA, and suggested Randy move from land to water.
"He was the man who got me involved," said Trowbridge, who would swim at Olympia High School and then at Bingham Young University in Provo, UT. "I was convinced that swimming would be the next best thing."
After spending the last thirty years in Verona, Wisconsin, Trowbridge returned to his hometown this past summer to coach the Evergreen Swim Club.
In 1983, Trowbridge, after leaving a coaching stint at the Tumwater Valley Athletic Club, started the Evergreen Swim Club on the The Evergreen State College campus.  Prior to the start of the youth swim club, the school had only offered intramural swimming, effectively making the new organization the first of its kind in West Olympia.
"I've always had the passion for coaching and I thought it was something needed in the area," said Trowbridge.
Months after founding the club, Trowbridge moved to Wisconsin, settling in the hometown of his wife, Diana.  While in Wisconsin, Trowbridge be the head swimming coach for the Verona Aquatic Club.
Trowbridge would see several of his athletes compete at junior and senior national tournaments, Division I universities and for Team USA at the Olympics.
Verona native Neil Walker was instructed by Trowbridge and would earn an athletic scholarship to the University of Texas in Austin.  Eventually, Walker represented Team USA at both the 2000 and 2004 Summer Olympics.  Walker won a silver and bronze medal in individual events and two gold medals in the medley relays over the course of his Olympic appearances.  Walker would also hold world short course records in the 100 meter back stroke, the 50 meter back stroke and the 100 meter individual medley.
Trowbridge would send many swimmers to the junior and senior national championships during his tenure in Wisconsin.  Coupled with his own experience as a swimmer, Trowbridge's time around high-level competitors has shown him what it takes to make a splash at the national and global level.
"How much does it take in sense of effort? Top level swimmers are training an enormous amount of time," said Trowbridge. "It just takes a lot of time in the water.  You can cross train on land, but its water time that determines how far a person can go.  It takes that kind of effort and discipline."
Such discipline was bestowed on Trowbridge while swimming under the tutelage of his first coach.
Martin was the founder of the Thurston Olympia Swim Club and would have a successful run of coaching in the area.  This run included a stint at Olympia High School, where Martin coached Trowbridge.
Throughout his coaching tenure, Martin sent many Thurston County swimmers to compete at national tournaments and then at the collegiate level.
"During the three years I was there, our high school team finished fifth, third, and fourth in the state.  This was before classifications, so we were going against every team in the state," said Trowbridge. "We had an extremely small team, but we trained so hard.  The team never exceeded 18 people, but 11 guys in the time I went through there received college scholarships. That's a tribute to Don Martin. Swimming here was strong then."
Back again coaching in his hometown, Trowbridge thinks he can have a similar impact as he did in Wisconsin. His goal is to bring local swimmers up to a level where they can compete at junior and senior national meets.
"We have this opportunity, with all the enthusiasm and team spirit, to help these swimmers advance out of the area to compete," said Trowbridge. "I think it will be a renaissance.  Throughout the years, there's been people here that have made it out of region and to nationals, but not nearly the numbers like we had in Wisconsin.  I want to change that."
Trowbridge believes that high level talent resides in the Thurston County area and that the key is providing a proper training foundation.
"When I swam here, girls and boys were going to nationals while in high school," said Trowbridge. "It's not happening now.  This area has to be eight times larger in population and there seems to be enough pools.  I think it's a mind thing, and we need to provide that structure and encouragement to the kids that have a passion for the sport.  It takes a lot of work to get to a high level, but this area has always had a great work ethic and I still think there is that type of culture here."
A self-described Pacific Northwesterner, Trowbridge holds the Western Washington area in high regard.
"Everyone says you should do what you love do to. I've come to a separate conclusion; you should do what you love to do, where you want to do it," said Trowbridge. "Your home is your home and I always intended to be in the Pacific Northwest. It's the natural beauty and the people that make it special."
For more information on the Evergreen Swim Club, geared for swimmers ages six through high school, click here.