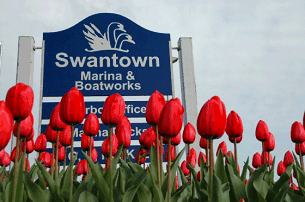 Submitted by Port of Olympia
The Port of Olympia has been receiving questions from community members about the next steps toward constructing a fuel dock at Swantown Marina.  So what is next?
In November 2013, the Commission approved going forward with design and permitting of the fuel dock.  The next Commission decision will be whether or not to proceed with construction bidding.
Below are the anticipated timetables for the fuel dock project. 
Marine Fueling Facility Process
Jan. 2014   –         Preliminary Design & Environmental Documentation
Feb. 2014   –         Preliminary Design Complete (30%)
Mar. 2014   –         Environmental Documentation Submittal to Regulatory Agencies
Note:  The Environmental Review by Regulatory Agencies may take approximately 8 to 12 months. Below are two timetables, depending upon the length of the Environmental Review. In either timetable, the beginning of construction will likely not occur until the summer of 2015 due to the seasonal schedule limitations of in-water construction work.
8-Month Environmental Review 
Nov. 2014   –         Draft Final Design Documents (90%)
Nov. 2014   –         Environmental Approvals Received
Dec. 2014   –         Final Design Documents Complete (100%)
Jan. 2015   –           Request Commission Approval for Construction Bidding
Summer &
Fall 201       –         Construction
OR
12-Month Environmental Review 
Mar. 2015  –        Draft Final Design Documents (90%)
Mar. 2015  –           Environmental Approvals Received
Apr. 2015   –         Final Design Documents Complete (100%)
Apr. 2015  –         Request Commission Approval for Construction Bidding
Summer & 
Fall 2015    –        Construction