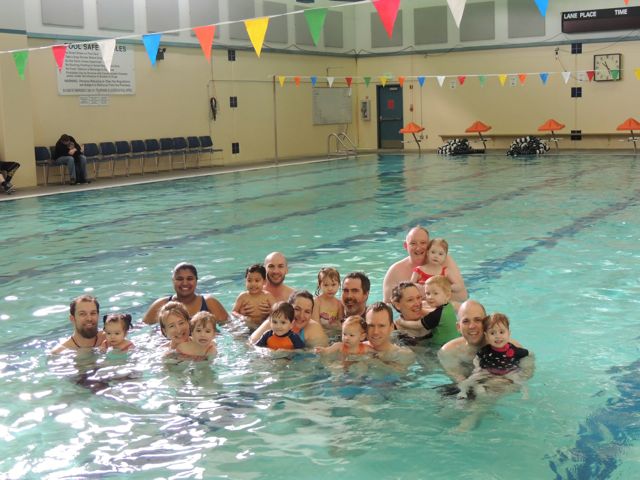 By Lisa Herrick
The holiday gift-giving season is quickly drawing to a close. Rather than joining the mad dash to find more things to give family and friends consider giving the gift of an experience through the City of Lacey Parks & Recreation.
Experiences can provide lasting memories for the recipient and often for the gift giver as well.  These gifts will continue giving beyond the holiday season. Experiences through Lacey Parks & Recreation do not have to cost a lot and nor do they have to take you far away. Creatively packaged, these gifts can be tucked under the tree or placed in a stocking.
Jeannette Sieler, City of Lacey Recreation Supervisor shares, "The benefits of recreation are endless, the socialization of taking a class, the skills gained from an art, dance or music class, the memories garnered from spending special time together as parent and child or taking a trip with friends, these things are essential to our well being and will last long after the batteries have gone dead or the pieces are lost and the toys are broken."
Here are four ideas for experience gifts through the City of Lacey Parks & Recreation. Click here for even more ideas.
1.  Attend a Parent and Child Event
On Friday, February 7 moms and their sons can enjoy Tropical Magic Night.  This event features a magic show by Jeff Evans as well as a DJ presenting fun songs, a limbo contest, light refreshments and special activities round out the evening.  Sons of all ages will enjoy the magic.
On Saturday, February 8, Daddies and Daughters can choose from either the Princesses in Paradise Ball or the Tropical Paradise Dance.  The Princess Ball will feature the 'real princesses' from A Simple Wish, a Princess Party Business in Puyallup.
These events create a special time to bond and connect between parent and child.
If mom or dad are not available, parent substitutes are always welcome. All of these events have a tropical theme to warm up the cold winter.  Pre-registration is required for all of these.  Call 360-491-0857.
2.  Explore a New Talent
Lacey Parks & Recreation offers fun classes from dance to art to guitar and so much more.  And of course, one of the all time child favorites is swim lessons. There are swim lessons for all ages and levels.
3.  Combine Gift Ideas
Maybe you have already purchased a gift but need to add a little bit more. Consider combining that gift with an experience.  Do you have a child who loves Legos?  Sign them up for the fun and educational Lego class to learn how to make all sorts of Lego creations.  Or is someone you know getting a new camera for Christmas? Treat them to a digital photography class.
4.  Give the Gift of Health (and New Year's Resolutions!)
Lacey Parks and Recreation also offers a great line up of fitness classes including aerobics, pilates, tae kwon do, tai chai, yoga and many more cardio options.  Give the gift that just might be on that New Year Resolution list.  Classes start in January- a great time for the gift of health
Shannon Gaither, a Lacey citizen and parent of Lacey Park & Recreation participants explains, "For my kids, having recreational activities available has helped them to become more well-rounded individuals.  It has allowed them to get involved, meet new people and learn new things as they participate in different programs."  Giving the gift of experience creates the opportunity to enjoy an activity together with family or friends, which is a distinctive gift and a lasting memory.
Giving the gift of experiences from Lacey Parks & Recreation is easy.  Just call 360-491-0857, visit Lacey City Hall or go online.