The expressions "hydro-jetters, rooters and bursting equipment" sound like terms right out of a George Lucas movie. For the folks of Advanced Plumbing Technologies (APT) of Olympia, these words are the common lingo of their business. Instead of fighting dark forces in a galaxy far far away, APT fights forces of nature right here in our own backyards. With 40 combined years of experience and some pretty specialized equipment, APT will locate and repair most residential and commercial outdoor plumbing battles.
In the Beginning
In 2004, owner Larry McVay was working on a job with another company. An elderly customer was told that she had to have a full line replacement to repair her drainage problem. McVay felt she was being deceived, and he went out of his way to let her know the truth of the matter.  Needless to say, McVay's employment with that company ended that day. With a $400 budget and a shovel, McVay's career as his own boss began immediately with that elderly woman being his first job.
Trenchless Technology
"Trenchless pipe replacement is our specialty," says business partner Colby Langenberg. He explains how their color camera is used to locate issues, and that special pits rather than full-on excavations are scooped out to repair damage.
Excavating a garage floor can be extremely costly, whereas entrance and exit pits are cost effective and site disturbance is minimized. Langenberg eagerly describes how APT uses a cable fitted with a special pipe that can live for up to two hundred years.
"A bursting head is pulled through the line and it literally bursts the old pipe and replaces it with new pipe." Langenberg explains that their pipes are fusion welded, meaning there are no joints that can potentially break apart. As a life-long Puget Sound resident, Langenberg knows how hard this climate can be on outdoor equipment.  Rain, mud and tree roots are only a few of the culprits that wreak havoc on underground plumbing systems.
Good Referrals = Good Business
Often people are unsure of whom to call in the event of sewer, water, and drain-line challenges. APT works hand-in-hand with reputable general plumbing contractors, and they are typically called when an issue is beyond the capabilities of an indoor contractor. "Eighty-five percent of our business comes from referrals from previous customers and from businesses within our community. We are a local company with an extremely high referral rating," says Langenberg.
Ed Knuckey, a happy APT client, has this to say about his recent service: "Gentlemen, I want your potential customers to know the timely and professional work they can expect from your company. It is an understatement to say we are satisfied."
Kevin Stormans, local business owner of Bayview and Ralph's Thriftway, adds his recommendation. "We use Advanced Plumbing Technologies for all of our water and sewer problems. Their prompt service, professionalism and quality of work make them our go-to company," he says.
Community Commitment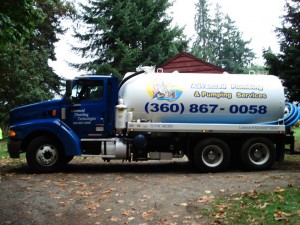 APT's commitment to the South Sound community is evidenced by the many local organizations they support. Langenberg himself has been co-captain of Relay for Life for the past two years, and APT has supported local families in need every Christmas since 2004. They are also heavily involved in a number of business networking events and park clean-ups because APT realizes that the community they serve in turn serves the business.
Advanced Plumbing Technologies is a local business that specializes in the unexpected. They offer a unique service and a solid product with a 100% warranty.
If you have an outdoor plumbing query, APT is ready to honestly and realistically evaluate your unique circumstances. To learn more about Advanced Plumbing Technologies, please visit the website.