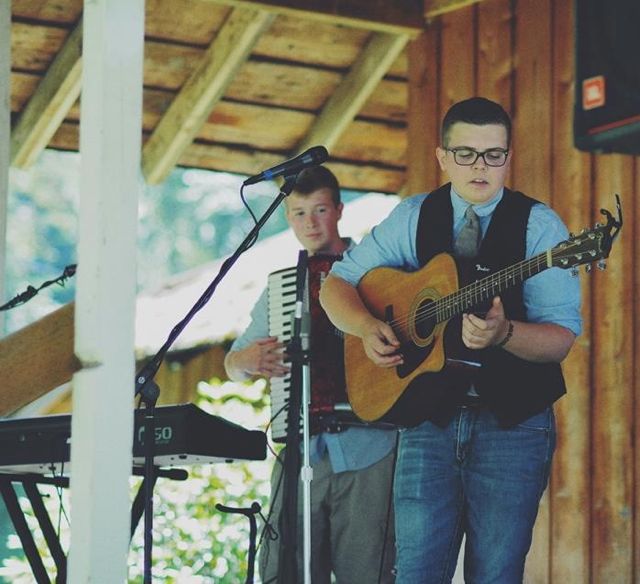 By Gale Hemmann

What is "The Grey Wharf?" Listen to their music and you'll find out. The Grey Wharf is an up-and-coming young band from Olympia, and the band members say their name is a reference to a metaphorical space they hope their music will take the listener to: a space of creativity, relaxation and enjoyment of life.
If you haven't already heard of The Grey Wharf, chances are you will soon. While young, this band has already seen some initial success in the Olympia music scene and beyond. Made up of lead singer Austin May, accordionist Jason Geissler, and drummer Adam Dougherty, all juniors at Tumwater High School, The Grey Wharf's mellow indie-rock sound is gaining fans quickly.
I recently had the opportunity to sit down with The Grey Wharf  band – polite, laid-back young men who were happy to talk about their band and their shared love of music.
May, Geissler, and Dougherty shared the band's history with me. The three are long-time friends and each of them had been playing music for awhile on their own. Since the band members were already good friends, it was only natural they started playing together and, eventually, started a band. They started jamming together in middle school and The Grey Wharf was officially formed in early 2013. In listening to them talk, it is clear that the heart and energy of the band is based on the outgrowth of their friendship and enjoyment of playing music together.
The Grey Wharf's style is acoustic indie-rock, and if you take a listen, you'll be impressed. Hearing their music, it's hard to believe the group hasn't been playing together very long.
Despite their young ages and the fact that they formed less than a year ago, their songs show that they are serious about music: the tracks are well-put together and resonant, with a mellow sound can easily be listened to over and over again. They have written several original tracks, including the single "The Harvest" (June 2013), as well as doing a cover of the folk classic song "Fare Thee Well." The band utilizes unique instrumentation, with Geissler playing the accordion.
When I asked the band about their musical influences, they cite bands like Mumford and Sons, The Head and the Heart, and Fleet Foxes as inspirations. While you can hear clear echoes of these contemporary bands in their songs, their music also has a more timeless, vintage sound. Dougherty notes that he grew up listening to classic rock and that older musicians such as Johnny Cash have also influenced the band.
The Grey Wharf has already played a number of shows around South Sound, including at The Urban Onion, Sand in the City, and Oregon Trail Days in Tenino. Lead singer May has also played solo shows at a coffee house in Spokane and at Caffe Vivaldi in New York City.
I asked the band about their favorite show they've played so far. They said their first show, at the Brownstone Coffee Lounge in Centralia, was their favorite. The crowd was positive and they had a great time playing for a live audience for the first time. It seems that The Grey Wharf sincerely enjoys putting on a good show and bringing their music to audiences.
The band is currently focused in the studio, working on putting out a 4-track EP, called Valley of Wolves. May says creating a longer recording is a new and novel experience for the band. They will keep playing live shows as well. The band practices at a home recording studio, and like many groups just starting out, they have practiced anywhere they can, including a local church.
When asked about their future goals, the band said they hope to play together for awhile, but said they are currently living in the "now," just enjoying their music and getting the band rolling. May says he hopes the band will play at Olympia's iconic Capitol Theater at some point.
It is impressive that the band balances being full-time high school students with making music. It takes a lot of initiative for youth to carve out a creative vision and step out to do something different, like create a band. For music lovers of all ages, I encourage you to support The Grey Wharf by checking out their music or coming to a live show.
To learn more about The Grey Wharf and get information about their upcoming shows, you can "like" them on Facebook and follow them on Twitter. You can also check out their single "The Harvest" on Bandcamp and see videos of them playing on YouTube.