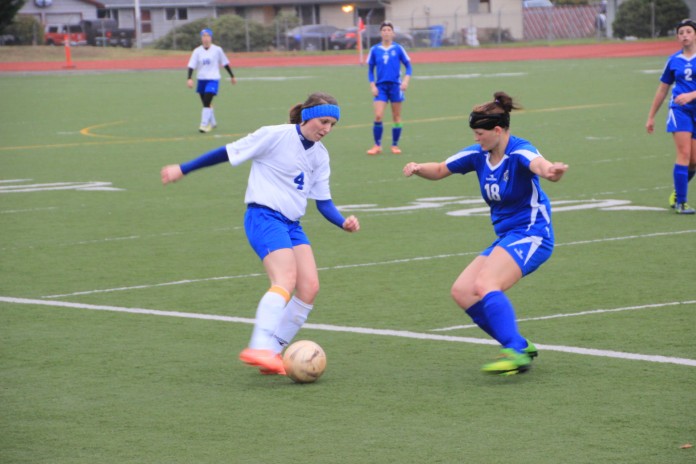 By Tom Rohrer
The first year Chris Schumacher took over as head coach of the Elma High School girls soccer team, the Eagles finished 1-15.
A year later, the final record was 0-16.
In an age where instant gratification is desired in athletics, Schumacher built a program the old fashioned way – with instruction, hard work and a consistent coaching philosophy.
Six years after taking the head coaching job, Schumacher led the Eagles to a 17 – 3 campaign this past season.  Going along with the terrific record was a 1A Evergreen League Championship and a District IV Championship, the first in school history.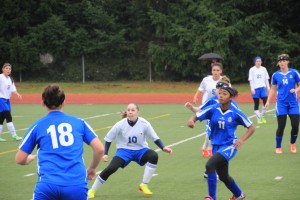 The Eagles qualified for the WIAA 1A State Tournament following their district championship, but ended up falling to Meridian 3-0 to end their season.
Regardless of the first round state tournament loss, 2013 was a season for the Eagles to remember.
"When we lost, it was disappointing for sure.  This team believed they could win the state tournament, and the way we were peaking at the time, I thought we were too," says Schumacher.  "But in the locker room after, I heard some of the girls say 'we were the first district champions.  Keep your heads up and we will get it next year.'"
Next year, the Eagles will have to replace six seniors, three of which were the main offensive playmakers this season.
Schumacher says the trio of Brooke Goldsmith, Sydney Smythe, and Hannah Heelan not only put goals in the net or perfect passes on the feet of their teammate, but displayed leadership qualities that laid the foundation for the underclassman.
'Those three along with Alyssa Sutherby were captains this year, and they did great job of showing the level of leadership that is expected of the younger girls," says Schumacher.  "They took control and I put a lot of responsibility on them.  We had captains meetings every week and they knew how to handle problems if they came up.  Honestly, they were a godsend."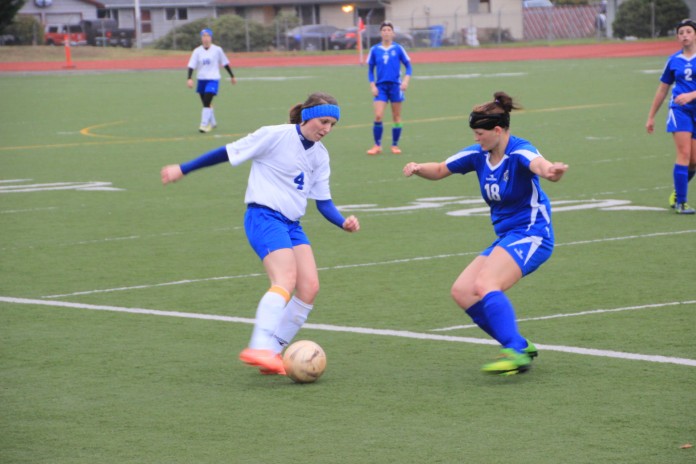 Unlike the other three co-captains, Sutherby's focus was not on scoring goals, but preventing them.
"She was terrific all season, just a great athlete," said Schumacher. "That's a tough position to replace, and I think her loss will be big.  She helped us win a lot of games."
Schumacher was especially big in a pair of district playoff wins for the Eagles, one of which was a 3-1 defeat of previously undefeated Woodland High School.  The second came in the district championship game against rival Rochester High School, eventually won by the Eagles in penalty kicks by a score of 3-2.
The championship victory over the Warriors was especially sweet for the Eagles, as they were defeated twice by Rochester in the regular season.
"The girls were really confident going into [the district championship game], especially since we had defeated Woodland," Schumacher said. "The games were close in the season, so we knew we could play with them.  We just came to play that day."
While the loss of the six seniors will be difficult for Elma, there is a collection of young talent that will return in 2014.
Sutherby will be replaced by junior Macy Shumate, while Morgan Jump and standout athlete Natalie Grant will anchor the defense (Grant may also move to forward).  Three contributing freshmen, Alisha Hook, Annie Cristelli and Peyton Elliot will be a year older and Elliot's sister, Krista, will be a senior playmaker at midfield for the 2014 version of the Eagles.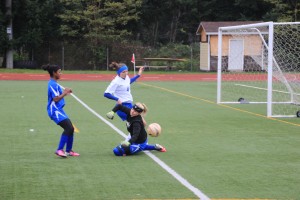 Grant, a standout sprinter and basketball player, was one of Schumacher's most versatile players this season.
"She was second in goals on the team in the first half of the season and then one of my main defenders went down.  Natalie told me she had played defense in youth soccer and she made the switch for the rest of the year," says Schumacher.  "Not only is she a great athlete, but a great kid.  She's won the coaches award two years running and has a great attitude."
Schumacher, who coached a majority of the 2013 Eagles team during their pre-high school playing days, says he has noticed more enthusiasm towards soccer in the community.  This enthusiasm has led to youth coaches staying in constant contact with Schumacher and his coaching staff regarding how to prepare younger players for the rigors of high school competition.
"As long as you keep standards up and have consistency in the program, you will see things come to fruition," said Schumacher, who is from Tacoma and attended Foss High School. "We have more fans, more buzz.  It's been a couple years in the making."
Joining Schumacher on the coaching staff is a pair of former Elma players that the coach is very familiar with.  The junior varsity coach  is Schumacher's oldest daughter, Kristy, while his youngest daughter Sarah is a varsity assistant.
"It's very fulfilling as a father to work with my family, especially since the sport has taken a good portion of time in my life," Schumacher said. "It really helps to have them involved and around."
It's clear that Schumacher has laid an exciting foundation for the Elma soccer program to build on.  Davis Field, where the Elma Eagles have played for 80 years, will be torn down and replaced.  Schumacher is hoping for a newly constructed facility with field-turf as a playing surface.  That decision has yet to be made, but Schumacher, and the program will keep going forward.
"I think we have something special going here, and next year will be important in terms of how we handle the graduation of players," said Schumacher. "If we just keep taking steps forward, good things will continue to happen."