By Patty Kinney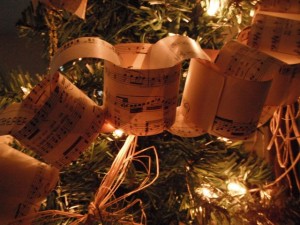 I have a playful heart. My six boys know if they come home to visit anytime following the day after Halloween, the house will be decorated for the winter holidays. Outside, there are still leaves on the trees. I had two hummingbirds at my feeder this morning. But when folks step through my front door, my desire is that they will be transported by the festive vibe surrounding them.
And what gets me in the mood to decorate a tree while some are not even ready to talk turkey? A lifelong love of holiday bazaars. As a kid, each fall, my mom and I took my maternal grandmother, Josephine Plantenberg, to the Harvest Bazaar at Saint Michael's Catholic Church in Olympia. One year, she bought me a fancy ragdoll, which still rests on my bed.
These days, I don't know if it's the smell of kettle corn cooking, the site of twinkling lights, or the love of bringing home handmade items that I like the best. I have always enjoyed events that unite the community. To hear the stories and inspiration behind the creation of handcrafted items—whether it be a quilt, a bar of soap or a piece of fudge—helps me connect to others in a simple way that makes me happy.
One such event that I've attended for years is the holiday bazaar at Saint Martin's University, which has been known as the Thurston County Fair Holiday Bazaar for the last three years. Back again this year, the bazaar will be at the Thurston County Fairgrounds on Friday, November 29 and Saturday, November 30.
According to Thurston County Fair Boardmember Kathy Bailey, there will be four buildings full of the work of over 100 local artisans. Bailey, a 1983 graduate of Rainier High School and Rainier resident, and her mother, Noreen Cales, handcraft potholders, stuffed penguins and snowmen, wine bags, coasters, fabric baskets, and other items each year. "We try to keep the prices real low so that more people can purchase the items they want," says Bailey. "We want to support local artisans and think it is great when folks shop local."
What are some of the treasures shoppers might find as they stroll through this year's bazaar?
Ÿ  Handmade jewelry
Ÿ  Natural Soaps
Ÿ  Soy candles
Ÿ  Traditional holiday candy and other treats
Ÿ  Organic pickles
Ÿ  Hand-sewn baby clothes
Ÿ  Stuffed animals
Ÿ  Funky clothing constructed with old sweaters
Ÿ  Glassware
Ÿ  Art
Ÿ  Photographs
Ÿ  Homespun yarns
"We have lots of returning vendors and lots of new craftspeople," added Bailey. "There is a wide variety of goods. A little something for everyone." And if all the shopping makes you hungry, food is available from locally owned Paco's Tacos. In addition, there will be an espresso cart and, you can bet, a hot, steamy kettle full of popcorn wafting through the buildings.
Bazaar devotee, Tina Schumann, suggests the reasons she enjoys holiday bazaars: "The overall atmosphere of camaraderie – the enchantment of unique art, hot chocolate, smiling faces, and the offering of one-of-a-kind gifts, especially for myself."
"When you come to a bazaar, you shop locally," added Bailey, who is in her first year on the county's Fair Board. "I believe in giving back to the community and basically just wanted to be involved."
The Thurston County Fairgrounds is located at 3054 Carpenter Road SE, Olympia WA 98503. Bazaar hours are Friday, November 29 from noon to 5 p.m., and Saturday, November 30 from 9 a.m. to 5 p.m. Be sure to bring non-perishable food items to donate to the Thurston County Food Bank. Admission and parking are free.