Whether you're hosting a wedding reception, banquet or retirement party, Walt Dale knows the perfect place to hold the event – the Columbian Hall.
Since 1958, the Columbian Hall has been the site of laughter, like when it hosts welcome home parties for soldiers. It's been the site for smiles and good times, such as when it celebrated a wedding for the daughter of an attorney general. And even the site of tears and good memories, like when it held a funeral for an 80-year-old Tenino women.
"Her daughter and son thought that maybe they'd have 40 or 50 people show up," said Dale, manager of the Columbian Hall for the past eleven years. "But almost 300 people showed up because the woman was so popular."
The Knights of Columbus bought the building, in 1958, and the Columbian Hall has been the site of good times and great memories ever since. The word is spreading. Just a few years ago, the hall used to have one or two rentals a month.
"Now, we're up to 11 or 15 a month," Dale said.
Originally, the building, which is on Kinwood and Martin Way in Lacey, was built in 1930s by housing a candy cane factory. In 1958 that business moved to the Midwest and the building was sold to the Knights of Columbus.
As rentals increased, the money was used to refurbish the hall. They've put in a new sub0flooring in the main room, fresh roof, new windows and updated siding. They've also insulated it, took down the old paneling and put up textured drywall and painted it.
Six years ago, lightning struck a power pole and blew out the wiring.  As a result, the building was rewired.
With a seating capacity of 265, the refurbished Columbian Hall has 25 8-foot tables, 265 chairs, which are three inches higher and three inches wider. The meeting room is 2,500 square feet and has 30 hooks to hang decorations from the ceiling. There's a 10-by-10 foot stage where a DJ can play music for a wedding reception. Adjacent to the main room is a 900-square foot bar room with an attached kitchen.
To help serve food or desserts, there's a 12-foot long banquet cart on wheels. There's also parking for 65 cars.  Other hall amenities include air conditioning, audio visual equipment, sound system and wifi.
"We do everything from baptisms to funerals to weddings to receptions," Dale said. "We have welcome home and deployment parties because we're so close to Joint Base Lewis McChord."
For one family, the Columbian Hall has been a uniquely fond place, filled with memories. One couple met there when it was a candy-cane factory. Then they got married there when the Knights of Columbus bought it. Then their daughter and later their granddaughter were married also married in this same hall.
"Three generations were married there," Dale said fondly
The Columbian Hall also gives special pricing to nonprofits and charity events. In February, they're plan to host a bingo party as a fundraiser for women's breast cancer research. Also, the VFW has met there once a month for over 40 years. Both the Sons and the Daughters of Norway meet there once a month and the Knights of Columbus hold their weekly meetings at the Columbian Hall.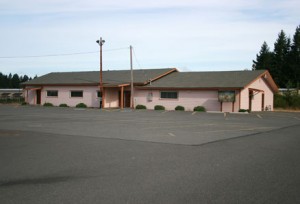 "We stay busy," Dale concluded.
To reserve the Columbian Hall, call 360.491.7292 or visit their website at www.columbianhall.com.
6794 Martin Way East
Lacey, WA 98516