By Tom Rohrer
Sophomore year has a ring of familiarity for Capital High School tennis star Ty Gentry.
A veteran of the national amateur tournament circuit, Gentry repeated as the 2A Evergreen League and District 4 Champion following an impressive regular season where he helped lead Capital to a 9-0 league record.
Through his performance at the district tournament, Gentry was able to secure a berth in the 2A State Tennis Tournament, which will be held in Seattle in May 2014.
Last Spring, Gentry found himself in the 2A state finals match, where he faced off against Avery West, then a junior at Sehome High School in Bellingham.  West would eventually defeat Gentry and a rematch in 2014 is a distinct possibility between two of the top players in the state, regardless of classification.
Gentry, who practices at Capitol City Tennis and twice a week in Bellevue, has played in US national tournaments for most of his life, garnering the long and athletic sophomore interest from a number of Division I universities, including the University of Southern California.
This year, Gentry will be joined by some of his teammates at the state tournament.  The doubles duo of sophomore Travis Miller and senior Doug Doegnis also came away victorious in the league and district tournaments to qualify for the state affair in late spring.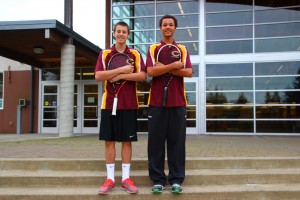 Besides losses to perennial 4A powers Bellarmine Prep and Olympia, the Cougars went through the season unscathed, with the Fall slate culminating in Gentry's straight sets victory over Tumwater's David Granero and Doegnis and Miller's victory over Jimmy Do and Noah Durette of Black Hills High School in the District Championships held at Capitol City Tennis Center in Tumwater.
Gentry stated, in an interview with ThurstonTalk.com last year, that his goal was to win the state championship as a freshmen.  Having come so close already to accomplishing this lofty goal, Gentry is confident he can live up to his high expectations.
"The goal hasn't changed from last year, and I'm focused on winning the whole thing," said Gentry, who has grown several inches since his freshmen year. "It certainly is motivating, getting all the way to the finals and not winning.  It wasn't a fun feeling, but I know what to expect.  I know who will be at the tournament more or less."
Miller qualified for state as Capital's number two singles player a year ago, but learned of his eligibility only days before the tournament.  Due to educational engagements, Miller was unable to participate, leaving Gentry as the school's only represented player.
Heading into the 2013 season, Doegnis's partner from 2012 did not show up for the team's early practices.  Longtime CHS head coach Tommy Alongi suggested the two talented players become partners.  At first, it was a challenging transition for Miller, but he has quickly acclimated to the doubles game and his partner's style of play.
"It was weird, mostly because I think before that I had played doubles like one time before," said Miller, who's older brother Andrew throws the hammer for the track and field team at the University of Indiana.   "Doug is an easy partner to play with.  The first match was a little iffy in terms of just getting the strategy down, but after that, it's been pretty smooth."
The three state bound players were part of a determined and disciplined CHS team that returned a majority of the varsity members from a year ago.  Prior to the start of the season the CHS team was subjected to cuts, allowing the remaining players to play against serious minded and talented teammates at practice every day.
"Practices weren't as goofy this season, and everyone seemed a lot more focused," added Gentry.  "Everyone got a lot better during the season."
One of those who improved the most was Miller.  He described himself as someone who hadn't taken the sport seriously before the 2013 season.
"That's one thing I've noticed this year, just that I'm becoming more serious in my approach to tennis," said Miller, who, along with Gentry, will compete for the CHS basketball program this winter. "Playing more, practicing specific things more, that has helped a lot."
One of Miller's top resources for instruction is Gentry, who competes against some of the state's best players under the watchful eye of high level instructors on his trips up to Bellevue.
"He is a guy who knows the game like nobody I've ever known," said Miller of his friend and teammate. "Why wouldn't I ask him questions?"
"If I get done with a match before Travis, I'll come over, maybe give him a small tip on who he's playing against," said Gentry. "My mom and I worked with Miller after he hadn't played for a while, and he's been improving ever since."
Doegnis was unavailable for comment on this story as an illness kept him out of school the day of the interview.  Through comments from Gentry and Miller, it's easy to determine what kind of student-athlete Doegnis is and the example he has set for the other members of the team.
"He's calm, cool and collected on the court, but off he has a goofy personality.  He's very funny," said Gentry of Doegnis.  Gentry added that Doegnis  is taking a full advanced academic schedule and has applied to such schools as the University of Pennsylvania in Philadelphia.
"(Doegnis) being lefty gives us balance on the court, and he's always been a doubles player.  He has the big shots, and I'm the consistent crafty partner," said Miller of his doubles partner.  "He has been a great partner and his focus has rubbed off me a little.  Seeing how hard he's worked in school, that's another thing that I've focused on more as well."
Gentry and Miller also credit Alongi for their success this season.
"We love Tommy," said Gentry. "He brings a silly mentality but he still keeps you engaged."
"He knows when we need to work harder and what not," said Miller.  "Practices are fun but we play hard."
With a full basketball season ahead of them and months before the start of the state tournament, Miller and Gentry both keep perspective when talking about what will take place in May.  However, their confidence will not waiver heading into the toughest competition in the state.
"It's a while from now, but I just want to stay in shape, stay hitting as much as I can, and when hoop season is over, get back to a more consistent practice schedule," said Miller.  "At this point, we don't know who we will be going against, but if we practice hard enough, we can win state."
"The key is how you go into state, it's how you prepare. You can get ten times better, or ten times worse than you were in the season," said Gentry. "I think I've improved in everything and have refined everything in my game.  That will be the difference."