By Emily VanMarter, Northwest Christian High School Intern to Thurston Talk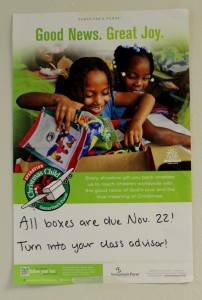 As Christmas time approaches, many families, even in early November, have started shopping for Christmas presents for their children. American families spend an average of $749.51 a year during Christmas. A good majority goes towards the presents, while the rest pays for things like food and decorations.
Now think about the families in other places around the world such as Africa, Indonesian or Nicaragua, struggling simply to feed their children each day.  These families are making very little money and many of the children in these areas are forced to accept the fact that they may not have Christmas presents that year. But what if you could change all that?
Operation Christmas Child, funded through Samaritans Purse International Relief, gives you that opportunity. People from all over the United States are able to pack up shoe boxes with toys, hard candy, hygiene products, and school supplies. These boxes are then bundled together and sent all over the world to over 130 countries with  needy children and families. The boxes also include a message of faith for each child celebrating Christmas.
When packing your box, you can choose the gender and age group for the child you wish to help.  It's especially powerful when children can choose to pack a box for a girl or boy their same age, choosing things they'd love to receive. And with easy downloadable labels, the boxes can even be tracked online using a unique bar code system, printed from home, allowing you to follow your box to its destination.
This year, as has happened in many years past, Northwest Christian High School (NCHS)  is participating in the Operation Christmas Child drive. The goal for the school this year is to pack and send 125 boxes to other countries. In the past, it has been difficult to meet the school goal, so as a motivator, the National Honors Society, the group organizing the drive this year, decided to award the class with the most boxes extra spirit points for spirit week.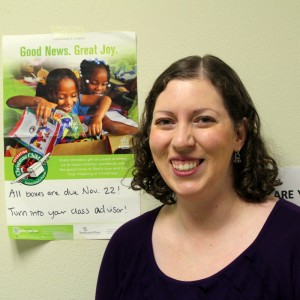 Sonya Trosper, an assistant with the National Honors Society, and a History and Academic Proficiency teacher at NCHS, has been involved in Operation Christmas Child since she attended college at Northwest Nazarene University. "My school was doing a drive just like the high school is now, and I wanted to get involved with the opportunity it presented," said Trosper.
When asked why she became interested, she answered, "I was just constantly struck with the idea that there are kids out there that don't get any presents on Christmas. I thought about all of the stuff that I get on Christmas, and decided that I wanted to try and give that experience to someone who doesn't always get that luxury."
After graduating and becoming a middle school teacher at Community Christian Academy, Trosper was able to continue her mission. "The former eighth grade teacher at CCA had been in charge of promoting Operation Christmas Child to the school. When I came in, the staff decided that because I was the new eighth grade teacher, that I got the job of promoting it. I was really happy that I already had experience working with the organization."
Trosper packs 3-4 boxes every year, including school supplies (never forgetting a pencil sharpener), hygiene products such as soap and toothpaste, a toy she thinks the child will connect with, and a sweet treat. She also likes to add a note and picture, so the child knows who it came from. "I have never been written back," she said. "But I hope that someday I do get a response. That would probably be my best memory – meeting someone who actually received a box. It's easy to just look at pictures, but if I could put a face to it, it just would make all the difference."
Aaron Fox, a senior and class president at NCHS is also excited for this drive. "I think it's a great idea, giving the class with the most boxes spirit points," he commented. "Though, I don't think it's the only thing that motivates the students here to give. I think that the students giving these boxes show they genuinely want to make a difference for these children." As a leader in the school, Aaron has been able to continually motivate the other students to keep on packing.
Operation Christmas Child is a great way to show a little bit of love and hope to those who may not have any. And though just one shoe box may not seem like a lot to us, it could make a world of difference to a child somewhere else. This event is open to anyone who is interested in participating, so get those boxes, and start packing.
Collection Week going on right now – November 18 through 25.  All the information, including downloadable forms and instructions can be found here.  You can bring boxes to NCHS or one of several drop-off locations around Thurston County, found easily through the website.
For more information contact NCHS:
4710 Park Center Ave NE in Lacey
Call (360) 491-2966 or email
 info@nchs-olympia.org