Submitted by Northwest Christian High School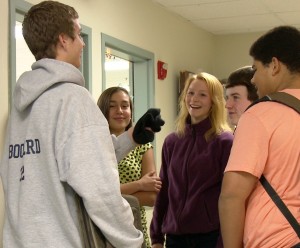 There are many reasons families choose to home-school their children. From a child's unique needs to family beliefs to scheduling choices, there are many reasons why home-schooling is the right option for many families. However, when high school approaches and graduation requirements loom, many families are looking for added opportunities for their teen student.
Northwest Christian High School (NCHS) in Lacey offers home-school families several different educational opportunities to fit their particular needs.
Your child may apply for full time enrollment with the intent of working towards a high school diploma. The teachers and staff, along with our terrific students, will welcome your child and work to make a smooth transition to full-time student status.
Enroll your child part-time to supplement their home-school education. You may apply for part-time enrollment (one to four classes) if you feel your student would benefit from additional teaching support in a particular area. A part-time student at NCHS may be eligible to participate in non-athletic, extra-curricular activities such as Knowledge Bowl, Drama, and community service events.
If your child is seeking to enrich their home-school experience with participation in athletics at NCHS, the Washington State Interscholastic Activities Association (WIAA) requires home-school athletes who compete in a private school to be enrolled halftime (four classes at NCHS). Halftime student athletes at NCHS are required have a minimum of four classes and maintain athletic eligibility with a GPA of 2.0 or higher as established by NCHS athletic policy.
If your child intends to graduate from NCHS, other rules apply and we are happy to work with families individually to craft the best educational plan for your child. Please call the office at (360) 491-2966 for further information on joining NCHS.
We welcome home-school families to our campus. If you are considering enrolling your student in a high school in our area, please consider Northwest Christian High School in Lacey.
For more information about NCHS, please go to our web page for home school families.