By Cathy Johnson, Dandelion Gardens
I first saw Marion Pollmann's ceramic art at the Northwest Flower and Garden Show in Seattle years ago.  One of her gorgeous ceramic fish was included in a garden display, and I just had to know who made it and where I could get one.  After a little conversation with the garden designer, I was given Marion's name.
Marion was born in Vienna, Austria.  She didn't create clay works of art in Austria, but was very involved in the local organic food movement.  She worked in the early stages of organic farming, sustainable food and farming, and even tofu.  She met her American husband while he was in Europe, and they soon were traveling between Austria and the United States.  After many transcontinental journeys, they finally moved to her husband's locale, upstate New York State.
While no longer traveling back and forth to Austria, Marion began traveling between New York and Olympia to visit a dear friend.  During these trips, Marion fell in love with Olympia.  Marion realized that in Olympia, she could have animals, grow her own food, be close to downtown but still be in "the country," and land was affordable compared to her native Vienna.  Marion also recognized and appreciated the "alternative thinking consciousness" that was so prevalent in Olympia.
Marion and her husband purchased their five acres of Olympia heaven in the early 90's, and she then began the next part of her life's journey.  Becoming intrigued with ceramics, Marion took a ceramics class at The Painted Plate – and was hooked, finding her life's passion.  After exhausting ceramic learning opportunities at The Painted Plate, she took classes on hand building with clay and pottery throwing at OPUS.  She became especially adept at hand rolling and tiles.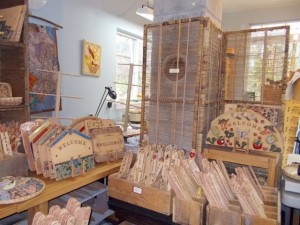 At first, she found it really difficult to sell her pieces because they were such an integral part of her.  Her lovingly hand crafted ceramics were sold at various galleries.  She especially enjoyed creating open clay baskets and large vases because they were practical and functional while also being statement pieces.
Like many artists, she had to make adjustments to her work after the September 11 attacks, scaling back her art to smaller pieces that were more practical, durable and easier to sell.  People were opting to stay home, focusing on their homes and gardens and sourcing food and crafts locally.  She created bowls, plates, house numbers, and garden art (birdbaths, garden stakes, planters, etc.).  It had become fashionable to decorate the garden, and this became her forte.  There was always space for Marion's beautiful art in the garden.
Marion continued to sell her work at art galleries, but soon discovered the glory of farmers' markets and other local venues.  As Marion told me, "The markets were happening places."  She loved the markets because it allowed her to connect with her customers, create relationships, and sell her products locally.  She sells at the Olympia Farmers Market and travels around the area to Edmonds, Everett, Portland, and many other locales.  It isn't easy to pack and unpack her ceramic treasures, but she loves it.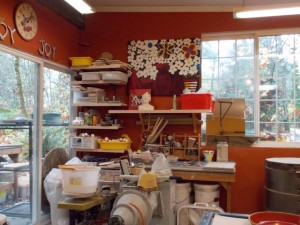 When asked about her favorite piece, she replied that it's any of the new ones she's creating.  She loves experimenting with new concepts and perfecting them into sellable art.  It typically takes her three or four repetitions in forming and firing a new piece before she has it ready for production.  It's a balancing act to create ceramic art because you have to respect the clay's limitations.   Large ceramic pieces especially have a tendency to crack, so an even moisture level is a necessity.  She buys her clay in Tacoma and even makes some of her own glazes.
Her ceramic art is well loved, and she's now struggling to meet the demand for her work.  She's hired studio assistants and is getting ready to expand her work space.  She's also going to have presence on the internet to sell her work online.  In 2014, a new studio will be built which will allow her to have larger kilns and benches to create more and larger pieces of art.
Marion's next artistic goal is to build human sized vessels.  The vessels will have Mother Nature images, or be shaped like fish, or be customized for special orders.  It's a whole new artistic journey and she's is very excited about it.   The expanded studio will allow her to enjoy a new creative process while also continuing the "bread and butter" production work that pays the bills.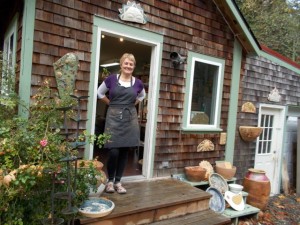 Marion walks the talk, and is a founding member of the co-op art gallery, Splash Gallery of Olympia, which opened three years ago.  She also donates some of her pieces to local fundraising efforts.  "You give in order to get, and life is good in Olympia because we support each other," comments Pollmann.
Marion spends most of her time in her studio or selling her pieces, but she does love to garden and visit other artists, markets, and galleries for enjoyment and to gain new inspiration.  Three days per week, you can find Pollmann creating in her art studio.  On Thursday through Sunday, she is selling her art at various markets.
From Austria to Olympia and beyond, Marion Pollmann is making an impact through her art and attitude.