By Tom Rohrer
You would be hard pressed to find a Thurston County soccer coach with more experience than Rob Walker.
A graduate of Olympia High School in 1979, Walker attended Saint Martin's University in the early 80s before etching out a coaching career at the youth, high school, professional and national level that has stretched over thirty years.
Walker is still teaching the game and has a set of responsibilities unlikely rivaled by coaches throughout the entire country at any level of the sport: he is the current head coach of both the men's and women's soccer teams at his alma mater.
In 2006, Walker served as the founding father for the two programs, initiating both teams at the club level.  The Saint's would join the Great Northwestern Conference in 2007, and in 2009, Walker won the men's Coach of the Year for the conference, and split the same award on the women's side that same season.
A goalkeeper coach for the US Men's national team prior to the 1996 Olympics in Atlanta, and a staff member of the 2000 Algarve Cup US women's national team, Walker has experienced the highs and lows of the game, and continues to be driven by one constant: his work ethic.
"You know, I've always worked extremely hard to make the best of whatever situation I was in," said Walker, who was coach of the Timberline High School boys and girls teams from 1983-1992.  "Whether it was at Timberline, youth soccer or the higher levels, I've always tried to apply myself, and as opportunities come along, I've taken them."
Walker is joined on the SMU coaching staff by Bre Glove (in her seventh year as women's assistant), Zac Lubin (a three year All-GNAC goaltender for the Saint's men's team from 2007-2010), and David Cross (in his sixth year as a men's team assistant).  Cross, the coaching director for the Black Hills Futbol Club since 2000, saw his son Kramer play for the Saint's prior to his arrival to the coaching staff, and has been involved in the sport within Thurston County for the last 26 years.  Together, Cross and Walker form a tough, but fun-minded coaching duo for the SMU men's team.
"You know, it's been six years, and we've always worked well off each other," said Cross, who has been a Washington State staff instructor since 2007. "If you see us on the sideline in tough situations, we're laughing. We will enjoy ourselves, but we still push our kids hard, and it's important to find that balance."
"I would say when we look at soccer we see similar things but not the same thing," said Walker, whose wife Kandi Keller is a North Thurston High School and Saint Martin's alum. "We have similar experiences coaching, and this isn't our first rodeo."
Walker also shares a bond with the most accomplished soccer player from the Thurston County area.  Kandi's son is Kasey Keller, the North Thurston High School graduate who went on to become the men's U.S. National team goaltender, making 101 appearances with the team from 1990 to 2007.
"We have a friendship, a professional relationship from time to time," said Walker of his relationship with Keller. "Watching him grow up and be a pro.   It's a highlight. I love his kids, his wife. It's special."
Playing in a loaded GNAC conference (both the men's and women's side of the league features at least one top five Division II team in the country) and a challenging pre-conference schedule, the Saint's must rely on every bit of the coaching staff's experience to post victories throughout the season.
Like almost all collegiate athletic teams, the SMU soccer program relies on recruiting players from the local region, which in turn has brought several local products to the school.
Currently, there are four players spread out between the men's and women's teams from Olympia – junior men's midfielder/forward Brandon Meyer (Timberline High School), freshmen women's goal-keeper Hannah Barlow (Olympia), senior defender Sammi Thompson (Olympia) and freshmen midfielder Kenzie Phillips (Capital).  Joining the Olympia area players on the two respective rosters are a host of players from the Puget Sound area, including Tacoma, Puyallup and Seattle.
For the local students, the opportunity to play in front of friends and family was a selling point for the university.
"There are 12 people in the crowd who are friends, family, neighbors today," said Kenzie Phillips following the Lady Saint's defeat to #2 ranked Western Washington University on Thursday, Oct. 17. "It's fun to have that opportunity and it certainly gives you a little extra push to go harder."
"I like that my parents can come to every game," said Sammi Thompson, a 2011 All-Academic GNAC performer. "It's been a great part of experience."
Thompson noted that the past four years have gone by in a 'snap of the finger' and that she has a perspective way of looking at her experiences now that her playing career is nearing the end.  That perspective look isn't shared by a pair of senior captains and roommates for the SMU men's team.
"It's something I haven't really noticed yet," said senior forward Dylan Gadosh, a Stadium High School graduate whose four goals lead the team this season. "With the season in full swing, we don't have time to stop and think really."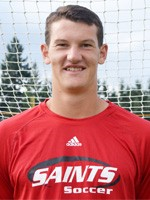 "I'm sure at the end of the year it will hit me that soccer is over," said senior mid-fielder turned forward C.J. Chu, a graduate of Mt. Rainier High School who played club soccer in high school with Gadosh.  "But like Dylan said, we are just focused on the season."
Gadosh and Chu alike are constantly reminded of the level of competition they face on a game-to-game basis by Walker and the rest of the coaching staff.
"Walker is demanding to play for, and sometimes it can get stressful at practice, but that's what you need at this level," said Gadosh, who rooms with Chu and goalkeeper Eric Owen.  "A lot of players come in and don't know how high the level of competition is.  You hit a reality check pretty quick."
Lubin, a native of Bozeman, MT., certainly knows what it takes to compete and succeed at this level.  He parlayed his outstanding college career into his current professional endeavors.  In 2011, Lubin joined the Kitsap Pumas of the USL Premier Development League, helping the team win a league championship that very same year.  Lubin has since joined up with the U-23 Seattle Sounders Club (beginning this year) of the Premier Development League, an opportunity that has allowed him to play with some of his heroes and given him experience that he can pass down to the Saint's players.
"At first you're definitely a little star-struck, just practicing on the same field with the big club," said Lubin, referencing the Seattle Sounders. "But then you have to look at it as an opportunity, and that's something I learned since I played my last game at Saint Martin's." Lubin works with the men's and women's goaltenders for SMU.
"I realized that the work ethic needed in pro soccer is so high, and that's what I tell the players. You have to work harder than you ever thought possible to be successful in this league," he added.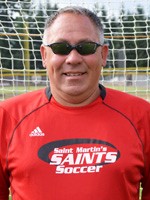 Walker thinks it's crucial to the program to have assistant coaches like Lubin around.
"It's a heritage thing and it keeps the tradition going. Zac helps me in getting through to the players somewhat," said Walker. "The days of autocratic coaching are over. The athletes have too many choices and if they don't like the choices, they move on. So it's huge to have coaches help form that relationship."
For the current Saint's players, balancing the rigors of a challenging soccer schedule and a full academic load has its challenges.  Thompson, as a senior leader, can instill her wisdom to the youngsters on the team and what it takes to reach that appropriate balance.
"You have to be selfless, not watching your favorite TV shows or getting together with friends," said Thompson, a four time state track and field participant in high school. "You have to get your school work done and then focus on the team.  You owe it to them."
Walker appreciates the efforts of his student athletes, and knows that their focus on academics is what makes the program different from others across the league.
"Both our men's and women's teams have over a 3.0 G.P.A.  We have hard workers," said Walker, who began coaching for the Olympia Youth Soccer Club in 1978.  "But there is that family aspect as well.  Everyone sees how hard everyone else is working, and they form bonds through that.  These are the people they have in their weddings following graduation. It's a bond for life."
For more information on the Saint Martin's University soccer program, visit www.smusaints.com.