By Daniel Landin
Wednesday November 6
What: Science! are an acoustic duo comprised of guitarist and vocalist Justin Stang and multi-instrumentalist Jim Elenteny. Mellow at times and impassioned wailing at others, Science!  toured all corners of the US during the summer of 2013 and always puts on a great show.
Where: Urban Onion Lounge, 116 Legion Way SE, Olympia
Time: 8-11pm
Tickets: $5 Suggested donation at the door.
More info: Restaurant open till 9, Bar open till close. All ages until 9:30 pm
What: Alice Stuart and The Last Few Good Men: Blues guitarist Alice Stuart has received critical acclaim for her recordings, including 'Freedom' and 'can't find no heaven' and has toured the US and the UK over her 40-plus year career.  Relix magazine called her "an essential American Blueswoman" in 2003 – any fan of blues music will leave satiated.
Where: The Royal Lounge, 311 Capitol Way N, Olympia
Time: 7:30-10pm
Tickets: $5 cover at the door. 21+
Thursday November 7
What: Jazz Jam with Tarik Bentlemsani: Tarik's skill and creativity on the guitar is something that leaves people in awe time and again. His wizardry is in full effect as lead guitarist of local funk band The Brown Edition, and every Thursday he hosts a great evening of jazz at The Pig Bar.
Where: The Pig Bar, 619 Legion Way NE, Olympia
Time: 8:30pm
Tickets: FREE, 21+
Friday November 8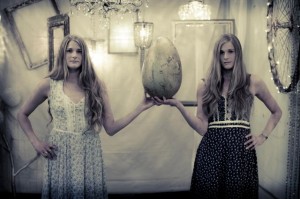 What: Shook Twins and Kendl Winter in The Lowest Pair. Identical twins, Laurie and Katelyn Shook, have spent the last six years pursuing their passion for music and winning fans over by laying their unique style of quirky Folk throughout the Northwest and beyond. Joined by local favorite Kendl Winter (founding member of the Blackberry Bushes) in her new banjo duo, this will be a memorable evening of original music.
Where: Olympia Ballroom, 116 Legion Way SE, Olympia
Time: Doors at 8, The Lowest Pair at 9, Shook Twins at 10.
Tickets: $10 general. $8 with student ID. All Ages
Available at  www.brownpapertickets.com and at the door
More info: www.shooktwins.com
What: Scott Huckabay: Guitar Alchymest.  Scott's performances are powerful and electrifying. He creates soundscapes with his acoustic guitar using a style which has evolved with his unique life story.
Where: The Evergreen State College Long House, 2700 Evergreen Parkway NW
Time: 7pm
Tickets: Free, sponsored by 'Common Bread' at The Evergreen State College.
What: The Steve Bentley Band. Steve is a premiere drummer of Thurston County's jazz scene. As such he has an incredible ensemble performing all original compositions, including Jim Pribbenow on tenor sax, Steve Luceno on bass and Brian Kinsella on piano.  This is the first show of the 2013/14 Black Box Cabaret Jazz Series at The Center.
Where: Washington Center Black Box Theater, 512 Washington St SE, Olympia
Time: Doors at 7pm. Show at 8pm.
Tickets: $17 Adult. $15 Military.  www.olytix.org  360-753-8586
What: Hurts Like Hell. This original blues rock band is celebrating their first full-length album "Leave 'Em To The Crows". With veteran lead guitarist Michael 'Smitty' Smith this powerhouse of blues is absolutely electric. Also on the bill are Olympia artists The Tilted Stilts and DBST.
Where: The Royal Lounge
Time: Show starts at 9 pm. Hurts Like Hell plays at 11pm.
Tickets: $5 at the door. 21+
Saturday November 9
What: Mudcat: The Roots of Rock and Roll. Very endearing, all original acoustic rock with a blues influence.
Where: The Olympia Farmers Market, 700 Capitol Way N, Olympia
Time: 11am – 3pm
Tickets: Free. All Ages
What: Sound Healing Concert. Kristen Rubis creates a sacred bath of healing sound with metal Tibetan singing bowls, crystal quartz singing bowls, bells, planetary chimes, tingshas, shakers, a rose quartz alchemy bowl, a handheld crystal bowl, a healing gong and other soothing percussive instruments.
Where: Embody Movement Studio, 115 S Tower Ave, Centralia
Time: 7 – 8:30 pm
Tickets: $10-$20 sliding scale. All Ages
More info: 360-330-2639
What: Back Porch Swing plays a blend of swing, traditional, and original songs and tunes. Voices in tight harmony are complimented by fine instrumentation including fiddle, mandolin, uprights bass and whistles. This is a farewell show for mandolin player Neal Woodall.
Where: Traditions Café, 300 5th Ave SW, Olympia
Time: 8pm
Tickets: $12. Student/low income $8. Call Traditions at 360-705-2819.
ThurstonTalk aims to aggregate all the local information you need into one place.  The live music scene is a great way to explore Olympia.  Find our Olympia live music calendar each week.  If you have a story suggestion about a local musician, drop a note to submit@thurstontalk.com.