By Natasha Ashenhurst
Ask any of the 485 graduates of Leadership Thurston County (LTC) what the 10-month leadership program means to them, and you will likely hear responses similar to these:
"LTC is a path to belonging and community."
"It helped build my self-confidence as a leader."
"LTC put our community into context for me."
Each one of those responses is just fine with Renée Sunde, LTC Board Chair Elect and a 2006 LTC graduate. "Year after year, we see capable, educated and gifted individuals from a variety of organizations come through the program. They leave with a far greater understanding of how and where they want to serve their community," she said. As Deputy Director of the Thurston Economic Development Council, she also credits LTC for her personal growth as a leader. "Prior to going through the program, I had not served as a Board member on a formal board.  After LTC, I realized that was a great way for me to use my leadership skills to serve my community.  Since that time I have served on approximately 8 different boards, which has been an incredibly rewarding experience, both personally and professionally."
Jason Robertson, an LTC board member, 2001 grad, and President of J Robertson and Company, agrees. "Whether you are brand new to Thurston County or have lived here your whole life, LTC gives you a unique view of the community – one that would be difficult to get on your own. A real advantage is how the program helps participants forge invaluable connections with current leaders and amplifies available resources in the community," he explains.
Staying true to its mission of developing informed, connected and committed community leaders, Leadership Thurston County is celebrating its 20th graduating class with the Class of 2014. LTC is a Program of the Thurston County Chamber Foundation, a 501c3 educational, non-profit organization.
ThurstonTalk caught up with four LTC graduates to learn about their path to leadership and hear about a few highlights of their experience.
 "Successful leaders collaborate" – Stephanie Scott,  LTC Class of 2011, Interim Program Director at Washington PTAC, a program of the Thurston Economic Development Council
Stephanie Scott was new to Thurston County, serving as the Workforce Development Coordinator for the Thurston County Chamber of Commerce when she joined the 2011 LTC class. "I didn't have a strong knowledge of the community, and I did not have relationships with people in the community beyond my professional lane," she said.
Scott saw LTC as a relationship building opportunity. "LTC was a path that led to belonging in the community. It also allowed me to watch leaders in our community in action. I quickly realized that successful leaders in our community collaborate. They work as a team with many of the well informed, smart and giving people in this community who share a common goal of making Thurston County a great place," she said.
"LTC put learning in context, and encouraged me to add more learning to my life" – Ryan Betz, LTC class of 2004, Resource Director, Boys & Girls Clubs of Thurston County

Ten years ago, Ryan Betz was working for the Providence St. Peter Foundation doing fundraising work for the hospital. His boss had gone through LTC and suggested that Betz join the next class. "It was a great experience. I enjoyed learning how different public, private and non-profits organizations operate as well as their challenges and opportunities. It was also fun to be able to put faces with names of community leaders,  get to know them, hear their personal view on leadership and discover how they go about making a difference in the community," he said.
Once Betz completed the program, he realized he missed the learning environment LTC provided, and decided to incorporate more learning into his life. "I was accepted into Seattle University's Masters in Non Profit Leadership program, which involved two years of hard work and long days. However, unlike when I received my bachelor's degree, I had some professional experience and was able to put learning into context, which made it a lot more fun and applicable," he said.
Today, Betz is Resource Director for the Boys & Girls Clubs of Thurston County. The lessons of LTC stay with him. "Education puts experience into perspective. Try things, learn things, and move forward with new knowledge and skills. It always helps, too, when you are working with good people," he said.
"My confidence (as a leader) soared" – Eileen McKenzie Sullivan, LTC Class of 2001, Executive Director, Senior Services for South Sound

Eileen McKenzie Sullivan shared her LTC experience. "As the new Executive Director of Senior Services of South Sound, I was looking to develop leadership skills and community connections. I knew a lot of community seniors, but not community leaders. I was really looking to expand my knowledge base about Thurston County as well," she said.
Sullivan emerged from the program with a new understanding of Thurston County. "It was a mind-expanding experience and gave me a glimpse of all the different segments of the county that I was not aware of. The program was also very good for my self-confidence as a leader. Through the process of meeting on a regular basis and listening to the questions my peers asked, my confidence soared. We were all going through the same thing and learning together. We supported each other. I feel that my skills and connections from LTC launched our organization," she said.
"LTC accelerated my involvement in the community" – Matt Kennelly, LTC Class of 2012, Brown & Caldwell, Environmental Engineer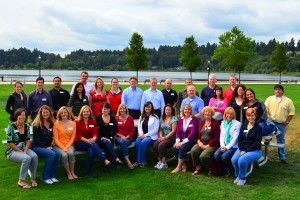 Matt Kennelly moved to Olympia in January of 2011 and started LTC in September. "For me, LTC was a way to get involved in the community on a personal and professional level," he said. It worked.
"LTC really helped me accelerate my knowledge of the community. I was able to take a leap ahead in understanding who is involved, building relationships, and getting insights into the way things work in the county and region," he said. On a personal level, Kennelly enjoyed getting to know people in the cohort and has continued to remain friends with classmates.
A couple of highlights of his LTC experience were learning about Wolf Haven and interviewing Olympia Police Chief Ronnie Roberts. "I gave a presentation to the class about Wolf Haven," he said. "I was really taken by the organization and its leadership, and I've stayed involved. At last year's Sand in the City, I was part of the Wolf Haven sculpting team."
Kennelly met one on one with Chief Roberts during his first year on the job. "I spoke to him about leadership. It was great to sit down with him and hear all he hopes to accomplish."
He also credits LTC with creating context. "It changed how I approach my career because it gave me a context for everyday aspects of my work. It allowed me to help my clients solve problems," he said.
When asked if he would recommend LTC, Kennelly doesn't hesitate, "Until you are in LTC, you can't really know the power and value of it. Get involved in LTC if you can! Stay involved in things after you graduate."
To learn more about Leadership Thurston County, click here.