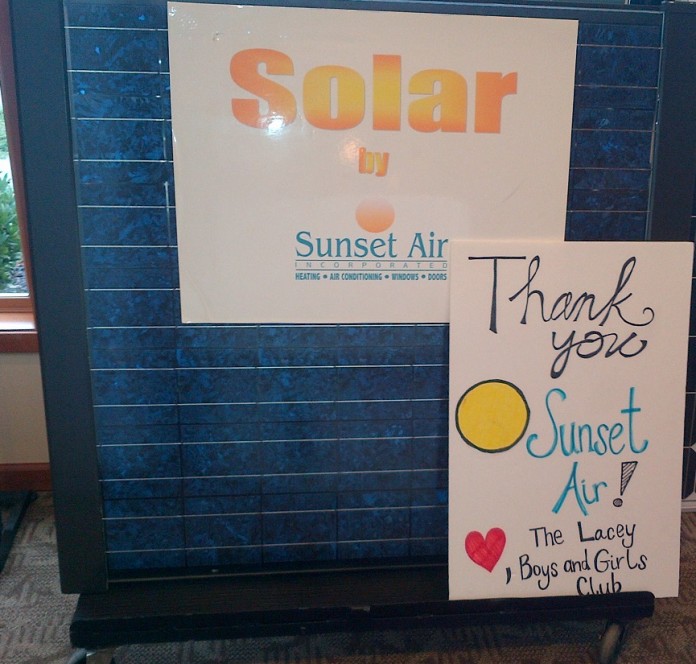 Weather in the Pacific Northwest can be tricky.  Blessed with a relatively mild climate, older homes endure and newly built homes can showcase innovations and classic design alike.  Lacey's Sunset Air offers more than simply air conditioning and heating services, they take care of nearly every aspect of your home year-round.
Sunset Air's experience runs the gamut from electrical to water heaters, solar panels and ventilation, generators, heating, fireplaces, windows, and doors.  Since they started in 1976, the family's goal is to keep your family safe and comfortable.  President Brian Fluetsch started in the family business in 1981 and now oversees a fleet of more than 100 vehicles and employees.  They participate with—and win awards for—their innovative building designs, green programs, and community involvement.
A key value for the company is responsibility.  Even something as simple as window and door replacement can maximize a home's efficiency, value, and appearance.  They strive to make this attainable to any client, on any budget.
Replacement can take place throughout the year, with minimal heat loss and no gaping holes in your home.  By using quality materials, like Washington-made Milgard products, your home receives an amazing face-lift while becoming quieter, more energy efficient, and maintaining its original character.
Fluetsch explains that new technology in windows and doors addresses issues of UV penetration, heat conductivity and transferability, and noise buffering.  These complex upgrades equate to lower energy costs and increased curb appeal.  Rooms previously unused in winter become centerpieces and street noise is virtually eliminated.  The drone of I-5 is no match for triple-paned windows designed to conquer the roar of an airport!
Older homes are candidates for Sunset Air's experience and know-how too.  By replicating the charm inherent in our local historic architecture, updated windows and doors can add the energy efficiency often sacrificed for style.  Sunset Air specializes in glass, sliding, patio, French, internal, and external doors, as well as vinyl, wood, and skylight window replacement and repair.
With such a large, knowledgeable staff, repair and replacement jobs are scheduled quickly and completed with a high degree of professionalism.  Reviews consistently praise the company's customer service, product knowledge, workmanship, and materials.  Their website sums up the company's aim to be "a business that not only provided its customers with quality service, but was also a positive presence in the community."
Their green building/LEED projects are studied by students from Roosevelt Elementary through Saint Martin's Fr. Richard Cebula, O.S.B. Hall for engineering.  Donations to the Boys & Girls Clubs of Thurston County, Saint Martin's University, the Hands on Children's Museum, the South Sound YMCA, Olympia Youth Chorus and many other South Sound organizations guarantee their legacy for years to come.
Their Lacey showroom at 5210 Lacey Blvd SE offers an amazing selection to help in the decision-making process.
While visiting, you can also learn about gas fireplaces, solar arrays, and their entire range of in-home services.