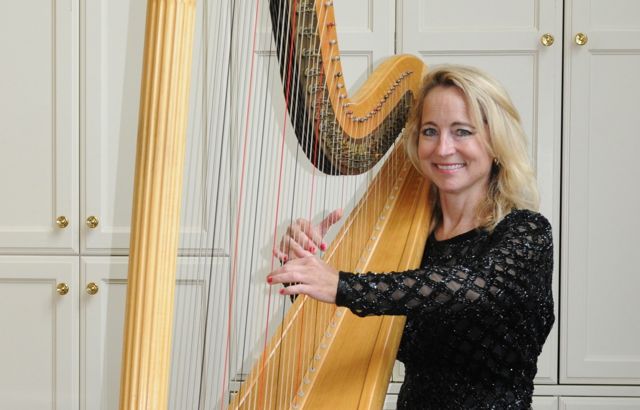 By Lisa Herrick

Almost everyone knows a plumber, doctor or even a pianist, but do you know a harpist?  I had the pleasure of meeting the delightful and talented harpist, Cynthia Zechmann. She shared with me her fascinating story of learning to play the harp and harping for two United States Presidents as well as many other celebrities and dignitaries. She even gave me a peak at her closet full of gowns that rival those worn on the red carpet.
Zechmann started playing the harp at the age of twelve after a brief introduction to the instrument.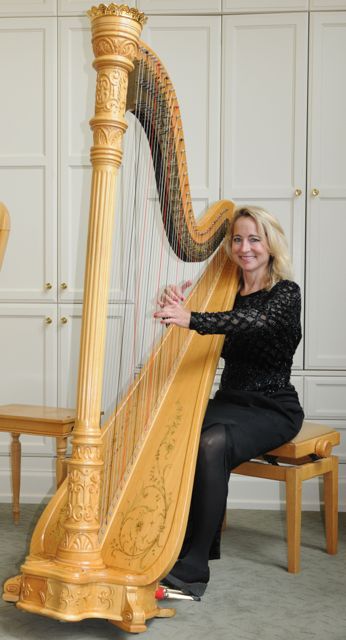 Imagine sitting in your seventh grade music class. Your teacher presents a guest musician. The musician is a professional harpist. Most of us would likely enjoy the beautiful music and admire the exquisite instrument. However, Zechmann was captivated and immediately fell in love with the harp.
The harpist offered to give Zechmann lessons yet there was one issue—Zechmann lived in Sioux Falls, South Dakota and the instructor lived in Minneapolis, Minnesota nearly 300 miles away.  If Zechmann could recruit at least six other kids for the lessons, the instructor calculated that it would cover her costs for transportation, harp rental for the students, and room and board. She would then travel to Sioux Falls once a month to teach these young, inspiring harpists. Zechmann soon fell in love with the harp.
Zechmann did admit that the first couple of years the lessons were difficult. The harp goes out of tune nearly every day and strings break frequently. Sometimes the harp would just await the monthly visit from the instructor to get tuned and strings replaced. "It was a very challenging and frustrating instrument to learn with just monthly lessons," confessed Zechmann. "But I hung in there! And before I knew it I was mentoring other kids in Sioux Falls. Then people started asking me to play at their events. Eventually, I joined the high school orchestra."
Zechmann originally attended Colorado State University to study Music Performance and Harp Performance before her renowned Salzedo style professor left to compete internationally.  She then earned her degree in music and business from the University of Houston.  Zechmann also studied at the acclaimed Eastman School of Music in Rochester, New York as well as with the legendary Ms. Alice Chalifoux.  Chalifoux was the primary instructor at the Salzedo Summer Harp Colony in Camden, Maine where she succeeded Salzedo himself.
Zechmann proudly and enthusiastically says, "The harp has opened up so many doors for me. I just flourished and kept playing and playing.  I was honored to travel the country to play at political events, weddings and corporate background music." Zechmann has released two CDs and performed at the prestigious Cleveland Institute of Music with only fifty select harpists from around the world. However, when I asked what her favorite moment of harping has been she quickly responded "Playing for President Bush Senior."
Zechmann continues, "The event was an invitation only private luncheon for President Bush. It was such a grandiose and elaborate event. I had to go through a background check after being selected to play. Then all my things had to be x-rayed. I had to be on site three hours prior. So I had lots of time in a large event room to befriend President Bush's security guards. This was perfect because I was determined to meet the President and I knew the only way I could do this was through his security guards."
"I was coming in to this event with big regrets. I had also performed for President Jimmy Carter. I was told at that event to be professional and just stay in the corner and play.  At one point it was just President Carter, his security guards and me in the room. He even smiled at me. But I just played. I am still so disappointed that I did not talk to him or shake his hand. So this time I told President Bush's security guards, 'Listen, I want a picture with the President.'  I was able to convince them over the three hours together," she recounts.
Since moving to Olympia in 2008, Zechmann has been on a self-proclaimed sabbatical to spend more time with family and her youngest son who is currently in high school. Even though not currently playing in a string quartet or symphony, she still plays locally at select weddings, funerals and events.  For the last few years, you might have heard her play at the Providence St. Peter Foundation's Christmas Forest, the South Sound Partners for Philanthropy Awards Luncheon, Governor's Mansion Foundation and many other community events.
Zechmann belongs to the Greater Seattle Chapter of the American Harp Society as well as the attends the World Harp Congress, which Zechmann says is the most "prestigious organization of phenomenal harpists."
Click here for more information on the music of Cynthia Zechmann, Harpist.