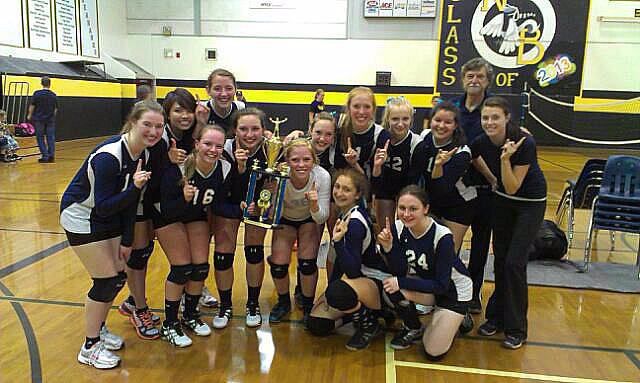 By Emily VanMarter, Northwest Christian High School intern to ThurstonTalk
Northwest Christian High School is proud to announce the arrival of two new coaches for their volleyball program, Jack Lizee, and his daughter, Sarah Lizee. Neither has coached high school volleyball before, but both are excited for the opportunity it presents. "Both Sarah and I are excited for the season. After summer league, we were excited to see where the season would take us."
Jack Lizee started playing volleyball when he was a junior in high school. Living down in California gave him the opportunity to play beach volleyball whenever he wanted. "I also took a class in college, at Santa Barbara City College," said Jack. "It was nice because the beach was right there, so we were able to have the class in the sun on the beach every day."
His daughter Sarah, on the other hand, has been playing since she was ten years old, and played all the way through high school. "I had played for Evergreen club-ball ever since I started playing. It was definitely a different experience from club to school ball. The coaching techniques, the rotations, everything. It took some getting used to," commented Sarah. But the successful young player showed otherwise as a starting outside hitter for Timberline High School.
Though neither has coached a high school volleyball team, both have been involved in club for a multitude of years. "I have been coaching club ball for about sixteen years," said Jack. "I started when my first two daughters got into it. Then I just continued coaching with Sarah as well."
Jack recalls that he has been to many different places during his experience coaching club. "I've been to tournaments in Hawaii and California, both with over 160 teams competing." Of course, it took some effort for him to get to this position. Jack Lizee has coached three to four teams in his sixteen years of club ball, and in those three to four years has had teams ranked third in the region for their age group of 15's. "It was nice, because with that standing we were looked at as a 'golden team'. The next season we got our first pick of the players we wanted, which is how we met Audrey."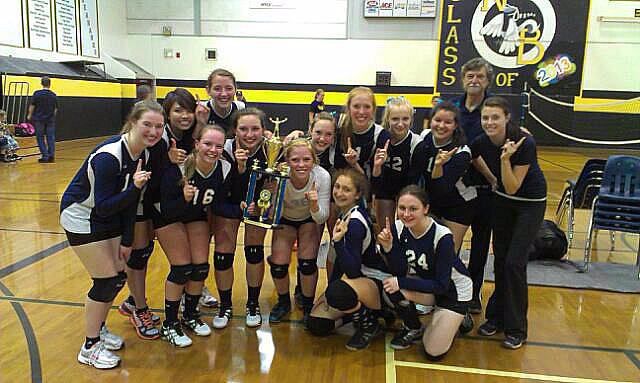 Audrey Howard is the current setter for the Northwest Christian Volleyball team, and has played under the coaching abilities of Jack and Sarah Lizee for almost two years. Jack commented, "Sarah and I actually came to some of the high school's games last year to watch Audrey play. I saw some nice players, especially the middles, but it's weird when you go to a game and don't know anyone but one player. Still, I thought the team played very scrappy, which I liked." Of course, at the time Jack and Sarah had no idea that they would be the future coaches of the team.
"Bill Lash, an old coaching friend of ours, was actually the one that came to me and talked about the coaching position," said Jack. "He had heard about the position from Jeanette Lindstrom, the athletic director at Northwest Christian High School. I was very hesitant at first, mostly because of the amount of commitment you have to put in. In club, practices are seven to nine at night, and I'm usually done with work about 5. At school, practice starts at four, so I'm forced to quit work at about three instead."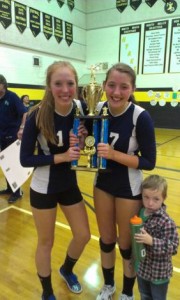 Sarah, however, was all for it. "My dad came home one day, and told me about the position," said Sarah. "I was automatically excited, telling him that we should take it. I love playing volleyball, but I would rather coach than play. And the girls are so much fun to coach. I really love the team."
Both coaches came into the program not really knowing what to expect, and have been impressed with what they have seen so far. "I really like the team, both Sarah and I do," said Jack. "They have great personalities. I saw they had some talent already, which was good. We had something to work with. I mean, that's really what we hope for as coaches. So far, we have seen improvement from everyone on the team. And I am really impressed."
Jack and Sarah Lizee have led the Lady Navigator Volleyball team to a 2-0 season so far, and plan to take them as far as they can. "Volleyball is a fun sport," commented Jack. "It's fun to watch, to play. But if you know someone that's playing, and they're talented, that's when it gets really fun to watch. And I see that with this team."
You can follow along with Northwest Christian's sports and activities here.