By Tom Rohrer

A high school team comprised mostly of underclassman can be a blessing and a curse for the team's coach.
On one hand, the coach can mold the players to his/her particular coaching style and strategy and develop a familiarity for the next three to four years.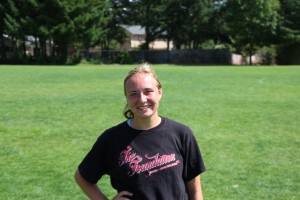 On the other hand, underclassman lack the experience to compete with older teams which can lead to mistakes that can drive a coach crazy.
This fall, River Ridge girls soccer coach Kenny Turner will likely see the wide array of scenarios underclassman can provide.  Forty percent of his Lady Hawks roster is occupied by freshmen.
River Ridge finished with a 5-9 record last season, and will need to compensate for some personnel losses from last season's team.
With the loss of standout defender Stephanie Cleaves (1st team All-League for 2A Evergreen conference last year) and forward Beautiful Reed (2nd team All-League) to graduation, Turner will need help from some of his returning players to guide the young Hawks players both on and off the field.
That duty will likely fall to senior defender Morgan Bernathy, who was second team All-League last season, and junior midfielder/ forward Savannah McGill.
Bernathy is the Hawks anchor on defense, a position of great importance as they figure out their goaltending situation early on in the season.  McGill is a playmaker for the RRHS offense, creating scoring opportunities for others and herself.
"They represent our strengths are their positions," said Turner, who has been the coach at River Ridge the last three seasons. "As they will go, we will go, and they understand that.  They know they've got to raise their level of play even more."
As a four-year starter for the Hawks, Bernathy has seen how upperclassmen before here have handled the role of standout player/leader, and it's a role she's looking forward to stepping into.
"I'm excited to be the leader. I still remember, as a freshman, looking up to everyone and now I'm in the same position," said Bernathy, who plays for Sparta Soccer Club in Tacoma during club season. "I'm going to try and set a good example, help them out and talk and communicate as much as possible so they learn a lot."
According to Turner, what separates Bernathy from other defensive players is her fearless play and willingness to do anything to get the ball away from the offense.
"Morgan wins the ball in the air. She's never afraid.  I call her a die-hard maniac," said Turner. "When she wins the ball, she can carry it and then move it forward quickly with the pass.  We want her to go forward more and that's something we're trying to develop."
For River Ridge to be successful, Bernathy and the rest of the defense must stop the opposing offensive attack, commandeer the ball and then move it to the offensive zone through a series of passes and touches.
Then, the duty will be placed upon McGill and her surrounding forwards to create scoring chances.  Over the course of her four year career, Reed scored over sixty goals for the Hawks, and her talent for putting the ball in the back of the net will be difficult to replace.
However, Turner is confident that McGill has the ability to help instigate scoring chances.
"Savannah has got great touch with her feet and she's able to get to balls and make quick decisions when she does," said Turner, who played at Northwest Nazarene University from 1998-2001.  "She's 6'1″, fast as lightning and just loves soccer."
McGill says she's noticed an increase in her overall skill set since she first saw the field as a freshman.
"I feel better about my whole game, just every skill really," said McGill, who's been playing soccer since she was six. "I've noticed it more this year."
The soccer field is not the only playing surface where Bernathy and McGill are teammates.
During the winter sports season, McGill and Bernathy will join up with the River Ridge girls basketball team, on which they were apart of a 2A state tournament appearance last season.  While some coaches like specialization from their players, Turner enjoys the fact that his two standouts try their hand in other sports as well.
"I like it. It keeps them in shape and gives them new ways to compete," said Turner. "They're high school girls, trying to have fun.  This isn't college.  I just want to them to stay active."
Bernathy enjoys the differences between the two sports.
"I love the two sports, just learning different things from different coaches," said Bernathy, who will likely study aviation in college, following her father's footsteps, who is a pilot for Alaska Airlines. "It gives you a different perspective."
Turner is fortunate to bring a familiar perspective to his position as head coach.  Graduating from RRHS in 1998, Turner was part of the school's first graduating class, in 1994  before playing at NWNU and returning to Lacey.
Despite the widespread youth on this year's team, he has seen the effects of the leadership from Bernathy and McGill, and believes the future is bright for the program.
"I think we're back on the upturn as a program.  This is the best gelled team in terms of camaraderie and work ethic.  They don't complain, they don't blame anybody for mistakes," said Turner.  "I think you have to credit the older girls for that.  I can offer the perspective of what it takes to be a high level player and go on to play in college, but you need your players to relate to their teammates and that's what I've seen."
The Hawks open up the regular season with a match against North Thurston on Tuesday, Sept. 10 at South Sound Stadium in Lacey.  McGill and Bernathy believe their team is on the right path to being prepared to take on the Rams and the rest of their opponents in 2013.
"We've been getting better at playing together as a team," said McGill, who enjoys fishing in her free time. "Everybody has been getting along very well and we know we can still improve."
"I learned a lot from Reed in that she kept her calm and didn't freak out on anybody in tough situations.   I'm a lot like that, just trying to be calm," said Bernathy, whose favorite playing memory was scoring a goal against Timberline as a freshman. "We can play with anybody in terms of effort and strategy.  We just need to let the other things fall into place."