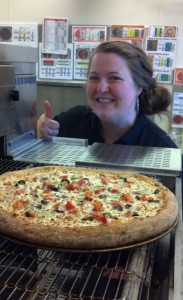 John and Jaime Mathias believe in the classic American Dream: create success by working hard in your own business.  They are an integral part of the community while incorporating their beliefs in high customer satisfaction into all they do. Their business is pizza, and the Mathias family owns the recently opened Papa John's in West Olympia.
After living in the Northwest for many years, the duo made their home in Lacey five years ago.  John's family has owned five Subway's in Pierce County and part of his working life was spent in the family business. He knows his sandwiches. Nevertheless, Mathias has a passion for pizza and always wanted to have his own restaurant. An opportunity to own a Papa John's franchise became available, so rather than creating an entirely new business, Mathias chose to hook-up with a known entity.
I toured the shiny, bright take-out restaurant initially with Jaime, who bubbles with enthusiasm for greeting new customers and developing their business. With her talented team of ten employees, they are ready to serve you.
Here's the scoop on Papa John's dough as explained by John Schnatter, the founder:
Papa John's uses hard white winter wheat to make our dough for the original crust. This high protein flour gives our crust a consistently hearty texture and good bite integrity.
Each of our dough production facilities is equipped to make our original dough with consistently high-quality clear-filtered water.
Our traditional dough is shipped fresh, never frozen, to our restaurants, allowing it to proof slowly and naturally.
We've always believed that a full-flavored crust comes from dough that has been given the proper time to work its magic.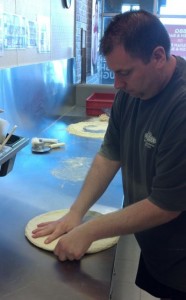 Papa John's commitment to quality and consistency shows up again in their tomato sauce. Their fields are harvested once a year at the peak of summer for maximum flavor. There are limited ingredients, as one would hope: tomatoes, sunflower/extra virgin olive oil blend, salt, oregano, spices and citric acid. That's it.
If you add olives to your pizza, they will have originated from Andalucía, Spain from a grower-owned supplier named Agro Sevilla. This satisfies the desire for the authentic olive taste in every pizza.
Vegetables such as onions, green peppers and Roma tomatoes are chopped daily. All the cheese is 'real' – that means it's all cheese: romano, asiago, fontana, provolone, mozzarella and parmesan. There are more toppings like baby portabella mushrooms and pineapples as well as the standard meats: bacon, anchovies, Canadian bacon, all-white chicken, Italian sausage, beef and pepperoni. You might choose a creamy, garlic ranch or barbeque sauce instead of tomato. That's a lot of choices.
Thinking of more than pizza? Papa John's can deliver wings, chicken poppers, breadsticks and even a cinnamon dessert.
Jaime is insistent about her desires to "cater to every customer." She realizes that being a Papa John's franchise comes with certain parameters such as using Papa's John's supply line. This means that the levels of consistency are very high. But she is totally willing to please the customer – listening to every request and modifying to create satisfied, returning customers.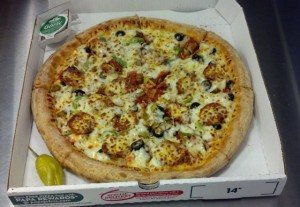 There is attention to details (I like that) such as cutting the pizza into symmetrically equal pieces and making sure the cuts go all the way through. Each box has a special cut out for a container of garlic dipping sauce (many people's favorite addition to pizza) and a single pepperoncini pepper. Jaime wants to know her customers and she spends ample time on site to make sure this happens.
You can order ahead and pick up yourself or if you are fortunate to live within a 14-minute radius, call for a delivery. Of course, you can stop in and order on the spot. With their fabulous WOW oven, your fresh-to-order and baked pizza is only minutes away.
"Who doesn't like pizza?!" Jaime asked the question – but we all know that pizza continues to be one of America's favorite comfort foods. Yes, that must be part of the American Dream, too – imagining your perfect pizza, picking up the phone to place your order and having Papa John's deliver it right to your front door!
Papa John's Olympia
2106 Harrison Ave NW
Olympia, WA 98502
360.754.7272